Terminally ill beautiful 10-month-old baby forced off life-support by courts -- Entire world offers prayers for angel baby, including Pope Francis
---
Charlie Gard suffers from life-ending syndrome
Ten-month-old Charlie Gard was born with an extremely rare syndrome called mitochondrial DNA depletion syndrome. It is believed only 16 children in the world have been diagnosed with it.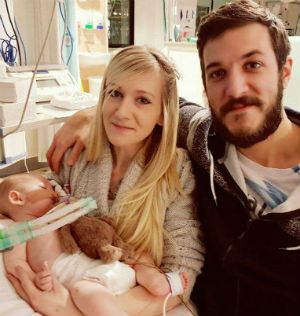 Ten-month-old Charlie Gard was diagnosed with a terminal illness.
LOS ANGELES, CA (Catholic Online) - Mitochondrial DNA depletion syndrome "causes progressive muscle weakness, brain damage and respiratory or liver failure," according to the Catholic Herald. This condition is often terminal.
Charlie's parents, Chris Gard and Connie Yates, have continuously fought for their baby's health and searched for ways to keep him alive.
Christ and Connie have raised nearly $2 million to fund Charlie's treatment in the United States.
However, the infant's hospital officials in England wanted to pull the 10-month-old off life support. Charlie's parents opened a court case against the hospital in an effort to have Charlie on continued life support. However, the courts ruled the baby should be allowed to "die with dignity," and his doctors could pull him off life support.
This tragic ruling was upheld by the London appeals court and their Supreme Court dismissed the case. Chris and Connie went to the European court of human rights next, but that court decided it would stay out of this case.
"We feel close to him, to his mother, his father, and all those who have cared for him and struggled together with him until now," expressed the Archbishop Vincenzo Paglia, the president of the Pontifical Academy for Life. "[Charlie and his parent's situation] has meant both pain and hope for all of us."
Pope Francis came forward on Sunday to speak out for the parent's of Charlie.
"The Holy Father follows with affection and commotion the situation of Charlie Gard, and expresses his own closeness to his parents," reads a statement issued by Greg Burke, the pope's spokesperson. "He prays for them, wishing that their desire to accompany and care for their own child to the end will be respected."
Archbishop Paglia acknowledged that throughout all of the heartbreak involved in this case, the most important question that needs to be asked is, "What are the best interests of the patient?"
"We must do what advances the health of the patient, but we must also accept the limits of medicine," he stated in a written statement posted by Vatican Radio, and, according to Catholic teaching, "avoid aggressive medical procedures that are disproportionate to any expected results or excessively burdensome to the patient or the family."
According to Archbishop Paglia, in all situations similar to this, the parent's also need guidance and must be acknowledged. "They, too, must be helped to understand the unique difficulty of their situation and not be left to face their painful decisions alone."
"Sadly, prolonged terminal illness is part of the human condition," the written statement said. "We should never act with the deliberate intention to end a human life, including the removal of nutrition and hydration so that death might be achieved. We do, sometimes, however, have to recognize the limitations of what can be done, while always acting humanely in the service of the sick person until the time of natural death occurs."
Baby Charlie can currently no longer undergo further treatments.
"In this difficult case, all sides have sought to act with integrity and for Charlie's good as they see it. Understandably, Charlie's parents wish to do everything to save and improve Charlie's life. We hope and pray that in the wake of this decision, they are able as a family to find peace over the coming days and weeks. We also encourage the Catholic community to pray for Charlie, his parents and all those that have been caring for him."
In wake of the news, a large group of Charlie's supporters gathered outside the Buckingham Palace to protest the courts' decisions. The crowd chanted, "save Charlie Gard," and "release Charlie Gard." Others held signs that read, "It's Murder."
"We wanted to support Charlie and show him love," expressed one protestor.
"We have been in talks today with Great Ormond Street and they have agreed to give us a little bit more time with Charlie," stated Connie, according to the Daily Mail. "We are really grateful for all the support from the public at this extremely difficult time."
"We're making precious memories that we can treasure forever with very heavy hearts. Please respect our privacy while we prepare to say the final goodbye to our son Charlie."
Join us in prayer for Baby Charlie and his heartbroken family.
St. Gerard, who, like the Saviour, loved children so tenderly and by your prayers freed many from disease and even death, listen to us who are pleading for our sick child. We thank God for the great gift of our son/daughter and ask Him to restore our child to health if such be His holy will. This favour, we beg of you through your love for all children and mothers.
Amen.
---
Copyright 2018 - Distributed by THE CALIFORNIA NETWORK
Pope Francis Prayer Intentions for July 2018
Priests and their Pastoral Ministry.
That priests, who experience fatigue and loneliness in their pastoral work, may find help and comfort in their intimacy with the Lord and in their friendship with their brother priests.
---
---