Why is this 14-foot statue of Our Lady underwater?
---
See the statue which protects a coral reef.
A video of a statue of Our Lady, protecting a coral reef in the Philippines has gone viral. Perhaps the most curious thing about the statue is that it is situated underwater.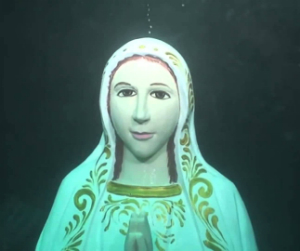 Since the statue was placed, dynamite fishing has stopped.
LOS ANGELES, CA (California Network) -- Off the coast of the Bohol province in the Philippines, is a 14-foot statue of the Virgin Mary, situated underwater. To visit the statue requires scuba gear. Divers visit the statue regularly to honor Our Lady.
The beautiful statue was placed on the reef to stop dynamite fishing by locals. The dynamite destroys the reef and kills sea life indiscriminately. Fishermen harvest only the fish they want, and leave the rest to decay.

This practice is traditional, but it is also destructive and arguably inconsistent with our mission to serve as stewards of the planet. The statue of Our Lady protects the reef, providing sanctuary for all live, both human and animal.
As we marvel at Our Lady, we need to pray for the well being of the fishermen who rely on the waters for their livelihood. We pray they enjoy abundance. We also pray for the preservation of the reef and the land upon which they depend for survival. May the people and nature coexist in harmony. May God provide for all.
May we be reminded by Our Lady that we are stewards of God's creation. Our dominion over the land and see does not mean we are entitled to strip nature bare. Instead, we are obligated to care for both, and to use the harvest we are given from God for the benefit of all our brothers and sisters.
---
Copyright 2018 - Distributed by THE CALIFORNIA NETWORK
Pope Francis Prayer Intentions for July 2018
Priests and their Pastoral Ministry.
That priests, who experience fatigue and loneliness in their pastoral work, may find help and comfort in their intimacy with the Lord and in their friendship with their brother priests.
---
---