Catholic should be a way of life, not just a Sunday thing
---
Catholics should bond with other Catholics in all things, not just at Church.
To know the way forward, we must look to the past. As the very first chapter Ecclesiastes tells us, "there is no new thing under the sun," meaning that everything we think of as new is actually old and whatever we can imagine has been imagined, and even tried by those who came before us.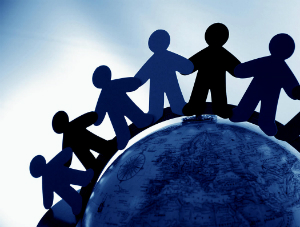 Catholic means universal. It's time to apply that to how we live.
LOS ANGELES, CA (Catholic Online) - It's the height of modern hubris to think we are the sum of all the world's wisdom, that somehow we are smarter and better than those who came before. It is true we may have more knowledge, but we aren't necessarily smarter. How many things can you think of that were better in your youth than today? Probably quite a few.
If we want to go forward, it pays to look to the past, you'll be startled by the similarities.
As Catholics, there is concern about the direction of our nation, and our faith within it. In the United States, secularism, atheism, cultism, and other threats are growing, chipping away at the fringes of our faith, pulling Catholics out of the pews and into their entrapment.
This is why we have a shortage of priests in the United States. It's why religious vocations are down and the Church is struggling. Is this a new thing? No, the Church has survived this before.
If we look back, just a few hundred years, we can cast our gaze upon a divided European continent. Various governments and entire cities aligned themselves with Protestant denominations and both Catholics and Protestants engaged in epic, bloody clashes. Both sides were bent on the destruction of the other.
In an effort to survive, Catholics held fast to traditional values and practices. Catholics made a point to marry Catholics. They did business with fellow Catholics and they approached their world with a Catholic worldview.
Today, there is no such thing as a Catholic public market. However, there once was and such markets formed the backbone of many Catholic communities.
Yet we still have Catholic hospitals, Catholic schools, and other charities and social services. These are holdouts from a time when Catholics took care of one another in every way, not just on Sundays.
This is right and consistent with Catholic teaching. In fact, the word Catholic is Greek in origin and it means "universal." The choice of word is deliberate, for the word catholic literally means universal.
That means everything you do should be catholic before all else. As a Catholic you should look first to your Church for your faith, the answers you seek, your companion in marriage and your partner in business. If you do this, then you are truly Catholic; you are living Catholic and doing all things in the Way.
Of course, this isn't the seventeenth century. Our modern world is much more tolerant and diverse. Catholics and Protestants are not enemies today, but allies. We are likely to marry outside the Church, and to attend various services on Sundays. We buy and sell from everyone and anybody, more concerned with quality and price than Catholic.
For most Catholics, religious identity is something they wear on Sunday and Christmas, and the rest is secular.
And this is precisely the problem. Do you want to know why the Catholic Church is struggling in the United States? It's because we stopped living Catholic.
It's time to change this. We cannot allow the forces of secularism, atheism, and other isms to eat away at the fringes of the Church, claiming our children, our spouses, and our own faith.
The solution is as ancient as the Church itself. It's time for us to live Catholic -to live universally.
Just as our ancestors did centuries ago, (just as many people still do today, we might add), Catholics need to interact more with other Catholics.
What does this mean? Living Catholic means more than attending Mass every Sunday. It means seeking out Catholics to share faith and meet mutual needs. Date fellow Catholics. Hire your fellow parishioners to work for you. Buy and sell from fellow Catholics.
These interactions are at the core of a strong faith. Not only have we seen them practiced to great effect in ancient times, but we also see them today. For example, Muslims deal with Muslims, Jews with Jews, Mormons with Mormons, Witnesses with Witnesses and so on. This is the secret to the strength of those faith communities.
But how do you accomplish this in a world that appears so fractured and divided? The answer is right in front of you.
As you read these words, you are already sitting at the precipice of a vast, integrated Catholic community that is ready to meet these needs.
Catholic Online, Catholic Shopping .com, and Your Catholic Voice Foundation are separate entities working together under the Catholic banner, working to make a better, more Catholic world.
Whoever heard of a Catholic store for all your home needs? A few hundred years ago there were such things. Catholics purchased from Catholic vendors. Today, they're coming back.
Whatever your needs and wants, Catholics are stepping up to provide these goods and services and options to you.
For example, did you know that Catholic Shopping .com carries the complete inventory of the United States Conference of Catholic Bishops' books? The USCCB promotes certain books for all Catholics to read, but you cannot get them from their website. However, Catholic Shopping .com has them.

Catholic Shopping .com also has a wide selection of several thousand items for your home and your life. From decorative products to practical items, Catholic Shopping .com should be the first place you look to find quality items at a fair price.
There's more coming soon, and new products are being added almost weekly, so it pays to check back often.
In addition to items for the home, Catholic Shopping .com carries a tremendous selection of rosaries and religious items including saint's medals and other Catholic books.
For those of you who are interested in making the world a better place by means of Christian charity, there is Your Catholic Voice Foundation. This community is dedicated to doing good in the world by collecting charitable gifts from those who want the blessings that come with kindness. Those gifts are then passed to those in need, and sometimes that need is quite dire. You only need to do this once to see the soul-saving, life-changing power of a single act of generosity.
You can also aid this work by joining Catholic Team Global, membership costs nothing and you can make a difference!
Perhaps you need a job and you're looking for a work opportunity? Catholic Shopping .com is hiring people who are interested in selling Catholic products to their communities by setting up their own stores. You can learn more about that here.
Perhaps you are a very fortunate person and you already have everything you need? If so, Catholic Online features news and commentary shared from a magisterial Catholic perspective. Catholic Online also has information about everything to do with the faith, including biographies of the saints, a prayer channel, prayer requests, candles, a free online Bible and more.
Everything you need to live Catholic is here, right before you. It's time to start living Catholic.
---
Copyright 2018 - Distributed by THE CALIFORNIA NETWORK
Pope Francis Prayer Intentions for FEBRUARY 2018
Say 'No' to Corruption.
That those who have material, political or spiritual power may resist any lure of corruption.
---
---