Should Catholics go out of their way to help fellow Catholics?
---
Of course! But how?
What is Catholic to you? Is Catholic a part of your core identity, is it part of who you are? Are you a Champion of the Faith?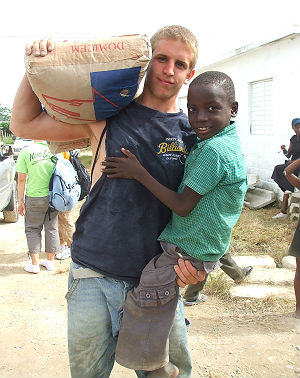 Catholics should help Catholics in every way.
LOS ANGELES, CA (Catholic Online) - We call ourselves Catholic, but how often do we live our Catholic identity? Are we lapsed Catholics, closet Catholics, or are we upfront and proud of our religious heritage? Or are we Champions?
Nearly a quarter of the United States population is Catholic, but very few display their Catholic identity. Often our Catholic identity is limited to a rosary hanging from a rearview mirror or a statue on a dusty shelf in grandmother's room.
This will not do.

Be proud to boldly proclaim your faith!
We have been boldly called to participate in the New Evangelization. This is a tremendous movement that harkens back to the epic conversions of the Americas and the Roman world. These truly were epic conversions in which millions of souls came to Christ by the courageous witness of the evangelizers who were ordinary people who went out to do extraordinary things by the power of the Holy Spirit. These people were true champions.
Today, the same courage is required of you that was once asked of these ordinary people.
It's not a crazy thought, so don't dismiss it! Think about it. Did you know that today there are more Christian martyrs being made every day than there were in ancient times? Today, more Catholics die for their faith or are routinely persecuted than died under the cruelest of Roman emperors.
This is true because the Catholic Church now has many enemies around the world, not just one. It's easier to hide from an emperor's army than it is to hide from multiple threats from many directions.
What are the threats? Militant Islam is one. Militant atheism and secularism is another, attacking from the other direction. Apathy comes at us from within. We lack the support that our ancient brothers and sisters enjoyed because we have stopped lifting one another up in the faith, especially in time of need.
We need champions. Where do we fine one? Have you got a mirror? So what if you're imperfect. So where the apostles. Remember Paul, how about Peter or Thomas? All imperfect men. Murderers, tax collectors, faithless, doubters super ordinary people with sins and pasts, yet champions because in the end they stepped up for Christ who taught that our past doesn't have to be our future.
Sadly, for many Catholics the only time we lift one another up is when a loved one dies or perhaps when we finally make it to Mass. We're too busy being everything but champions!
Knowing this, you bet we need conversion! We need it now more than ever.
Being Catholic isn't a Sunday thing, nor is it just for holidays [holy days]. Being Catholic is FOREVER. It is a way of life.
Some faiths are doing really well right now. Islam happens to be one of them. Why is that? It's because in Islam, the people lift one another up. In some places, the rifle compels the people to do so, but in many others, where violence isn't part of the practice, the faith communities are still strong and the people support one another. They marry exclusively in their faith. The provide one another with charity and mutual aid. They hire their neighbors for work and the buy and sell to one another.
Imagine if Catholics in America changed their attitudes and started doing this. Imagine if Catholics provided charity to one another, hired their neighbors and bought and sold amongst themselves. America would enjoy a Catholic renaissance, a New Evangelization that would attract even more people to the faith! Gone would be the days of not enough priests, desperate pleas for charity during the holidays and a widespread disregard for morals. Abortion would shrivel and die on the black vine it grows on today. Imagine if America became more Catholic. Think of the lives we can change, just by networking within our faith.
Today, we're inviting you to take a step with us towards doing just that. Catholic Team Global is a loose affiliation of Catholics around the world that agree Catholics need to lift one another in faith, and not just on Sundays, but every day.
We must pray for one another. Like this.
We must employ one another. Here's a work opportunity.
We must help one another. This way.
We must deal with one another. Like this.
Catholics should buy from Catholics just as Muslims buy from Muslims, Mormons from Mormons, and Jews from Jews and so on.
When we lift one another up in faith, we attract others to our community because they know they will receive love and support from us too. Let's make the world more Catholic.
Take the first step and sign up below for Catholic Team Global. It costs nothing, ever. Visit Catholic.org and get your daily readings and prayers. You'll get updates and special offers and news about what Catholics in the world are doing to make the world more Catholic-the way it should be.
Every faithful Catholic should join. There's no excuse not to! Are you with us?
---
Copyright 2018 - Distributed by THE CALIFORNIA NETWORK
Pope Francis Prayer Intentions for FEBRUARY 2018
Say 'No' to Corruption.
That those who have material, political or spiritual power may resist any lure of corruption.
---
---