¡Rezar mucho!
Catholic Online is introducing a new section for prayers en Español. The section is a first move towards making the world's most popular Catholic website friendlier to readers who speak Español as a primary language.
LOS ANGELES, CA (Catholic Online) - The current "Prayers en Español" section features 48 prayers in Spanish and will slowly grow over time as new prayers are added. If that section f the site receives enough page-views, then Catholic Online may press forward with plans to add more Spanish content.

Although Catholic Online enjoys a worldwide audience, nearly all visitors to the site are English speakers. Most of the site's content is exclusively in English. Non-English speaking readers can enjoy the site using automatic translation plugins in their web browsers, however these are not as accurate as readers would like.

Ultimately, no translation beats content originally written in a reader's native language.

For now, users are encouraged to visit Prayers en Español and to enjoy the prayers contained within. Additional features in Spanish may be introduced soon, as demand warrants.

PRAY NOW


---
Copywriter 2015 - Distributed by THE NEWS CONSORTIUM
Pope Francis Prayer Intentions for May 2015
Universal:
That, rejecting the culture of indifference, we may care for our neighbours who suffer, especially the sick and the poor.
Evangelization:
That Mary's intercession may help Christians in secularized cultures be ready to proclaim Jesus.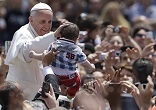 By Deacon Keith Fournier
We need to pray for a New Pentecost for the Church in this hour! We need more of the Holy Spirit for the New Evangelization of the Church - so that a renewed Church can engage in the missionary task of the Third Christian Millennium. We need to be baptized afresh ... continue reading
---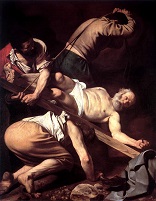 By Deacon Keith Fournier
Peter's wrong choices were not the end of the story of Gods plan for his life. Peter's denial crippled Peter emotionally and spiritually. He lost his way. That was until he encountered the Risen Christ. There, in that encounter, he allowed the belt of ... continue reading
---

By Atarah Haely (NEWS CONSORTIUM)
What constitutes being the best university is oftentimes subjective and usually in adherence to one's beliefs and practices. Choosing a college is one of the biggest decisions many people are making. Some opt for those that offer the best training in the fields of ... continue reading
---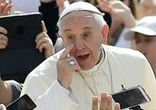 By Catholic Online (NEWS CONSORTIUM)
In discussing the role of parents educating their children, Pope Francis in his General Audience, advised separated couples to "never, never, never take the children hostage!" LOS ANGELES, CA (Catholic Online) - The Pope spoke on the role of parents in the ... continue reading
---

By Tony Magliano
"The God of peace is never glorified by human violence," wrote the famous Trappist monk Thomas Merton. Whether it's on an individual, city, national, or international level, violence always dishonors God, and makes bad situations worse. The recent Baltimore City riots ... continue reading
---

By Abigail James (NEWS CONSORTIUM)
Sometimes getting up in the morning can be the hardest thing you'll do all day. When life's worries press down on you and take your soul hostage, the most important thing you can do for yourself is turn to God. He will always be there for you, through the good times ... continue reading
---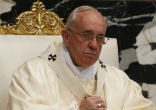 By Catholic Online (NEWS CONSORTIUM)
Addressing bishops in Italy, Pope Francis told them to act more like pastors than "pilots" telling the faithful what to do. The pontiff said that bishops need "Ecclesial sensitivity." They should remain bold in denouncing cultural trends that offend human ... continue reading
---

By Talia Ramos (NEWS CONSORTIUM)
During his meal at a Waffle House restaurant, 5-year-old Josiah Duncan's attention wandered to the man outside the establishment. The man, dirty and holding a plastic bag, became the center of the young boy's curiosity and concern. After learning from her mother that ... continue reading
---

By Hannah Raissa Marfil (NEWS CONSORTIUM)
Everything changed for a Pakistani businessman, trying to build one of the world's tallest and first "bulletproof" cross, after God appeared in his dreams. MUNTINLUPA, PHILIPPINES (Catholic Online) - Parvez Henry Gill, a real estate businessman, claimed God gave ... continue reading
---

By Atarah Haely (NEWS CONSORTIUM)
Pope Francis has been clear, priests should be able to touch the hearts of their audience whenever they preach. To remedy the lack of heart-and-soul-felt sermons, one seminary in Detroit decided to hire professional actors to teach soon-to-be priests how to give ... continue reading
---
All Living Faith News