The Truth & Life Dramatized Audio Bible - Sean Astin Talks of His Involvement
---
The noted actor, who plays Matthew, shares his thoughts about sharing revealed truth.
Some might remember Sean as Mikey Walsh from "Goonies," Dave from "Encino Man" or Doug Whitmore from "50 First Dates." Most movie aficionados, however, will remember him as Rudy in the movie by the same name and, especially, Samwise Gamgee, from the Lord of the Rings Trilogy. Most don't know Sean as a man of faith or as a family man. I caught Sean in the midst of working on a new movie project but he was eager to talk about his part in the new Truth and Life Audio Bible.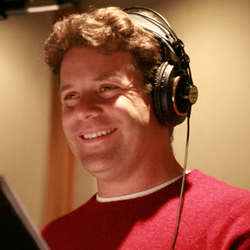 In the new Truth and Life Dramatized Audio Bible New Testament, Sean Astin plays the part of Matthew.
WASHINGTON, DC (Catholic Online) - Recently, I had the opportunity to talk with actor Sean Astin, who plays Matthew in the new Truth and Life Dramatized Audio New Testament. This is a dramatic and powerful audio recording of the Bible that brings the Word to life using the Revised Standard Version - Catholic Edition (RSV-CE) text.
This New Testament recording series has received an imprimatur from Archbishop Timothy Dolan, the endorsement of the Vatican and contains a foreword from Pope Benedict XVI. Over 70 actors, 20 audio engineers in 10 studios over 3 continents contributed to the creation of this unique audio New Testament, which elegantly combining their performances with sound effects, an original music score.
Some might remember Sean as Mikey Walsh from "Goonies," Dave from "Encino Man" or Doug Whitmore from "50 First Dates." Most movie aficionados, however, will remember him as Rudy in the movie by the same name and, especially, Samwise Gamgee, from the Lord of the Rings Trilogy.
Most don't know Sean as a man of faith and a family man. I caught Sean in the midst of working on a new movie project but he was eager to talk about his part in the new Truth and Life Audio Bible.
RWS: "Sean, thank you so much for taking the time to talk about this Bible project."
Astin: "It's my pleasure. I'm proud of it and happy to talk about it. In fact, I knew we were going to talk so I just had this Truth and Life Audio Bible sent over and I listened to a little and it really is good!
"I was just at an event with a lot of Catholics and I even met Cardinal Mahoney for the first time and several other Cardinals. It was very powerful. I got to sit and visit with Tom Monaghan, who founded Domino's Pizza and who's creating Ave Maria University.
"It was great to know that I could contribute. that we could contribute.  a lot of people that I know - I've worked with a bunch of the people on the box, if you know what I mean [Ed: the box containing the Audio Bible CD's]. I've either worked with or I know them. I feel like we've created a living breathing way to the Bible.
"I can picture my wife's grandfather, who's an 89 year-old man, and the Bible is the most important thing in his life. Now he can sit and listen to this and soak it up. It feels good to be a part of something like that."
RWS: "How did you get involved with the Audio Bible?"
Astin: "The producer Carl Amari and I have established a good bond in recent years. I've done several projects for him. He'll call you up one day and ask if you want to be "Noah" and another day, 'do you want to be Matthew?
"I studied a little bit of the Bible in college at UCLA, but in case I drifted away, Carl Amari would bring me right back."
RWS: "What part do you play?"
Astin: "I was Matthew.
"I was Matthew so I got to read all the 'begats,'" he added. "I've got to tell you, I've just listened to them and they have a kind of hypnotic quality to them when you listen.
"I normally can't stand the sound of my own voice, like on a phone recording. and even a lot of the performances I've done on screen. I listen to my own voice and I shudder when I hear it. I was listening to this and, I don't know what they did to it, but I sounded kinda good!
"I've listened to other parts and Brian Cox is amazing as is John Rhys-Davies, who I know and love. Stacy Keach, who I worked with in '99 or 2000; I've seen his one-man show, he's the amazing guy and his voice really comes piercing through."
RWS: "How was the production done? Did they bring everyone together like a reader's theatre or work with each one individually?"
"Most of the time we were working alone, with one or two directors present. Brenda (Noel) was there most of the time, but there was also might be a director from Chicago or something while I was in the booth in Los Angeles.
"There'd be a couple of techs - engineers - and I'd just sit in there with my headset on. They plop down the script and it is massive! And you go through and everyone is fiercely protective of the pronunciations of words. We're making sure we say this word this way every single time."
RWS: "Did this project have a kind of different feel since you are reading the words of Scripture?"
Astin: "Of course, for no other reason than you know how important it is for the people who are going to be listening to it.
"You know, there are so many versions of the Bible now, audio, printed.
 
"The other day I was with my daughter and she has a middle school chapel service. When she got out, I was asking her questions about the passages they were looking at. At first she couldn't remember so I downloaded a Bible program onto my iPhone and we were scrolling through it, just riding in the car!
"If you pass muster and people make it to a second CD, you know it's really important to them. When anyone is listening, you are purveying revealed truth to people and it carries a real responsibility. You have to decide whether you want to do that whether you want participate in that.
"I don't actually walk around wearing my faith on my sleeve or anything but I went to Catholic school for three years. You get to certain passages about the Last Supper or the Crucifixion and I've heard them a lot in church and they were spoken by a priest.
"And now the words that were being uttered by a priest to a congregation are coming through my eyes and sound! These massive ideas are being poured out and it gives you goose bumps sometimes. You're portraying revealed truth!"
RWS: "We know that this Audio Bible has received a lot of notice, since it has received the endorsement of the Vatican. In a real sense, as a public figure, you are also endorsing it. How does this make you feel?"
Astin: "When I look at the cover and see Julia Ormond, Neal McDonough, Blair Underwood, Stacy Keach and John Rhys-Davies, I see people of conscience who are connected to the power of the narrative.
"For people who care about the Bible as revealed truth, this is a gateway to make it accessible to them and I'm proud to be associated with that."
RWS:" Excellence permeates the whole Audio Bible, whether it's the packaging or the content itself, including the narrations, orchestrations and sound effects."
Astin: "With the Truth and Life Audio Bible, I'm really proud of Carl; this is just a real accomplishment of his. To have, at the very least, the endorsement of the Vatican, it passed muster all the way up the chain of command to get this approval. This is something you can really be proud of."
RWS: "Let's look at your part as Matthew. What do you hope people will take away as they listen to your Gospel? What would you hope people will take away from that"
Astin: "You are really making the Bible accessible and easy to enjoy. Even just listening to the begats. With the music and everything, this sustains you through moments in Scripture where it easy to the modern mind wander.
"Then, of course, any dramatization of this kind of work, of this kind of text.
"I remember Alexander Scourby. When I was studying at UCLA, we got something like 35 tapes. I remember following along as he read every verse of the Bible. That was just one person sitting and reading the Bible!
"This is a group of actors who can put certain levels of emphasis and pathos. That's what I notice. There are moments of drama where we do it and I wanted to do it again and again. And I'd say 'wait a minute, wait a minute! Let me try this.' You get to these moments of great emotion and you really want to hit it!
"I can actually envision Catholics in the Midwest, where my wife is from, sitting around with a fire and someone is doing a crossword puzzle and someone is doing something else and this would be playing in the living room. I can picture it.
'You can also put this into your laptop when you are at Starbucks; put your earphones in and instead of being distracted by all that's around you, you can have the New Testament pumped into your ear!"
RWS: "We're coming to the end of our time together. Can you give us an idea of what you're working on right now?"
Astin: "The thing that we are almost focusing on exclusively at the moment is a passion project of my wife and mine. We thought that we wanted to make a movie so we optioned the rights to a best-selling children's book called 'Number the Stars' (by Lois Lowry). It's a Newberry Medal winner that is used in middle schools all across the country about the great Jewish rescue in Denmark in 1943.
"I don't know how much Danish war history you know, but basically the Danish Jews were kind of untouched - there were about 7000 of them - for the first three years of the occupation of that country. Then a guy came in to run the occupation and wanted to round them up. There were going to do it all in one night, on Rosh Hashanah - the Jewish New Year - and it was leaked. The predominantly Christian country just went into open rebellion and successfully evacuated 95% of the Jewish population to neutral Sweden.
"We're very proud of this and have written the screenplay together and are now building the movie. We are just now, this is hopefully, that in the next few weeks we'll close out our financing and get ready to start filming in Denmark early next year.
"It's a fascinating story. Basically, family by family, neighbor by neighbor, they did the right thing without any infrastructure in place"
RWS: "Sean, I want to thank you so much for giving up this time to really know more of your heart for this project."
Astin: "When it gets right down to it, I believe in what we did with this project and I'm grateful that you are going to help others figure out that it's out there."
For more information about the Truth and Life Audio Bible Dramatized Version, click here.
-----
Randy Sly is the Associate Editor of Catholic Online and the CEO/Associate Publisher for the Northern Virginia Local Edition of Catholic Online (http://virginia.catholic.org). He is a former Archbishop of the Charismatic Episcopal Church who laid aside that ministry to enter into the full communion of the Catholic Church.
---
Copyright 2018 - Distributed by THE CALIFORNIA NETWORK
Pope Francis Prayer Intentions for July 2018
Priests and their Pastoral Ministry.
That priests, who experience fatigue and loneliness in their pastoral work, may find help and comfort in their intimacy with the Lord and in their friendship with their brother priests.
---
---