The third week of Advent brings us closer to Christmas
---
NEW YORK (The Christophers) - Since Advent means "coming," as we think about Jesus' coming at Christmas, let's consider the words of the late Pope John Paul II: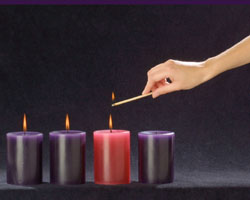 CANDLE FOR THIRD WEEK OF ADVENT - The rose colored candle represents is lit during the third week of Advent and the color represents a hopeful look toward Christ's coming. (CNS)
"Advent ... helps us to understand fully the value and meaning of the mystery of Christmas. It is not just about commemorating the historical event, which occurred some 2, 000 years ago in a little village of Judea. Instead, it is necessary to understand that the whole of our life must be an 'advent,' a vigilant awaiting of the final coming of Christ. "To predispose our mind to welcome the Lord who, as we say in the Creed, one day will come to judge the living and the dead, we must learn to recognize him as present in the events of daily life. Therefore Advent is, so to speak, an intense training that directs us decisively toward him who already came, who will come, and who comes continuously" Welcome the Lord at every moment, in every person. "Our Lord, come!"(1 Cor 16:22) Jesus, savior, you are welcome in my heart and in my whole being. Live in me always!
---
This reflection from Three Minutes a Day:Itís Better To Light One Candle Than To Curse The Darkness was made available to Catholic Online by permission of the Christophers, a nonprofit organization that uses print, broadcast, and electronic media to encourage people of all ages, and from all walks of life, to use their God-given talents to make a positive difference in the world. (www.christophers.org).
---
---