October Baby - An Abortion Survivor Finds Her Life - Don't Miss This Film!
---
A story of love and self-discovery is told through the life of an abortion survivor
"This is a significant story" - Charmaine Yoest, Americans United for Life. "'October Baby' is the most gripping drama ever produced about the central civil rights issue of our time" - Bill Donohue, President, Catholic League for Religious and Civil Rights. "Once you see the movie, you'll want to become a part of the "October Baby" family" - Randy Sly, Catholic Online.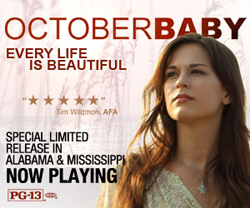 WASHINGTON, DC (Catholic Online) - As directors, Jon and Andy Erwin had been best known for their award winning documentaries. After this weekend, however, they will be known as the creative team who brought "October Baby" to the big screen. The film premiers this Friday in theaters across America.
This film is a must-see. Bring your family, your friends and get those from your parish to join you. It is more than a film; it is a ministry. And don't just watch the film. Go out for coffee afterward and talk about its impact personally and who else may benefit from this message of love and forgiveness.
Let's fill the theaters this weekend and support a movie that brings an important message.
"October Baby" began as an idea after Jon Erwin saw an interview with a real abortion survivor, Gianna Jessen. He was so taken with her story that he began to develop the idea for a full-length movie that addressed the issue of abortion honestly and forthrightly.
With production and acting qualities that definitely meet the criteria for the big screen, "October Baby" is a stunning film that shows the long-term effects of abortion on so many people. It powerfully underscores the hope that comes from loving families who want those children others don't want.
This is a Christian movie that is not "preachy" but still unabashedly communicates the truth. For Catholics, there is one part I especially liked. It takes place at St. Paul's Cathedral in Birmingham, Alabama and is very well done. This scene was intentionally written into the script to underscore the unity we all have as Christians.
Hannah is a college freshman who, after collapsing on stage during a theater production, learns that she is adopted and her physical difficulties come from the fact she is the survivor of an attempted abortion. This revelation leads her on a journey of discovery, as she tries to find her birth mother and, in the process, some greater understanding about herself.
"October Baby" includes a couple of well-known veteran actors in the cast. John Schneider, from "Smallville" and several Hallmark movies but best known as Bo Duke from "The Dukes of Hazzard, plays Hannah's father, Jacob, who is a physician. Jasmine Guy, who is most remembered as the spoiled Whitley Gilbert on "A Different World," plays Nurse Mary.
Rachel Hendrix makes her motion picture debut as Hannah and is truly the star of the film. With only a few music videos and a TV movie, "Alumni" to her credit, this young woman impressively demonstrated the full range of emotion necessary to pull off her role. With a striking on-camera presence, Rachel has a great future in front of her. She and John Schneider really worked well together as father and daughter; they exhibited great chemistry.
For those who are fans of the film "Courageous," you see Robert Amaya, who play Javier, in one scene. Also, Chris Sligh, who appeared a few years ago on American Idol, is also in the cast.
This is unapologetically a message movie. It needs to be. Abortion has been sanitized as a surgical procedure for women and, more recently, has been re-invented as a necessary ingredient for healthcare. "October Baby" brings the viewer back to reality - this is about the taking of a human life; a baby in the womb is killed.
The film opens in select theaters across the country on March 23. The producers of "October Baby" have assigned 10% of the profits of the movie to the Every Life is Beautiful Fund, which will distribute funds to frontline organizations helping women facing crisis pregnancies, life-affirming adoption agencies, and those caring for orphans.
On Friday we'll be running a special interview I had with Jon Erwin, the co-writer and co-director of the film.
Don't miss "October Baby!"
-----
 
Randy Sly is the Associate Editor of Catholic Online and the CEO/Associate Publisher for the Northern Virginia Local Edition of Catholic Online (http://virginia.catholic.org). He is a former Archbishop of the Charismatic Episcopal Church who laid aside that ministry to enter into the full communion of the Catholic Church.
---
Copyright 2018 - Distributed by THE CALIFORNIA NETWORK
Pope Francis Prayer Intentions for FEBRUARY 2018
Say 'No' to Corruption.
That those who have material, political or spiritual power may resist any lure of corruption.
---
---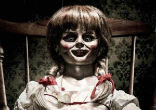 What children read, what they see on the screen, can inspire them toward greater faithfulness. Conversely, Father Robert warns, it can lead ... continue reading
---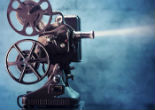 Ever felt like there is nothing worthwhile to watch? You might want to check out the Vatican's list of 'Some Important Films'.In 1995, Pope ... continue reading
---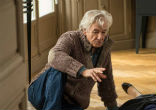 Desperate to remain relevant and make money, the movie industry is preparing to release a smutty film about lesbian nuns with mystical ... continue reading
---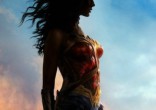 This summer some pretty amazing movies are going to hit theaters, so which ones are YOU excited about? LOS ANGELES, CA (Catholic Online) - ... continue reading
---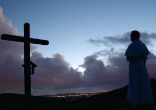 From the Norbertines of St. Michael's Abbey and Chuck Kinnane, director of The Human Experience, Child 31, and Generation Hope, comes a new ... continue reading
---