TUESDAY HOMILY: Peace in the Midst of Persecution
---
Entering the kingdom from the beginning was not going to be walking barefoot over a bed of roses
St. Paul shows us how Christ gives us a peace unlike any other, one that reigns and revitalizes even in the midst of suffering.The lessons of today's readings are still as relevant as ever. Just days ago, Pope Francis mentioned to young people he was about to confirm in St. Peter's Basilica, that to be a Christian means to be ready to embrace the Cross of hardship and persecution while maintaining our peace through our union with the Prince of Peace.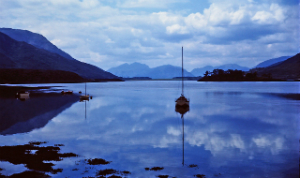 FALL RIVER, MA (Catholic Online). There seems to be a shocking contradiction between what Jesus says in the Gospel to us today and what St. Paul experienced in the first reading.
"Peace I leave with you; peace I give to you," Jesus tells the apostles in the Upper Room and through them to all of us. Yet in the first reading, we see that St. Paul experienced not peace but persecution. Some Jews from Antioch and Iconium came and persuaded the crowds to kill Paul. "They stoned him, dragged him out of the city, supposing that he was dead."
It's important to note that the people who had stoned Paul were not stupid. The reason they supposed he was dead was not just because he was unconscious as a result of getting hit repeatedly in the head, but because he wasn't breathing. And it's very likely that he wasn't breathing because he was, in fact, dead. Just as dead as St. Stephen was after Saul presided over his stoning outside the gates of Jerusalem.
But St. Luke tells us that "when the disciples gathered around him" to pray for him, "he rose and entered the city." That verb "rose" is the very same one to describe what happened to Jesus Easter Sunday. St. Luke is not so subtly indicating that it was through the insistent prayers of the Christian community, led by St. Barnabas, that God brought Paul back to life.
And we see what he did as soon as he had arisen. Doubtless with black eyes and many bumps and bruises, "he got up and entered the city." He wasn't going to let the mobs intimidate him to silence. With great confidence in the Lord, and with great love for others for whom Jesus died, he returned to finish the job of proclaiming the Gospel that he had begun before the storm of stones rained down on him.
A little later in today's first reading we read that Paul and Barnabas "strengthened the spirits of the disciples and exhorted them to persevere in the faith, saying, 'It is necessary for us to undergo many hardships to enter the kingdom of God.'"
Paul and Barnabas were themselves undergoing those hardships in announcing that kingdom and, as Jesus had once said before, to enter the kingdom we need to "agonize to enter through the narrow gate."
Entering the kingdom from the beginning was not going to be walking barefoot over a bed of roses, since, we are, after all, entering into communion with a crucified king.
These hardships, this agony, are not incompatible, however, with Jesus' promise to give us his peace. In fact, it's because we're dwelling in the peace he promises that we are able to confront our hardships with the faith with which Jesus, and Paul, and so many Christian martyrs have confronted theirs.
We often believe that peace is the absence of war, of conflict, of pain, the type of tranquility pleaded for famously by Rodney King when he asked, "Can't we all just get along?"
But Jesus said that the peace he was offering was different. "Not as the world gives do I give it to you," he said.
Earlier in his public ministry, when Jesus was describing what it took to be a disciple, he had said, "Do not think that I have come to bring peace upon the earth. I have come to bring not peace but the sword." Then he went to describe that the sword would cut deeply: families would be divided, we would have crosses to carry, we would be hated, and even some of those who killed us would think that they were honoring God.
This is not because Jesus intended division. Rather he wanted to bring a unity so great among us that it would resemble the unity between the Father and the Son.
But Jesus knew that despite his intentions, he would in fact be a source of division, because those who didn't want to accept the Gospel, those who wanted to keep their own kingdoms rather than enter into the kingdom of God, would wage war to maintain the status quo.
We see this in the envy that husbands feel and exercise when their wives start spending more time with Jesus in prayer or the brutal ribbing teenagers will take when they announce to their peers that they think God may be calling them to the priesthood or consecrated life.
The peace that Jesus brings is the definitive peace treaty between God and the human person through the forgiveness of our sins. It's a peace that the world cannot give or rob. It's a peace that remains and strengthens even when all Hell breaks loose upon us as it did against Jesus in Jerusalem and against Paul and Barnabas in Galatia.
The lessons of today's readings are still as relevant as ever. Just days ago, Pope Francis mentioned to young people he was about to confirm in St. Peter's Basilica, that to be a Christian means to be ready to embrace the Cross of hardship and persecution while maintaining our peace through our union with the Prince of Peace.
"Paul and Barnabas say that 'we must undergo many trials if we are to enter the kingdom of God.' The journey of the Church, and our own personal journeys as Christians, are not always easy; they meet with difficulties and trials. To follow the Lord, to let his Spirit transform the shadowy parts of our lives, our ungodly ways of acting, and cleanse us of our sins, is to set out on a path with many obstacles, both in the world around us but also within us, in the heart.
"But difficulties and trials are part of the path that leads to God's glory, just as they were for Jesus, who was glorified on the cross; we will always encounter them in life! Do not be discouraged! We have the power of the Holy Spirit to overcome these trials!"
The Holy Spirit fills us with the gift of courage, he raises us up just like he raised Jesus and Paul, to persevere in our Christian journey, living with Christ and seeking to bring others to live with Him.
In the olden days, bishops were accustomed to slap those who had just been confirmed on the cheek, to communicate to them that they need to be willing to suffer in order to be a Christian. Christians are going to get slapped around, but Jesus has given us his peace so that when we're slapped on one side, we have the courage to turn the other cheek with dignity.
That's what St. Paul did when he got up and returned preaching the Gospel, a Gospel that includes the necessity to undergo many hardships to enter God's kingdom.
At the end of the Gospel today, Jesus talks specifically about the great divider, the devil, and the type of havoc he was about to unleash. "The ruler of the world is coming," Jesus said, but "he has no power over me."
Jesus would go on to defeat the devil once and for all in Calvary, even though to the eyes of the world, he seemed totally defeated. The reason why Jesus freely allowed himself to suffer so much, he said, was "because the world must know that I love the Father and that I do just as the Father has commanded me." It was precisely through his suffering, in other words, that he showed his loving obedience for the Father and the path to authentic peace.
Likewise the devil will have no power over those who live in Jesus' peace, no matter how many sufferings we have to endure. These sufferings, as so many - especially the martyrs - have attested over the centuries, give us a chance to show that we love Jesus no matter how much we need to undergo to remain true to him who loved us so much to die for us.
The hardships we undergo are an opportunity for us to show that Jesus - and the peace he brings us through communion with him -  is worth living for, suffering for, and dying for. 
During this Year of Faith, we ask God for the grace to understand better the truths God teaches us today and to put them into practice.
-----
Father Roger Landry is pastor of St. Bernadette Parish in Fall River, MA and national chaplain of Catholic Voices USA. His homilies and articles are found on catholicpreaching.com.
---
Copyright 2018 - Distributed by THE CALIFORNIA NETWORK
Pope Francis Prayer Intentions for APRIL 2018
For those who have Responsibility in Economic Matters.
That economists may have the courage to reject any economy of exclusion and know how to open new paths.
---
---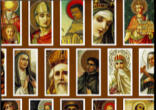 Calling the saints to mind inspires, or rather arouses in us, above all else, a longing to enjoy their company, so desirable in itself. We ... continue reading
---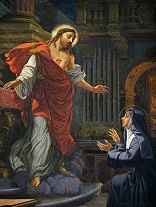 The heart is the center of a person, the place from which he/she makes the choices which will affect the world within them and around them. ... continue reading
---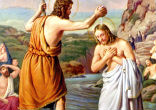 The consideration of Jesus' baptism, gives us an opportunity to remember our own baptism. If you do not know the date of your own ... continue reading
---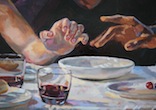 I gave my back to those who beat me, my cheeks to those who plucked my beard; My face I did not shield from buffets and spitting. HYTHE, ... continue reading
---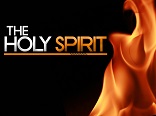 The Spirit makes one man a teacher of divine truth, inspires another to prophesy, gives another the power of casting out devils, enables ... continue reading
---