Catholic Worker Seeks Success in Serving the Poor
---
Catholic Worker Seeks Success in Serving the Poor
For many people, the path to success means climbing the corporate ladder and working to make more money, with little concern for the community. For Monica Hatcher '98, a University of St. Thomas theology alumna and student in the Master of Arts in Faith and Culture program, her life has a new focus. After working for seven years as a professional journalist, including at the Miami Herald and the Houston Chronicle, she now lives and works at Casa Juan Diego's house of hospitality serving immigrant women and children, especially women who are battered, pregnant, homeless or seriously ill.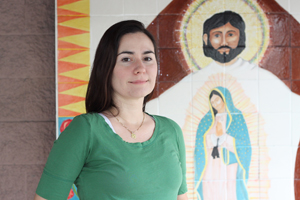 Highlights
By Brenda Cooper, University of St. Thomas
University of St. Thomas (stthom.edu)
1/11/2013 (5 years ago)

Published in College & University
Keywords: University of St. Thomas, theology, Master of Arts in Faith and Culture, Miami Herald, Houston Chronicle, Casa Juan Diego, Dorothy Day, Peter Maurin, Mark and Louise Zwick, hospitality, Archdiocese of Galveston Houston Communication Office, Center for Fait
---
a target="_blank" href="http://cjd.org/">Casa Juan Diego was founded in 1980, following the Catholic Worker model of Dorothy Day and Peter Maurin, to serve immigrants and refugees and the poor. From one small house started by Mark and Louise Zwick, it has grown to 10 houses in Houston.
For Hatcher, the decision to join Casa Juan Diego was personal.
"It has a lot to do with my faith, a deep and growing desire to follow Christ and seek him, and experience his presence by serving the poor though daily works of mercy," Hatcher said. "Caring for the sick, feeding the hungry, clothing the naked - we do it in a direct way."
To serve the poor, Casa Juan Diego runs a clinic with volunteer doctors, providing care guests would not be able to get elsewhere. Staff members bring sandwiches to men living on the street. They care for the ill in personal care homes, provide food and clothing distribution, teach English classes, and offer Spanish liturgy. But it starts as a house of hospitality.
"Our door is always open," Hatcher said. "You never know who will be on the other side of that door. If there is someone who needs a place to stay, we always answer it."
In a place that eschews bureaucracy, and embraces "personalism," the constant activity can leave Hatcher feeling exhausted, but she said, "It's an opportunity to grow in love."
Hatcher lives at the Center and is paid only a small stipend, which was no small adjustment for a professional who worked hard to build her salary. However, she said in seeking charity work, she realized she didn't want to be paid, and she put herself in God's hands.
"Part of being a Catholic worker is embracing voluntary poverty and living in solidarity with those we serve," she said. "It's the reason we're able to do so much, because we're not paid salaries. Your work is a gift."
Hatcher started studying in the MAFC program in 2011 while working at the Archdiocese of Galveston Houston Communication Office, trying to decide what next step to take in her desire to help others. Hatcher said her study in the Center for Faith and Culture helped clarify her decision to join Casa Juan Diego full time.
"The Faith and Culture program and the classes I was taking made me feel more confident in choosing this path," she said. "It also helped me answer the cultural objections to taking this path, which is contrary to what we are taught is the road to success."
While she no longer writes full-time, Hatcher gets a chance to write about her experience with Casa Juan Diego guests in the organization's bimonthly newspaper, the Houston Catholic Worker.
Hatcher referenced Dorothy Day in saying that too little is expected of the lay people, and there is a way for lay people to serve Christ in a radical way without being a priest or religious sister. 
"I just experience so much joy here," she said. "I don't think I could find it doing too many things anywhere else."
---
The University of St. Thomas, dedicated to educating leaders of faith and character, is a private institution committed to the liberal arts and to the religious, ethical and intellectual tradition of Catholic higher education. St. Thomas is Houstonís only Catholic University and was founded by the Basilian Fathers.
---
---
---
More College
Finding the right College
There's no magic formula for choosing a college, but there are steps you can take to find a good fit. Use this tool to start your journey.
Latest College News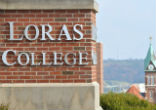 Already known for its legacy of successful, community-driven leaders, Loras College, Iowa's first college and the second oldest Catholic ... continue reading
---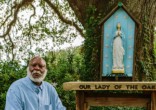 One hundred and seventy-nine years ago, two Jesuit priests sold 272 persons at a slave auction. Their families were torn apart: many of ... continue reading
---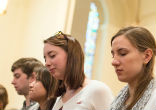 (Vatican Radio) Pope Francis on Friday visited one of Rome's major institutions of higher education today: the Università degli ... continue reading
---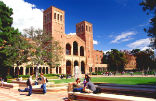 The UCLA campus has been put on lockdown after reports of a shooter in the university's Boelter Hall were released via social media. ... continue reading
---

In a move reminiscent of the early 1900s, North Carolina State University segregated a student Christian group from the rest of the student ... continue reading
---