Sisters of Bon Secours Host Project Good Help to Assist Underserved in Baltimore
---
Women Invited to Participate in Short-term Service Project
The Sisters of Bon Secours, an international community of Catholic women religious (sisters) with ministries in healthcare, human and social services, education and spiritual retreats, is welcoming volunteers to participate in Project Good Help®. This annual short-term service project will help many underprivileged residents of Baltimore city.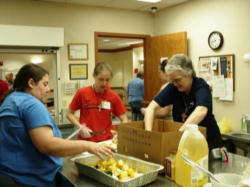 Volunteers work side-by-side with the Sisters of Bon Secours to assist the poor of innercity Baltimore by serving in a soup kitchen, women's resource center, a community garden and within senior housing.
Highlights
By Jennifer Murphy, Communications Associate
Sisters of Bon Secours (www.BonSecoursVocations.org)
7/17/2012 (5 years ago)

Published in Vocations
Keywords: nun, sister, women religious, vocations, volunteers, poor, soup kitchen, elderly, women, children, service, summer
---
BALTIMORE, MD (Sisters of Bon Secours) - The Sisters of Bon Secours will be holding a short-term service project August 2-8 for single Catholic women, ages 19-35. Volunteers will be working with the sisters to assist those in need within Baltimore's inner city. They will work as a team in a community garden, a soup kitchen, a drop-in center for women, a family support/learning center and also within senior housing.
Volunteers will build relationships with the families, children and elderly they work with during this special service time. Sister Fran Gorsuch, CBS, is organizing this project and said, "I can think of nothing better to do than enhance the lives of others through compassion and care. That's what Project Good Help® is all about: putting our gifts at the service of those most in need!"

This is the 2nd annual Project Good Help® and the response from volunteers and those served last year was very positive. "Project Good Help® offered a rare and precious spiritual experience," said Amy Smith, a critical care nurse from Portsmouth, Va. "For a beautiful, though brief, span of days I lived, worked, and prayed in community with a tremendously gifted group of like-minded women. We bonded through our labor, sweating together while supporting a variety of ministries in service of those in need.
We also bonded through our stories, sharing, daily prayer and reflection times. Project Good Help® is about growing and stretching to be Christ to others and to see Christ in others," she said. Sister Patricia Dowling, CBS, Director of Vocations Ministry, also worked alongside the group of women and reflected saying, "I was awed at the generosity of these young women, most of whom took time off from their own jobs to pitch in and volunteer to make things better for others."

Each day will include prayer and reflection. The volunteers will have the opportunity to share their daily experiences with each other and the sisters. They will learn how to apply their faith in action to their everyday lives and how their gifts could be shared through a vocation as women religious.

Volunteers will be staying at the US headquarters of the Sisters of Bon Secours in Marriottsville, Md. The sisters will provide transportation and meals for the volunteers each day. This is a great opportunity for college students and young professionals who want to volunteer this summer, but don't have the extended time away from careers or studies for long-term service.

The Sisters of Bon Secours live an active life of ministry and continually provide Good Help to Those in Need®. Project Good Help® is an opportunity for women to come together to volunteer their time and talents by reaching out to people in need in West Baltimore where the Sisters of Bon Secours have served for over 130 years. Sr. Pat said, "Project Good Help® facilitates offering hope to people in need through loving and meaningful service. We are inviting women to come and be a part of a powerful service opportunity to make a difference in the lives of people."

Spaces are limited for volunteers. Registration and information about Project Good Help® is available at www.BonSecoursVocations.org/project-good-help. Email CBSVocations@bshsi.org or call Sister Fran at 845-721-0980.
"The fruit of love is service...the fruit of service is peace." - Mother Teresa.
---
Vocation resources for young women considering religious life. Come and See Weekend information. Ministries include healthcare, social services and spiritual comfort.
---
---
---
More Vocations
Latest Vocation News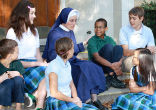 In Lincoln, Nebraska, you can tell the seasons by the habits of the School Sisters of Christ the King. Denver, Colo. (CNA/EWTN News) - It's ... continue reading
---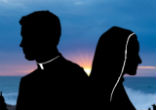 On Saturday, Pope Francis told Colombia's priests and religious that vocations come from a variety of different backgrounds and flourish ... continue reading
---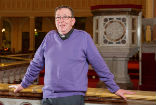 Irish priest, Fr. Ray Kelly has an adaptation of Leonard Cohen's 'Hallelujah' that will move you to tears. The video, which has gone viral, ... continue reading
---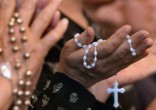 There were 216 Catholic women and men religious who took perpetual vows in the U.S. in 2016, and an annual survey has aimed to take their ... continue reading
---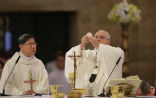 Everyone, but especially consecrated men and women, Pope Francis said Thursday, are called to be leaven in the world, bringing Christ to ... continue reading
---