Bl. Sabas Reyes Salazar
Short Cuts
Author and Publisher - Catholic Online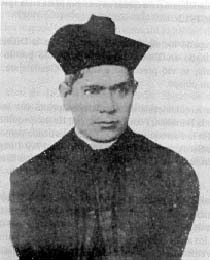 Facts
Feastday:
May 25
Birth: 1883
Death: 1927
Beatified By: 22 November 1992 by Pope John Paul II
Canonized By: 21 May 2000 by Pope John Paul II during the Jubilee of Mexico
---
Born in Cocula, Jal. (Archdiocese of Guadalajara), on December 5, 1883. Vicar of Tototlan, Jal. (Diocese of San Juan de los Lagos). Simple, earnest, had a special devotion to the Blessed Trinity. Also frequently invoked the souls in purgatory. He tried a lot of training for young children, in her catechesis and in the teaching of science, crafts and arts, especially music. Completed and dedicated in his ministry. It required a lot of respect in all matters relating to worship and liked to promptly fulfill any duty. When the danger was for the priests advised him to leave Tototlan, he replied: "To me, here and here let me wait and see what God has." In the Easter of 1927 federal troops arrived and the agrarians looking for Mr. Cura Francisco Vizcarra and his ministers. Only Reyes and father found it concentrated all their hatred. They took him prisoner, bound him tightly to a column in the parish church, three days and tortured by hunger and thirst and unspeakable sadism, his hands were burned because they were consecrated. On April 13, 1927, Holy Wednesday, was taken to the cemetery. Killed him with bullets, but before his death, the soul more than the voice, the priest and martyr could shout "Viva Cristo Rey!".
Biogrpahy Provided By: The Vatican
---
---
More Saints
---
---
---
---
---
---
---
---
---
---
---
---
---
---
---
---
---
---