Bl. Florentino Asensio Barroso
Short Cuts
Author and Publisher - Catholic Online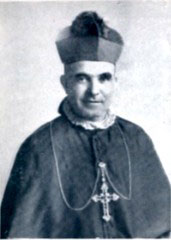 Facts
Birth: 1877
Death: 1936
Beatified By: May 4, 1997 by Pope John Paul II
---
Florentino Asensio Barroso (Villasexmir, October 16, 1877 - Barbastro, August 9, 1936) was a Spanish priest, bishop of Barbastro (1936), considered a martyr by the Roman Catholic Church.
He was one of the thirteen bishops murdered by the Republican side during the Spanish Civil War, a victim of religious persecution.
Joined the seminary and was ordained on June 1, 1901. He was pastor of Villaverde de Medina for a year and a half, being subsequently transferred to Valladolid, where the Archbishop Jose Maria Cos and Macho was entrusted on his private secretariat, stewardship of the palace and the chair of metaphysics at the Seminar. For fifteen years he was confessor to the seminar.
His pastoral zeal brought him fame, and in 1935 the Apostolic Nuncio Tedeschini Federico told that Pope Pius XI to the episcopal dignity proposed based Barbastro (Huesca). He was consecrated bishop at Valladolid on January 26, 1936. He took possession of the See of Barbastro by proxy on 8 March of that year.
With the military uprising, he was arrested in his palace and imprisoned on July 22, 1936. On the evening of August 8,he was transferred to solitary confinement in the jail of the City, in the same plaza. During interrogation he was tortured to the point of cutting off the genitals. He was finally shot by the militants after two weeks. At dawn he was taken, along with other detainees, the cemetery in a truck, where they were shot, throwing his body into a mass grave. After the Civil War, took place a process for identifying buried there, D. Florentino was easily identified by the initials that marked his underwear.
---