Bl. Fidel Fuidio Rodriguez
Short Cuts
Author and Publisher - Catholic Online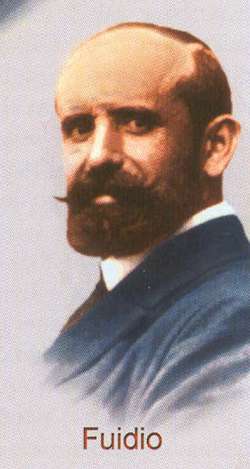 Facts
Birth: 1880
Death: 1936
Beatified By: October 1, 1995 by Pope John Paul II
---
Fuidio Fidel Rodriguez was a Spanish archaeologist. He was also a Marianist Religious teacher who made his first vows in the Society of Mary (Marianists) in 1897. Teacher for 35 years in Jerez de la Frontera, Cadiz, Madrid and Ciudad Real in schools and in 1935 the Marianists Institute of Teaching.
Disciple of the German Hugo Obermaier. He is considered a precursor of Archaeology in Madrid. He dug around Madrid in the company of his students. Explored the Cerro de San Blas, San Pedro Tejar, Turnpike, Parador del Sol, Casa Moreno, San Fernando de Henares, Sandboxes Mercedes, Sotillo, the Ventorro, Hortaleza, Carabanchel, etc. Author of the thesis "Carpetania Romana" was defended on May 6, 1932 and subsequently published in 1934.
The first pieces found were deposited in the school El Pilar, and later move to Madrid Municipal Prehistoric Museum, then integrated into the Museum of San Isidro and now the Museum of the Origins and maintained by José Pérez de Barradas then municipal archaeologist. Also stresses the Roman villa discovered in Villaverde (Madrid), as always with their students, which is the first of its kind in the vicinity of Madrid. The villa was excavated by Barradas and an interesting mosaic recovered.
After moving to Ciudad Real, located the remains of stone industry in the area called Valdarachas in Poblete (Ciudad Real). He discovered the Upper Pliocene paleontological Las Higueruelas (Alcolea de Calatrava, Ciudad Real) in 1935. They recovered several mastodon tusks currently exposed at the College N Ş S Ş del Prado in Ciudad Real. As a great teacher, these discoveries were made along with their teenage students.
In the campaigns of 1971, 1990 and later are classified remains of mastodons, cheetahs, rhinos, gazelles, deer and giant tortoises. Some of these pieces are exhibited in the Museo Provincial de Ciudad Real, and a life-size diorama recreates the landscape of the time.
At his death he was working on the book "Roman Oretania."
He was shot on religious grounds during the Spanish Civil War and beatified by the Catholic Church on October 1, 1995, together with the Marianists also Carlos Erana and Jesus Hita, by his martyrdom.
---
---
More Saints
---
---
---
---
---
---
---
---
---
---
---
---
---
---
---
---
---
---