Bl. Nemesia Valle
Author and Publisher - Catholic Online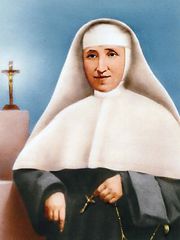 Facts
Birth: 1847
Death: 1916

At the age of nineteen, Giulia Valle, of Aosta, Italy, entered the novitiate of the Sisters of Charity of Saint Joan Antida Thouret, subsequently taking the religious name Nemesia. She soon formulated a
prayer
for herself that became the rallying cry of her spiritual life: "Jesus, empty me of myself, let me be clothed in you. Jesus, for you I live and for you I die..." After taking her vows, she served as a teaching nun, and thereafter as
superior
of her
convent
in Tortona. Faced with the grave responsibilities of the latter office, she would tell herself, "Concentrate on the one goal:
God
alone!" Having suffered at the early age of four the loss of her mother and repeated separations from the rest of her
family
thereafter, Sister Nemesia was to carry with her in religious
life
a pronounced empathy for those suffering from loneliness. In 1903 she was appointed
novice
mistress at a
convent
of her congregation in Borgaro. This latter office brought upon her many humiliations, in that her gentle methods of counseling novices were criticized by her superior. Sister Nemesia died on December 18, 1916.
---
More Saints
---
St. Faustina Kowalska
---
---
Saint Feast Days by Month
---
---
---
---
---
---
---

St. Joseph was born in 1603 at Cupertino, in the diocese of Nardo in the Kingdom of Naples. After spending his childhood and adolescence in simplicity and innocence, he finally joined the Franciscan ... continue reading
More Saint of the Day
---
---

Dymphna was born in Ireland sometime in the seventh century to a pagan father and devout Christian mother. When she was fourteen, she consecrated herself to Christ and took a vow of chastity. Soon afterward, her mother died and her father - who had loved his wife ... continue reading
More Female Saints
---
---
---
---

Saint Michael the Archangel isn't a saint, but rather he is an angel, and the leader of all angels and of the army of God. This is what the title "Archangel" means, that he is above all the others in rank. St. Michael has four main responsibilities or offices, as we ... continue reading
---

St. Gabriel is an angel who serves as a messenger for God to certain people. He is one of the three archangels. Gabriel is mentioned in both the Old and the New Testaments of the Bible. First, in the Old Testament, Gabriel appears to the prophet Daniel to explain his ... continue reading
---