Bl. Vasyl Velychkovsky
Short Cuts
Author and Publisher - Catholic Online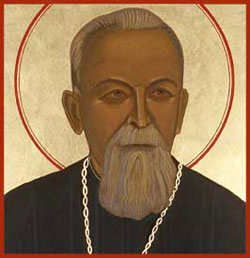 Facts
Feastday:
June 27
Birth: 1903
Death: 1973
Beatified By: 27 June 2001, Lviv Hippodrome, Ukraine by Pope John Paul II
---
Byzantine Rite
Catholic
priest
at the age of twenty-two. In 1945, while serving as hegumenos (prior) of his order's monastery in Ternopil, Father Velychkovsky was arrested by the Russian Communists'
secret
police (the KGB) and sentenced to death. The
sentence
was subsequently commuted to a ten-year prison term of hard labor. Following his release in 1955, Father Velychkovsky resumed his priestly labors. In 1963, he was secretly consecrated
metropolitan
(archbishop) of
Moscow
by his predecessor in this office, who had just been ordered to leave the country by the Soviet government. In 1969,
Metropolitan
Velychkovsky was again arrested and imprisoned. Three years later, he was deported out of the Soviet Union. Stricken with a heart disease stemming from his imprisonment, the
metropolitan
told a Canadian audience, "The
prisons
and camps ruined my health and my strength, but this was my fate; the
Lord
God
placed this cross on my shoulders."
Metropolitan
Velychkovsky died two weeks later, on June 30, 1973.
---