St. Narcisa De Jesus Martillo Moran
Short Cuts
Author and Publisher - Catholic Online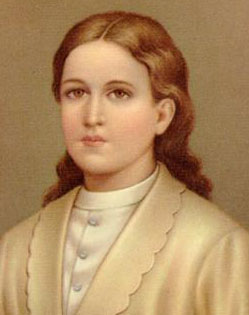 Facts
Feastday:
August 30
Birth: 1832
Death: 1869
Beatified By: 25 October 1992, Rome, Italy by Pope John Paul II
Canonized By: October 12, 2008 by Pope Benedict XVI
---
Orphaned at an early age, Narcisa Martillo Moran, of Nobol, Ecuador, worked as a seamstress to contribute to the support of her brothers and sisters. Supported by the guidance of several spiritual directors, she resolved to consecrate her virginity to Christ and to spend the rest of her life offering prayers and penances to God in expiation for mankind's sins. Although she remained a laywoman, Narcisa followed a demanding daily schedule of eight hours of prayer, offered in silence and solitude. In addition to imposing upon herself an austere diet and very humble living quarters, she devoted four hours of the night to various forms of mortification, including the wearing of a crown of thorns. Narcisa was frequently seen in a state of ecstasy. She spent the concluding months of her life in Lima, Peru, where she died on December 8, 1869 at the age of thirty-seven.
---