Angel Couple - Angel Stories
By: Randy Rodriguez
Location: PR Puerto Rico, USA
About 6 months ago, a couple days before my wedding, my cousin and his pregnant wife received the bad news that their unborn son was not developing a brain. They were even more devastated when the Dr. told palin and simply told them to have an abortion because the baby would not be normal. They decided to have a second opinion and the other Dr. coincided that the baby was not developing a brain. They were still devastated but never had the thought of abortion and said if God wanted the baby to be that way they would receive it like that.


A couple of months later on a routine obstetrician visit, they found out the baby was developing a brain, but it was full with water. The baby had hydrocephalia, and that if it had been diagnosed before it even could have been operated from the womb.


The baby was born with water in his brain, and to mkae matters worse his throat was not connected to his stomach. He was a couple days in the hospital receving tests until he was sent to the intensive care unit on the Pediatric Hospital in San Juan, PR. By this time the baby had an abnormally big head and had not eaten except the liquids given to him through his veins.

When the baby was being taken into the ambulance, a couple, around 50 or 60 years stood behind the ambulance looking at the baby. I was there and I kinda felt upset because I was thinking keep walking it isn't a show or anything for you to be standing looking in. But the couple were saying God bless him and doing sorry sounds and they keep saying bless him God, then they walked away out of the hospital. At this time I though you know, this people could be angels for this baby but I left it there.


The baby had surgery for the hydrocephalia and the esppahgus and he came out fine. It's one month since he was born and he's already out of the hospital and at his home. After reading some of the stories here, I realized this people were really this baby's angels and I just did not see it. Thanks to them and the Dr.'s that helped him the baby will live a normal life.


---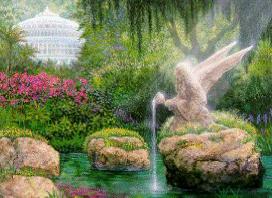 Some may never see with earthly eyes these heavenly beings or know that they exist. Many are unaware of the numerous ways they have protected and guided us. We would like to share with you the stories of people who take pleasure in expressing how real angels are.
---
More Saints
---
---
---
---
---
---
---
---
---
---
---
---
---
---
---
---
---
---