Angel to the rescue - Angel Stories
By: Mary
This happened about 2 years ago when my mother-in-law was alive. Our parish priest together with 2 communion ministers visited all the home bound sisters and brothers in Christ every few months to give Holy Communion. My mother-in-law was home bound and as such, our priest usually visited her and heard her confession and give communion. On one of the days that our priest was suppose to visit my mother-in-law, our phone went dead. The communion ministers usually rang our home before coming to visit her, as it was difficult to find our home. We were worried about how they were going to get to our home and got our handphone ready. I just told my children to pray and before I went to work, I visited the Adoration Room in our church and just surrendered to our Lord, not knowing how He was going to help us.

They were suppose to come at 9 am but at about 10 am, my daughter rang and said that they had not come yet. I just said a little prayer and left it at that. I somehow felt that the Lord was going to do something. At about 12 midday, my daughter rang with the handphone and said that they had come and gave communion to my mother-in-law. She went on further saying that something strange happened. When our priest and communion ministers came, they greeted and when my daughter questioned them how they managed to find the house, they said that they rang our home and a man answered the phone and gave them directions to the house. They even asked who he was and he said that he was my husband's brother. My daughter was shocked because the phone was still down and there was no calls and even more, my husband's brother was not at home. We questioned my husband's brother and they said they did not even know that the priest was coming.
We just believe and thank and praise God that he sent his angel to come to our rescue in the time of need.
---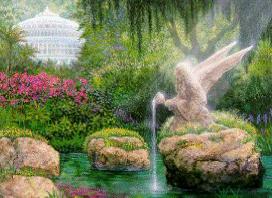 Some may never see with earthly eyes these heavenly beings or know that they exist. Many are unaware of the numerous ways they have protected and guided us. We would like to share with you the stories of people who take pleasure in expressing how real angels are.
---
More Saints
---
---
---
---
---
---
---
---
---
---
---
---
---
---
---
---
---
---