Miracle as a child playing - Angel Stories
By: Sidney Mathious
I was a teen about the age of 14 when my two brothers and I was playing cowboys and indians away from my grandparents house. My grandfather had an old style wagon which he used for work and it had oak boards for siding and tailgate. He had come back from hunting and left his single barrel 12 gauge shotgun leaning against an old car which had been deserted by him many years before.

My brothers and I were using sticks as our guns since we were too poor to afford many toys. I was at the back of the wagon with my stick gun and my other brothers was at the side and front of the wagon with theirs. My younger brother reached for the shotgun which was laying against the old car and picked it up sometime while I was pretending to shoot at my middle brother. Something told me to look towards the front where my younger brother was and when I did I noticed that I was looking down the barrel of that gun. I was in shock since I had learned from my grandfather not to play with real guns.

Since I was in shock, I found myself paralyzed while trying to duck down. I felt myself going down to the ground and then hearing the shotgun blast then feeling the burning on my forehead as I hit the ground. I layed there balled up and screaming at loud as I could thinking that I was dying. Both of my grandparents rushed to check on what was going on when they heard the gun fire.

I felt my forehead, and did not find any holes in my head I stopped screaming and checked myself out while my grandmother did the same. First off, I thanked God for blessing me. As a child I talked to God all the time and was thankful for what little we had. On this day I was sure that I had witnessed a miracle by being saved from this accidental gun shot by my brother. The burning I felt on my forehead came from splinters which was knocked off the oak tailgate of the wagon as I went down.

My thought late was that of blessing, but wondered if my Guardian Angel was hurt by the shotgun blast. There has been other times when I felt God's presence in my life when I needed his help. This I will put in another story or two. All of this has inspired me more to lean on God and put my faith and trust in his hands.
---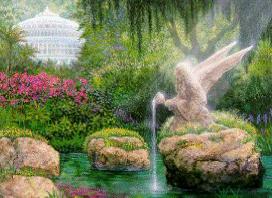 Some may never see with earthly eyes these heavenly beings or know that they exist. Many are unaware of the numerous ways they have protected and guided us. We would like to share with you the stories of people who take pleasure in expressing how real angels are.
---
More Saints
---
---
---
---
---
---
---
---
---
---
---
---
---
---
---
---
---
---