Universe, you really let me down: astronomers disappointed after observation doesn't fit model
---
Well this is embarassing.
Two professors say they are disappointed with the universe after learning that it is "smoother" and "flatter" than they expected. The compared the discovery to a trip to Switzerland that was switched for a trip to the Netherlands.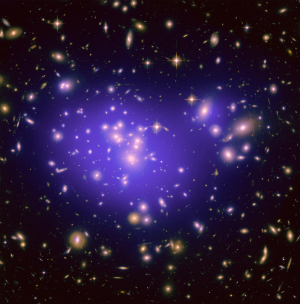 Galaxy clusters such as these should be more common throughout the universe than they are.
LOS ANGELES, CA (Catholic Online) - Instead of majestic soaring alpine peaks, two astronomers say the universe resembles more the countryside of the Netherlands. The British astronomers compared recent observations of the cosmic background radiation to the number of galaxy clusters in the universe. Their study shows that the leading model of how the universe is formed does not match what is actually observed, specifically, there should be more galaxy clusters in the universe.
Astronomers agree that the universe was formed over 13.7 billion years ago in an event known as the Big Bang. This cosmic explosion, which represents the instant in which the universe was created, still echoes in the form of the cosmic background radiation, a faint afterglow of the Big Bang. This afterglow is uniformly seen no matter where astronomers look.
From that epic event, matter clumped together, forming stars, then galaxies, and galaxies formed into clusters of galaxies.
Based on the models that are used to describe the events following the Big Bang, we expect to see a large number of galaxy clusters throughout the known universe. However, the number of clusters we can actually observe is lower than what the model predicts, by a factor of at least two.
That discrepancy was discovered by Astronomy professor Chris Collins and Dr. Ian McCarthy from Liverpool's John Moores University. Professor Collins used an analogy to convey his disappointment:
"Have you ever booked a holiday to Switzerland expecting to trek the Alpine mountain ranges only to be disappointed by ending up walking the flat countryside of Holland? Similar disappointment was felt when Dr. McCarthy and I conducted an experiment to measure the number of large massive clumps in the Universe, called clusters of galaxies."
He continued, "Science is at its most interesting when prediction and experiment disagree and so although our cosmic landscape is smoother than we thought, this may mean we need to re-think bits of our cosmological theory and such progress is good for science in the long run."
"Although the perceived wisdom was that we would find lots of big clusters, in fact, when we looked, the Universe did not live up to our expectation and we found far fewer of these really huge structures than expected."
So what does this mean?
It means that either the professors made a mistake in their work, that we cannot identify all of the clusters that are out there and we may be missing some, or it means that the models used to describe the formation of the universe are incomplete.
Which is correct will require the work of other scientists who will analyze their methods and repeat their tests. If Collins and McCarthy are correct then cosmologists will need to account for the discrepancy and either locate the missing factor or revise their models.
If nothing else, this shows the self-correcting power of science. Mistakes can be made, however they are also corrected over time and each new discovery adds to our body of knowledge. We still have a great many questions about our physical universe, but as long as we wonder, we will continue to find new answers that will excite us and drive at the very core of our being.
---
Copyright 2018 - Distributed by THE CALIFORNIA NETWORK
Pope Francis Prayer Intentions for APRIL 2018
For those who have Responsibility in Economic Matters.
That economists may have the courage to reject any economy of exclusion and know how to open new paths.
---
---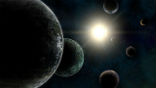 NASA is about to begin a hunt for alien planets near Earth, the first such survey ever conducted. The Transiting Exoplanet Survey Satellite ... continue reading
---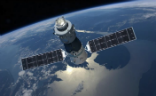 Chinese space station, Tiangong-1 is falling back to Earth and is expected to burn up on or around April 1. LOS ANGELES, CA ... continue reading
---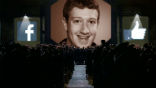 Facebook has been caught in two new scandals, both with political implications. Unbeknownst to millions of users, Facebook has been quietly ... continue reading
---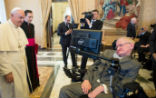 The death of Stephen Hawking this week prompted a leading Catholic scientist to reflect on the life of the famed physicist, including his ... continue reading
---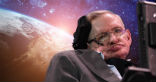 Famed physicist Stephen Hawking has died peacefully in Cambridge, age 76. The physicist was famous for his groundbreaking work in the field ... continue reading
---