Scientist discovers another Earth where life could really exist!
---
Hunt for extraterrestial life is narrowing down to candidate star systems.
A major discovery has been announced in the search for life beyond our Solar System. NASA researchers say they have located a planet the size of Earth orbiting the habitable zone around a nearby star. Such a find is an important milestone in the search for alien life.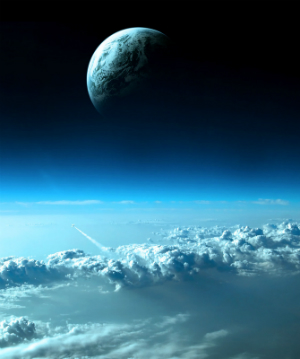 Are there other planets just like Earth? Scientists strongly suspect so and it's only a matter of time before we locate them.
LOS ANGELES, CA (Catholic Online) - Astronomer Thomas Barclay from NASA's Ames Research Center in California announced his discovery made with the venerable Kepler Space Telescope which has already located a majority of the planets around other stars.
The planet he discovered is calculated to be 1.1 times the size of Earth and orbits a common dwarf star, much like our Sun, at a distance where liquid water can exist at the surface. These are fundamental prerequisites for life.
St. Dominic de Guzman, patron saint of astronomers.
The identification of such planets is the next natural step in the search for life beyond Earth. Already we have completed a preliminary step, which includes searching for stars which harbor planets. The next step includes identifying which stars with planets have planets where liquid water could exist.
Once those discoveries are made, scientists will be very close to answering with a high degree of precision whether or not life exists on another planet outside our solar system. The final step will be to image the planets themselves, and to study the light refracted through their atmospheres. This is surprisingly easy to do, provided a telescope with sufficient resolution is built.
Scientists will look for biomarkers, chemical traces of life in each planet's atmosphere. One such biomarker is oxygen. Although oxygen is a common element in the universe, ozone, a form of oxygen, is considered to be a biomarker which can indicate the presence of life.
The James Webb Space Telescope and several other next-generation telescopes that are already n the works, have the required ability and will be launched starting in 2018. By 2020, scientists should have their first results in hand and be ready for announcement to the public. We are but half-a-decade away from answering one of the most compelling questions of our existence.
How that question is answered could go either way. We could find that life is common in the universe, requiring just a little water and light as prerequisites for creation, or we may find that Earth is a truly special gem that floats quietly in a vast universe devoid of life.
Both findings have profound implications for how we will view ourselves and the universe in which we live.
Some also argue that this question has profound implications for religion, however this is not entirely true. The Catholic Church has actually wrangled with this very question before and simply concluded that man cannot place creative limits on God.
Even if we detect life, it does not mean that epic changes will occur. There is a great gulf between the detection of life and communicating with it. We could detect life on a planet hundreds of light-years distant, and life there may already be extinct, wiped out in some cataclysm, possibly of alien design, or natural. It makes sense, for we humans are already well capable of destroying Earth.
We may find that such planets are too far to communicate with, even using radio waves which move at the speed of light.
We may also prefer not to communicate in the first place.
Any civilization which we encounter that is technologically superior to ours will have an inherent advantage over us. It may be that we do not want to invite contact with beings which could have designs on our planet and its resources. Consider the example of the Native Americans. Contact with technologically advanced outsiders did not favor them.
Regardless of what the next few decades bring, we are very close to answering the a great scientific question. The discovery of another Earthlike planet brings us that much closer to closing the book on one topic, and opening many others.
---
Copyright 2018 - Distributed by THE CALIFORNIA NETWORK
Pope Francis Prayer Intentions for APRIL 2018
For those who have Responsibility in Economic Matters.
That economists may have the courage to reject any economy of exclusion and know how to open new paths.
---
---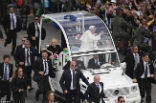 Like any figure of importance, there is high likelihood that the Pope or another Catholic leader could be the subject of a fake video using ... continue reading
---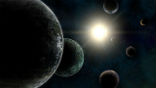 NASA is about to begin a hunt for alien planets near Earth, the first such survey ever conducted. The Transiting Exoplanet Survey Satellite ... continue reading
---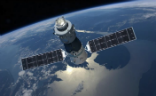 Chinese space station, Tiangong-1 is falling back to Earth and is expected to burn up on or around April 1. LOS ANGELES, CA ... continue reading
---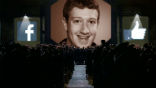 Facebook has been caught in two new scandals, both with political implications. Unbeknownst to millions of users, Facebook has been quietly ... continue reading
---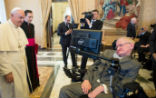 The death of Stephen Hawking this week prompted a leading Catholic scientist to reflect on the life of the famed physicist, including his ... continue reading
---