SERIOUSLY? Let's fight over who gets to name tiny craters on Mars!
---
IAU and private firm clash over naming rights.
What do you give to a person who has everything? For some, it could be naming a star, an asteroid , or even a crater on the Moon or Mars after them. While such practices make for novelty gifts, few people care what is written in an unofficial database, except for one "official body" that claims the right to name objects in space all to itself. Now, a recent naming campaign has one private venture and an official astronomer's union clashing.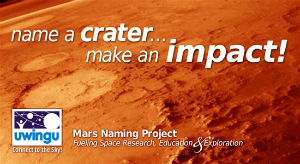 Uwingu is crossing swords with the IAU over the naming rights to Martian craters.
LOS ANGELES, CA (Catholic Online) - It is every astronomer's dream to be the first to discover an object in space and have it named after themselves. Space objects are much more timeless than earthly monuments and with the future of humanity in space, they could perhaps become major features for millions of people, or so many fantasize.
Yet, who names space objects and why?
Prayer, fasting and almsgiving.
We love maps. Maps are an important tool for understanding the cosmos, particularly the Moon and Mars which have been imaged in high resolution in anticipation of human missions to both places in the decades to come. The features on those maps need names, so one body, the International Astronomical Union, comprised of astronomers from around the world, claims the right to name otherworldly features, including the craters on both worlds.
However, a commercial startup known as Uwingu, has stepped on the IAU's toes, rather hard, by selling the rights to name Martian craters for anywhere between $5 to $5,000, depending on the size of each. Some can be as small as a few meters across.
The names make for novelty gifts and they money is used to finance science education as well as the Dutch venture, Mars One which plans to put humans on Mars within 20 years financed by various high-profile publicity stunts, including a possible reality show  to choose who will make the one-way trip to Mars.
According to Uwingu, 7,000 craters have been named and the names will be used on official Mars One maps.
This naturally has the Paris-based IAU upset. The IAU has provided the official names for objects in space for over a century and continues to name space objects. Mountains and craters, as well as every other thing in space that can be named falls within their purview. The IAU also demoted the status of Pluto as a planet in 2006 when it became clear that Pluto was just one of several similarly-sized, distant objects ringing the Solar System.
The IAU has criticized Uwingu's pay-to-name a crater on Mars plan saying Tuesday, "Such initiatives go against the spirit of free and equal access to space, as well as against internationally recognized standards. Hence no purchased names can ever be used on official maps and globes."
This prompted Uwingu co-founder, Doug Griffith to issue a scathing reply, "The IAU needs to stop being the self-licking ice cream cone of the scientific community, and recognize that as long as its existence is merely to gratify its own puritanical principles and sense of elitism, it is not going to be a part of the next wave of space exploration. That will be done by others who recognize that science exists for the benefit of the world, not for the scientists," Griffith told NBC in an email.
To be fair, Uwingu also tells potential buyers that their names are unofficial and despite their likely inclusion on Mars One maps, they might not be used in the future.
And there's no reason to think the IAU's names will be accepted either.
Eventually, people who end up near these features will name them whatever they like. Just as today, people who live in a community name features around them in spite of official names, people of tomorrow will do the same. The colonizers of the Moon and Mars will probably have little regard for the IAU and other agencies that claim rights to label things that are merely objects on a map for earthbound scientists, but a daily reality for future colonizers.
For their part, NASA and other various space agencies will continue using  official IAU names. However, given the fiscal and political reality of space travel, it's difficult to say if it will be NASA or a private agency, such as Mars One, that will actually make it there first, and that fact may have a lot of bearing on the outcome of the current debate.
---
Copyright 2018 - Distributed by THE CALIFORNIA NETWORK
Pope Francis Prayer Intentions for APRIL 2018
For those who have Responsibility in Economic Matters.
That economists may have the courage to reject any economy of exclusion and know how to open new paths.
---
---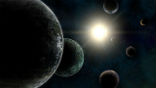 NASA is about to begin a hunt for alien planets near Earth, the first such survey ever conducted. The Transiting Exoplanet Survey Satellite ... continue reading
---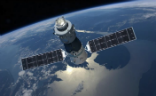 Chinese space station, Tiangong-1 is falling back to Earth and is expected to burn up on or around April 1. LOS ANGELES, CA ... continue reading
---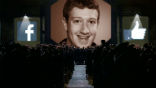 Facebook has been caught in two new scandals, both with political implications. Unbeknownst to millions of users, Facebook has been quietly ... continue reading
---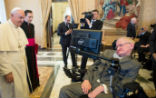 The death of Stephen Hawking this week prompted a leading Catholic scientist to reflect on the life of the famed physicist, including his ... continue reading
---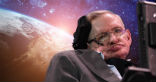 Famed physicist Stephen Hawking has died peacefully in Cambridge, age 76. The physicist was famous for his groundbreaking work in the field ... continue reading
---