DRAMATIC DEATH IN SPACE - Astronomers watch as an entire galaxy bleeds to death before their eyes
---
Can galaxies die? You bet. Here's one literally being murdered by gravity.
Astronomers are watching the horrifying destruction of an entire galaxy occurring about 200 million light-years away. The fate of this galaxy could be shared by ours in the ages to come.
Streamers of blue gas are bleeding away from galaxy ESO 137-001 as gravity shreds it.
LOS ANGELES, CA (Catholic Online) - It is understood that stars die and destroy their planets. Likewise, stars themselves are sometimes destroyed by black holes if they happen to come near one. However, the destruction of an entire galaxy, ripped apart by an incredible gravitational force is an exceptionally rare occurrence.
The scale is nearly unprecedented. While astronomers have witnessed the destruction of stars, the destruction of galaxies is rare. Even when galaxies collide, as they sometimes do, they are not destroyed. However, in the case of galaxy ESO 137-001, gravity is literally shredding the galaxy before our eyes.

St. Dominic de Guzman, patron saint of astronomers.
ESO 137-001 is located in the southern constellation of Triangulum Australe, and it lies in the heart of a cluster of galaxies known as the Norma Cluster. The Norma Cluster is passing near galaxy cluster Abel 3627. Astronomers believe this is the immediate cause of the galaxy's destruction. As the two clusters come together, the larger cluster, Abell, is shredding the closest outside galaxy, which happens to be ESO 137-001.
Our Milky Way Galaxy is similar, in that it too resides in a cluster, known as the Local Group. And there's another frightening thing our galaxy cluster shares with the others -- both our Local Group, the Norma Cluster, and Abell 3627 are being pulled into the maw of the Great Attractor.
The what?
The Great Attractor is eerily described as "a gravitational anomaly" by astronomers. We don't know what it is because we cannot see the region of space it occupies as stars and dust in the Milky Way Galaxy obscure our view. However, we know it is there because all of the galaxies in that region of space as moving towards it. There is no question that something is pulling everything in our region of space towards itself.
Astronomers speculate that it may be a massive galaxy cluster, which we are simply unable to see. Whatever it is, it's pulling entire galaxy clusters towards itself and as those clusters get closer to one another in space, they interact gravitationally.
In this case, ESO 137-001 is being pulled apart by Abell 3627 while everything in that region of space is pulled closer to the Great Attractor.
Images captured with the Hubble Space Telescope show streamers of gas, glowing blue, and in X-rays, heated to a temperature of about 180 million degrees Fahrenheit. These streamers of gas are literally the guts of the victim galaxy being pulled away and towards the Abell cluster. That gas is literally the lifeblood of the galaxy.
Without that gas, the galaxy cannot form new stars and without new stars, the galaxy will eventually die within several billion years or less.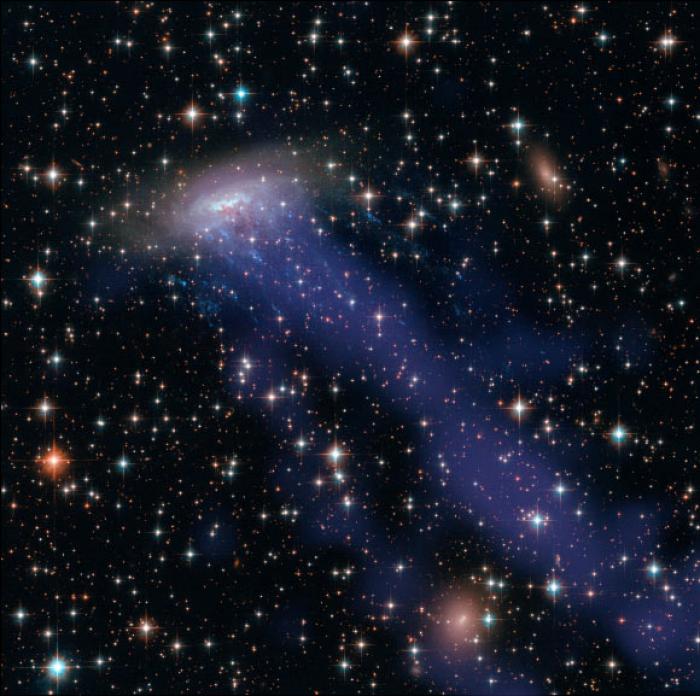 In this composite image from NASA, you can see the gas streaming across tens of thousands of light years away from ESO 137-001. That gas is the literal lifeblood of the galaxy.
The fate of galaxy ESO 137-001 is a fate that our galaxy may share as our own cluster, the Local Group, is pulled closer towards the Great Attractor. Of course, humanity will probably be long gone before that happens, unless we are very good at expanding our species well beyond Earth, but that remains the stuff of science fiction.
Of more immediate use is our study of how gravity works on a massive scale. Astronomers have even noticed that ESO 137-001 is being bent by the gravitational forces affecting it.
Astronomers are also using the galaxy as study in fluid dynamics and how ram pressure, the force felt by an object as it moves through a fluid, works. These studies have immediate application on Earth and are an example of how seemingly esoteric astronomical studies can actually yield immediate benefits to everyday life on Earth.
---
Copyright 2018 - Distributed by THE CALIFORNIA NETWORK
Pope Francis Prayer Intentions for APRIL 2018
For those who have Responsibility in Economic Matters.
That economists may have the courage to reject any economy of exclusion and know how to open new paths.
---
---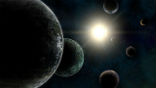 NASA is about to begin a hunt for alien planets near Earth, the first such survey ever conducted. The Transiting Exoplanet Survey Satellite ... continue reading
---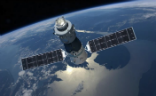 Chinese space station, Tiangong-1 is falling back to Earth and is expected to burn up on or around April 1. LOS ANGELES, CA ... continue reading
---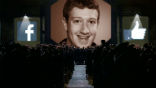 Facebook has been caught in two new scandals, both with political implications. Unbeknownst to millions of users, Facebook has been quietly ... continue reading
---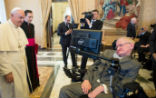 The death of Stephen Hawking this week prompted a leading Catholic scientist to reflect on the life of the famed physicist, including his ... continue reading
---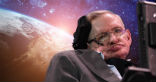 Famed physicist Stephen Hawking has died peacefully in Cambridge, age 76. The physicist was famous for his groundbreaking work in the field ... continue reading
---