Why the Kepler planet discovery changes ABSOLUTELY EVERYTHING!
---
Two possibilities exist: either we are alone in the universe or we are not. Both are equally terrifying.
Few people paid attention to the news yesterday when it was announced that the Kepler Space telescope had discovered 715 new planets orbiting distant stars, after all, it's just one more astronomical discovery that doesn't mean much to folks on Earth. -But actually, it changes everything.
Kepler only examined one patch of sky where most of the stars were over a hundred light years away. What happens when we look everywhere else? The deep sky is filled with planets.
Highlights
By Marshall Connolly (Catholic Online)
Catholic Online (https://www.catholic.org)
2/27/2014 (4 years ago)

Published in Technology
Keywords: Kepler, planets, Goldilocks, habitable, zone, worlds, intelligent, life, extraterrestrial, implications, discover, search, radio
---
LOS ANGELES, CA (Catholic Online) - With a single announcement, scientists have updated what we know about the space around our Sun. We now know of over 1,000 planets outside of our solar system and we can safely conclude that planets are both normal and common around stars.
Most importantly, about 20 percent of those planetary systems have planets which are small in size, similar to Earth, and orbit in the habitable zone around their parent stars.

St. Dominic de Guzman, the patron saint of astronomers.
If these numbers were extrapolated out to the rest of the galaxy, it would mean the odds for intelligent life out there just grew many-fold times.This changes everything by dramatically increasing the odds for discovering intelligent life beyond Earth.
Conveniently, Kepler also identified which star systems are most likely to host planets that can support life, so scientists will know precisely where to look, which will make evaluation much faster. It's also worth noting that Kepler only studied a single patch of sky around the constellation Cygnus, the Swan. There's a lot more sky left to study.
Last month is was suggested we may discover evidence for life outside our solar system within the next twenty years. The discovery that possible life-bearing planets are more common than previously suspected means we could answer the question even sooner than that.
Scientists also made clear that they weren't finished yet. The discoveries were made using just the first two years of Kepler data. The telescope has been working since 2009, and another two year's of solid data are waiting for review. That data will certainly increase the number of candidate worlds for life that we know about.
The Kepler spacecraft discovered these planets because it was designed to look for the dimming of starlight as planets passed in front of the star. Scientists then looked for patterns of dimming which could only be caused by planets. By combining this with the predictable wobble planets have on their parent stars, which can easily be detected, they can determine with great precision how many planets, and what their masses and orbits are around each star.
Unfortunately, Kepler lost some of its functionality last year when some of its pointing equipment failed. The telescope is still operational, but it is now impaired and its mission is coming to an end. It will soon be replaced by a small fleet of improved telescopes designed to perform the same duties, but even better.
Other telescopes in the planet-hunting fleet will actually be used to seek signs of life on these distant worlds.
It is breathtaking to imagine that we are but years away from possibly answering one of the most fundamental questions about the universe. How common is life? Are we truly alone? For decades, astronomers have doubted our loneliness, but there has been zero scientific evidence accumulated to suggest otherwise. Yet, given the vast size of the universe, it also seems extraordinarily unlikely.
Is life common, or is it exceptionally rare? Whatever the answer may be, we are likely to be astounded by the conclusion. As Arthur C. Clarke once surmised, "Two possibilities exist: either we are alone in the universe or we are not. Both are equally terrifying."
Pope Francis calls for your 'prayer and action'...
---
Copyright 2018 - Distributed by THE CALIFORNIA NETWORK
Pope Francis Prayer Intentions for APRIL 2018
For those who have Responsibility in Economic Matters.
That economists may have the courage to reject any economy of exclusion and know how to open new paths.
---
---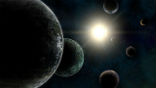 NASA is about to begin a hunt for alien planets near Earth, the first such survey ever conducted. The Transiting Exoplanet Survey Satellite ... continue reading
---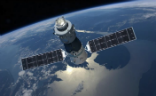 Chinese space station, Tiangong-1 is falling back to Earth and is expected to burn up on or around April 1. LOS ANGELES, CA ... continue reading
---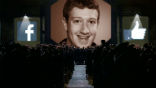 Facebook has been caught in two new scandals, both with political implications. Unbeknownst to millions of users, Facebook has been quietly ... continue reading
---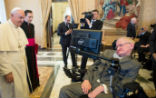 The death of Stephen Hawking this week prompted a leading Catholic scientist to reflect on the life of the famed physicist, including his ... continue reading
---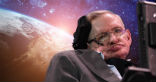 Famed physicist Stephen Hawking has died peacefully in Cambridge, age 76. The physicist was famous for his groundbreaking work in the field ... continue reading
---