By Marshall Connolly, Catholic Online (NEWS CONSORTIUM)
12/26/2013 (2 years ago)
Catholic Online (www.catholic.org)
From our persepctive, at least, the universe is pretty unpredictable.
Last year wasn't the greatest for skywatchers in North America. Fortunately, the events predicted for the coming year are more reliably predictable. Here's our review of 2013, and what to look forward to above, in 2014.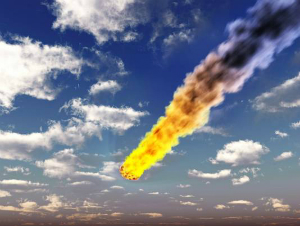 Will there be another fireball in 2014? Possibly.
LOS ANGELES, CA (Catholic Online) - When the New Year dawned on Jan 1, 2013, we had a lot to be excited about. Comet ISON was still out beyond the orbit of Jupiter, but would pass so near the Sun and Earth that the tiny, ice object would put on a dazzling display this December.

Meanwhile, the Sun, which was due to reverse its polarity, would crackle with activity making displays of the aurora prominent over parts of the planet where they are not typically seen. These shows were most likely to occur in the fall and winter.

Yet, despite all of its promise, 2013 disappointed. Comet ISON broke up just hours before rounding the Sun, pulled apart by heating and tidal forces. Astronomers were excited to see the composition of the comet, whose dust was smeared across space for them to analyze,  but skywatchers on Earth were deprived the spectacular show which was to fill the December sky.

As for the Sun itself, it was due to put on a show of its own, cracking with magnetic intensity and bursting with flares and coronal mass ejections that would have lit up the nighttime sky with sheets of greens and red aurora possibly as far south as the southern United States. Indications now suggest that the Sun may have already flipped its magnetic poles, without firing any major ejections towards Earth.

Two of the greatest skywatching events appear to have been duds.

Add to this, the lack of manned spaceflight out of the U.S., since the country is between manned programs, and what should have been a banner year to remember for astronomy enthusiasts has become a year worth forgetting.

However, the year was not a complete wash. Other nations, China in particular, have taken charge in manned spaceflight and both China and India have launched groundbreaking missions of exploration to the Moon and Mars, respectively.

And how can we forget the Chelyabinsk meteor which lit up skies in central Russia on February 15? The event was the most powerful impact from a meteor recorded on Earth since the mysterious Tunguska event in 1908. 

The shockwave from the passing meteor and its blast was so powerful it injured over 1,500 people and was detected circling the globe twice.

Following that event however, which Americans could only see on YouTube collections of dash cam videos, the year was something of a disappointment for North American skywatchers.

Will 2014 be different?

The cosmos is a strange place, perhaps more peculiar than we can imagine. While we can predict many things, there are plenty of surprises in space, but the timescale of nature is not ours, and we could see a flurry of events - comets, meteor impacts, meteor showers and solar storms on an unprecedented scale. Or we could see none of these things at all.

More likely, we will have one or two notable events occurring alongside the usual spate of meteor showers, planetary conjunctions and the like. And America will take a bold first step on a path that will lead us to a manned return trip to the Moon.

First, the Sun isn't entirely calm, although by average figures it is quite muted. The Sun has not fired any major solar storms in the direction of Earth that have resulted in legendary displays of the aurora borealis. Usually occurring every 11 years, these displays are difficult to predict, but new monitoring equipment can now give us a reliable forecast of what is to come. Given the quiet nature of the Sun as it begins its new solar cycle with freshly-reversed poles, we shouldn't plan on any great auroral displays unless we live in the northern tier of the United States or Canada.

Still, we could be surprised as we have been before, but the odds are not in our favor.

In April, during the early morning hours of the 15th, the Moon will pass into the Earth's shadow, darkening the planet for observers in North America. It will be the first total lunar eclipse visible to most of the United States in nearly 4 years.

In May, on May 24 to be precise, observers in North America are uniquely situated to see an incredible sight. A forecasted, but unpredictable meteor shower may rain down on Earth with an intensity that could cause observers to witness hundreds of meteors per hour. The shower will be caused by an intersection between Earth and the duty trail left behind by comet P/209 LINEAR.

If it happens at all, the display is expected to be brief, but likely dramatic, so the calendar should be marked, and folks should plan to stay up. 

In September, NASA is scheduled to launch the Orion space capsule on an unmanned trip into space to test the capsule's performance. This will be the first launch of many before Americans return to the Moon, likely after 2021.

The follow-on to these planned Moon missions will be a voyage to Mars.

On October 9, Americans will once again be treated to a total lunar eclipse, with those in the western United States and the Pacific Rim being treated to the best show. For skywatchers with binoculars, the planet Uranus will also be visible near the Moon.

On October 19, a comet will pass so close to Mars that its dust will rain down in the Martian atmosphere. It won't be much for us to see on Earth, but Mars-based craft could capture some dramatic images as the comet C/2013 A1 Siding Spring passes within arm's reach of the Red Planet.

Americans in the Western U.S. will enjoy a partial solar eclipse on October 23, as the Earth passes into the lunar shadow on that day. Americans in along the east coast will see just a tiny bit of the Moon clipping the sun as it sets.

The caveat remains. Mother Nature may still surprise us with something incredible in 2014. Whether or not that happens, the sky is still a fascinating place. For anyone who spends time under a darkened sky on a regular basis, there's a lot more going on above our heads than we realize. Most of that activity is manmade, as curious aircraft and other human activity thrill from afar, but for those with patience and a good pair of binoculars or a telescope, the sky is a trove of treasures waiting to be discovered.

Your best bet is to keep your eyes open, although a little luck helps.




---
Copyright 2016 - Distributed by THE CALIFORNIA NETWORK
Pope Francis Prayer Intentions for May 2016
Universal:
Respect for Women: That in every country of the world, women may be honored and respected and that their essential contribution to society may be highly esteemed.
Evangelization:
Holy Rosary: That families, communities, and groups may pray the Holy Rosary for evangelization and peace.
---
---
---

By Kenya Sinclair (CALIFORNIA NETWORK)
A new app just signed a contract with a homeland security agency to help identify national threats to security - but is it accurate? LOS ANGELES, CA (Catholic Online) - Faception is a new facial recognition app that can identify everyone from terrorists to poker ... continue reading
---

By Marshall Connolly (CALIFORNIA NETWORK)
Facebook has announced they will retrain employees responsible for curating their news content. The social networking giant has been accused of censoring news and content with a conservative slant in favor of liberal content. LOS ANGELES, CA (California Network) - ... continue reading
---

By Marshall Connolly (CALIFORNIA NETWORK)
All healthy, well adjusted people want to work. It's hardwired into our DNA to build, to produce, to gather, grow and trade. Without this impulse, our species could never have built civilization. But what happens when an essential part of our being becomes obsolete? ... continue reading
---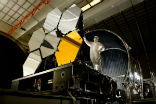 By Marshall Connolly (CALIFORNIA NETWORK)
Scientists have announced the discovery of three planets in the habitable zone of a star just 39 light years away. Such planets have the potential to host life, making them targets for future study. LOS ANGELES, CA (California Network) - Are scientists about to ... continue reading
---

By Marshall Connolly (CALIFORNIA NETWORK)
Earlier this year, a robot beat a master player at the ancient game of Go. Now, robots are beating humans at soccer. Armies of engineers are working around the world to develop artificial intelligence and robots that can do what humans do, only better. They're making ... continue reading
---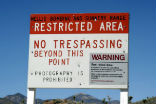 By Marshall Connolly (CALIFORNIA NETWORK)
UFO watchers have spotted a mysterious mushroom-shaped cloud over Area 51. The cause of the cloud remains unknown, but it is evidently connected to a fire at the secret military base. Viewers were unable to obtain direct footage of whatever caused the inferno, due to ... continue reading
---

By Kenya Sinclair (CALIFORNIA NETWORK)
After Microsoft's failure with AI teen "Tay," it should come as no surprise that more and more researchers are agreeing artificial intelligence requires a delicate balance between helpful tech and murderous exterminators. LOS ANGELES, CA (Catholic Online) - According ... continue reading
---

By Marshall Connolly (CALIFORNIA NETWORK)
Fast food workers, say goodbye to that grimy job with surly guests and overbearing managers. Your fight for $15 is over. No, you didn't win, someone has invented a machine that makes hamburgers better and faster than you do. LOS ANGELES, CA (California Network) - ... continue reading
---

By Kenya Sinclair (CALIFORNIA NETWORK)
Ian Burkhart underwent experimental brain surgery to help scientists pioneer technology aimed at reanimating paralyzed limbs - and it worked! LOS ANGELES, CA (Catholic Online) - Six years ago, Burkhart severed his spine when he went for a swim and was slammed into a ... continue reading
---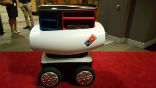 By Marshall Connolly (CALIFORNIA NETWORK)
Robots will soon begin to deliver your mail, pizza, and other parcels within the next few years. Plans are being developed around the globe to test, then roll out automated delivery systems for everything from packages, to mail to pizza. The rising demand for delivered ... continue reading
---
All Technology News