Next year promises to be good for skywatchers.
On Thanksgiving morning, I joined tens of thousands of others on a live Google+ Hangout to watch Comet ISON zip past the Sun. After waiting fifteen months, the final, most dangerous part of the journey had arrived. Then, in the space of minutes-disaster. Yet, there is good news.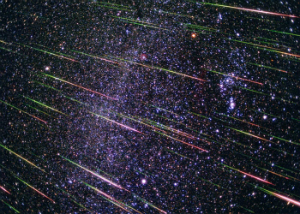 An epic meteor shower in 2014 could console those of us mourning the loss of Comet ISON.
LOS ANGELES, CA (Catholic Online) - Comet ISON defied all predictions. When discovered beyond the orbit of Jupiter, it was suggested that it could become the comet of the century, outshining the full moon in broad daylight.

Then, the comet brightened more slowly than predicted. Enthusiasm tempered, but remained high. We learned the comet was of an exceptionally rare variety and that it glowed green rather than white. Weeks before perihelion, it brightened dramatically, almost to naked-eye visibility. Then it dimmed a bit. Then it flared up to naked-eye levels, but approached the sun in the morning sky, making it harder to see.

Finally, just 12 hours before perihelion, ISON flared dramatically. What we know now is that final brightening was the beginning of the end for ISON.

I heard the news live from Philip Plait, also known as the "Bad Astronomer" on Slate.com.  Plait shared the latest processed image from the SOHO satellite, a device in space, pointed at the Sun. Instead of a bright dot followed by a diffuse tail, as a comet should appear, we saw a broad, bright streak, without a head.


In the minutes that followed the professional consensus came in. Like Icarus, Comet ISON had flown too close to the Sun and broke up. Public disappointment was deep. Instead of a Christmas skyshow, we would be treated now to nothing.
Although later in the day a fragment of the comet was spotted, that too quickly faded, a final remnant of the comet turned to dust by the heat and tidal power of the Sun. Today, comet ISON is simply no more, its ashes scattered to the solar wind.
For astronomers, the breakup was actually a bonus. By studying the light reflected from the particles of dust, blown out from the inside of the busted nucleus, they can gather important data about what the comet was made of, which helps them learn about how our Solar System may have formed.
Yet, the rest of us, ready with merely our eyes or a pair of binoculars, were heartily disappointed. For myself, it felt like the unexpected, last-minute cancellation of a long-anticipated pleasure trip.
In my despair, I began searching for other sky-events worth anticipating. Off the top of my head, I was only aware of disappointment. Even the peak of the current solar cycle, which should have created geomagnetic storms and displays of the northern lights at lower latitudes, at least once, has proven disappointing. What's next?
There's a few things worth paying attention to in the year to come. Notably, the arrival of an enigmatic meteor shower that could have the capability of outperforming anything many people have seen in living memory.
On May 24, 2014, Earth will pass through a very dense stream of dust in space. As comets orbit the Sun, they leave behind trails of dust that continue orbiting in their trail, much like a virtual river of dust in space. When Earth passes through these trails, we get meteor showers. These showers can be predicted in advance and often happen year-after-year.
Next year, we will encounter an entirely new, and fresh trail in space. Particles shed by Comet 209P/LINEAR could create a "meteor storm" particularly for people in North America, who are best situated to view the shower.
Astronomers, if their predictions are accurate, think the meteor shower could create a storm with as many as 100-1,000 meteors per hour. Typically, most meteor showers are merely a few dozen or more per hour in intensity.
This prediction is being made by several astronomers in different countries, working independently of one another.
Another event will be much more mundane, from an Earthly perspective, but it too should make headlines. In September 2014, the Orion space capsule will be launched on its maiden test flight. The capsule will be unmanned but will represent the first test of a craft capable of returning astronauts to the Moon. Over the coming years further test flights are scheduled and the next moon landing could happen in the early 2020s.
The September launch will be a major news event and will be televised.
The loss of Comet ISON gives astronomers plenty to study. For the rest of us looking forward to amazing sights in the nighttime sky, there will be at least one or more extraordinary events in 2014.
So don't cry for Comet ISON.
A birth foretold: click here to learn more!
---
Copyright 2016 - Distributed by THE CALIFORNIA NETWORK
Pope Francis Prayer Intentions for May 2016
Universal:
Respect for Women: That in every country of the world, women may be honored and respected and that their essential contribution to society may be highly esteemed.
Evangelization:
Holy Rosary: That families, communities, and groups may pray the Holy Rosary for evangelization and peace.

By Kenya Sinclair (CALIFORNIA NETWORK)
A new app just signed a contract with a homeland security agency to help identify national threats to security - but is it accurate? LOS ANGELES, CA (Catholic Online) - Faception is a new facial recognition app that can identify everyone from terrorists to poker ... continue reading
---

By Marshall Connolly (CALIFORNIA NETWORK)
Facebook has announced they will retrain employees responsible for curating their news content. The social networking giant has been accused of censoring news and content with a conservative slant in favor of liberal content. LOS ANGELES, CA (California Network) - ... continue reading
---

By Marshall Connolly (CALIFORNIA NETWORK)
All healthy, well adjusted people want to work. It's hardwired into our DNA to build, to produce, to gather, grow and trade. Without this impulse, our species could never have built civilization. But what happens when an essential part of our being becomes obsolete? ... continue reading
---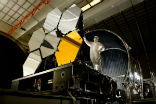 By Marshall Connolly (CALIFORNIA NETWORK)
Scientists have announced the discovery of three planets in the habitable zone of a star just 39 light years away. Such planets have the potential to host life, making them targets for future study. LOS ANGELES, CA (California Network) - Are scientists about to ... continue reading
---

By Marshall Connolly (CALIFORNIA NETWORK)
Earlier this year, a robot beat a master player at the ancient game of Go. Now, robots are beating humans at soccer. Armies of engineers are working around the world to develop artificial intelligence and robots that can do what humans do, only better. They're making ... continue reading
---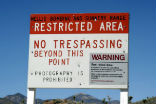 By Marshall Connolly (CALIFORNIA NETWORK)
UFO watchers have spotted a mysterious mushroom-shaped cloud over Area 51. The cause of the cloud remains unknown, but it is evidently connected to a fire at the secret military base. Viewers were unable to obtain direct footage of whatever caused the inferno, due to ... continue reading
---

By Kenya Sinclair (CALIFORNIA NETWORK)
After Microsoft's failure with AI teen "Tay," it should come as no surprise that more and more researchers are agreeing artificial intelligence requires a delicate balance between helpful tech and murderous exterminators. LOS ANGELES, CA (Catholic Online) - According ... continue reading
---

By Marshall Connolly (CALIFORNIA NETWORK)
Fast food workers, say goodbye to that grimy job with surly guests and overbearing managers. Your fight for $15 is over. No, you didn't win, someone has invented a machine that makes hamburgers better and faster than you do. LOS ANGELES, CA (California Network) - ... continue reading
---

By Kenya Sinclair (CALIFORNIA NETWORK)
Ian Burkhart underwent experimental brain surgery to help scientists pioneer technology aimed at reanimating paralyzed limbs - and it worked! LOS ANGELES, CA (Catholic Online) - Six years ago, Burkhart severed his spine when he went for a swim and was slammed into a ... continue reading
---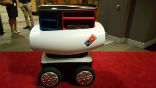 By Marshall Connolly (CALIFORNIA NETWORK)
Robots will soon begin to deliver your mail, pizza, and other parcels within the next few years. Plans are being developed around the globe to test, then roll out automated delivery systems for everything from packages, to mail to pizza. The rising demand for delivered ... continue reading
---
All Technology News