By Marshall Connolly, Catholic Online (NEWS CONSORTIUM)
11/6/2013 (2 years ago)
Catholic Online (www.catholic.org)
The implications of Kepler survey are very profound.
According to NASA scientists, 20 percent or more of all stars in the galaxy have Earth-like planets capable of sustaining life. The findings, announced this week, suggest that our galaxy could be teeming with life.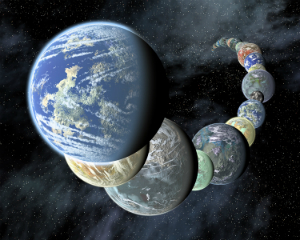 The Milky Way is probably teeming with planets capable of supporting life.
Highlights
By Marshall Connolly, Catholic Online (NEWS CONSORTIUM)
Catholic Online (www.catholic.org)
11/6/2013 (2 years ago)
Published in Technology
Keywords: Kepler, planets, Goldilocks, habitable, zone, worlds, intelligent, life, extraterrestrial, implications, discover, search, radio
---
LOS ANGELES, CA (Catholic Online) - It is regarded by some as one of the greatest questions in science, "is there intelligent life, besides ours, out there in the universe?"

The general answer is yes, but for whatever reason it has not likely ever come to Earth, nor has there ever been any contact. This is the product of simple mathematical thinking, and is not based on any particularly scientific conclusions, other than the fact the universe is incredibly vast and we have not yet made contact.

Scientifically and strictly speaking, we're quite alone in the universe; absolutely no evidence yet exists to prove the existence of life beyond our planet.

However, astronomers believe that within coming decades they will be able to answer this question. The first phase of study required to answer this question has just been completed by the Kepler Space Telescope.

The Kepler mission has imaged over 150,000 stars in our galaxy. From that data, over 3,000 planets have been found. The telescope can detect the minute dimming of starlight as a planet passes in from of its parent star as seen from Earth. When those dips occur with predictable regularity, it can be concluded that a planet is present.

Other measurements, such as how much starlight is blocked and the tiny wobble of the star as the planets orbit, can reveal how many, how massive, and even where around the star the planet must be.

Around each star, there exists a band of space where liquid water can exist, with temperatures being neither too hot, nor too cold for the life-giving liquid. That area is called the "habitable" or "goldilocks" zone.

Of all the planets imaged by Kepler, 22 percent of them fall within their star's habitable zone.

When extrapolated to the billions of stars in the Milky Way galaxy alone, the result is that tens of billions of planets probably orbit their stars in the habitable zones.

This does not mean they have life. It only increases the odds of locating planets capable of supporting life. This has two implications.

The first is that if the human race manages to survive its technological infancy and progress to a point where we are somehow capable of traversing interstellar space, then the nearest habitable world may be as close as 12 light years away, making the journey to that planet more reasonable with fast spacecraft. Of course, this will not be a topic of relevant concern for possibly centuries.

The other implication is more immediate. By identifying close planets within habitable zones, we know where to focus our search for extraterrestrial life. Within the coming decades, we expect to have astronomical equipment capable of measuring the composition of the atmospheres of each planet.

Life can produce certain signature molecules, such as methane, which absorb light as it passes through a planet's atmosphere. From Earth, we expect to be able to sample that light and tell what chemicals are prevalent in the atmospheres of those distant planets.

This is the most likely way we will discover evidence of life beyond Earth, if it exists at all.

Other methods might include turning radio telescopes to see if we can detect radio emissions or other types of radiation coming from the planet. Our own planet has been broadcasting our existence since the invention of the wireless radio over a century ago. It is possible that an intelligent civilization less than a hundred light-years away from Earth is already listening to our broadcasts, and could be broadcasting themselves.

However, even if the universe were teeming with intelligent, mass-communicating life, there is no reason to believe we could easily listen in ourselves. Our technology is probably primitive by comparison, and we can no more listen in to their conversation than can a remote tribe of jungle people, communicating with drums, tune in to our own cellular communications. In fact, they might not even be listening for us.

And of course, they might not even be there at all.

So the question persists. It makes for fantastical sci-fi, and it sets a goal for astronomers, inherently curious, to reach.

A birth foretold: click here to learn more!


---
Copyright 2016 - Distributed by THE CALIFORNIA NETWORK
Pope Francis Prayer Intentions for May 2016
Universal:
Respect for Women: That in every country of the world, women may be honored and respected and that their essential contribution to society may be highly esteemed.
Evangelization:
Holy Rosary: That families, communities, and groups may pray the Holy Rosary for evangelization and peace.
---
---
---

By Kenya Sinclair (CALIFORNIA NETWORK)
A new app just signed a contract with a homeland security agency to help identify national threats to security - but is it accurate? LOS ANGELES, CA (Catholic Online) - Faception is a new facial recognition app that can identify everyone from terrorists to poker ... continue reading
---

By Marshall Connolly (CALIFORNIA NETWORK)
Facebook has announced they will retrain employees responsible for curating their news content. The social networking giant has been accused of censoring news and content with a conservative slant in favor of liberal content. LOS ANGELES, CA (California Network) - ... continue reading
---

By Marshall Connolly (CALIFORNIA NETWORK)
All healthy, well adjusted people want to work. It's hardwired into our DNA to build, to produce, to gather, grow and trade. Without this impulse, our species could never have built civilization. But what happens when an essential part of our being becomes obsolete? ... continue reading
---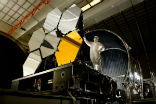 By Marshall Connolly (CALIFORNIA NETWORK)
Scientists have announced the discovery of three planets in the habitable zone of a star just 39 light years away. Such planets have the potential to host life, making them targets for future study. LOS ANGELES, CA (California Network) - Are scientists about to ... continue reading
---

By Marshall Connolly (CALIFORNIA NETWORK)
Earlier this year, a robot beat a master player at the ancient game of Go. Now, robots are beating humans at soccer. Armies of engineers are working around the world to develop artificial intelligence and robots that can do what humans do, only better. They're making ... continue reading
---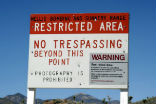 By Marshall Connolly (CALIFORNIA NETWORK)
UFO watchers have spotted a mysterious mushroom-shaped cloud over Area 51. The cause of the cloud remains unknown, but it is evidently connected to a fire at the secret military base. Viewers were unable to obtain direct footage of whatever caused the inferno, due to ... continue reading
---

By Kenya Sinclair (CALIFORNIA NETWORK)
After Microsoft's failure with AI teen "Tay," it should come as no surprise that more and more researchers are agreeing artificial intelligence requires a delicate balance between helpful tech and murderous exterminators. LOS ANGELES, CA (Catholic Online) - According ... continue reading
---

By Marshall Connolly (CALIFORNIA NETWORK)
Fast food workers, say goodbye to that grimy job with surly guests and overbearing managers. Your fight for $15 is over. No, you didn't win, someone has invented a machine that makes hamburgers better and faster than you do. LOS ANGELES, CA (California Network) - ... continue reading
---

By Kenya Sinclair (CALIFORNIA NETWORK)
Ian Burkhart underwent experimental brain surgery to help scientists pioneer technology aimed at reanimating paralyzed limbs - and it worked! LOS ANGELES, CA (Catholic Online) - Six years ago, Burkhart severed his spine when he went for a swim and was slammed into a ... continue reading
---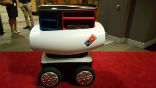 By Marshall Connolly (CALIFORNIA NETWORK)
Robots will soon begin to deliver your mail, pizza, and other parcels within the next few years. Plans are being developed around the globe to test, then roll out automated delivery systems for everything from packages, to mail to pizza. The rising demand for delivered ... continue reading
---
All Technology News