By Marshall Connolly, Catholic Online (NEWS CONSORTIUM)
10/18/2013 (2 years ago)
Catholic Online (www.catholic.org)
Comet is on track according to revised predictions.
Last month, astronomers were worried that Comet ISON would fizzle out and disappoint. Speculation even suggested the would-be comet of the century might have broken into pieces. New observations suggest those worries are premature as the comet appears right on track to provide a rare show in December.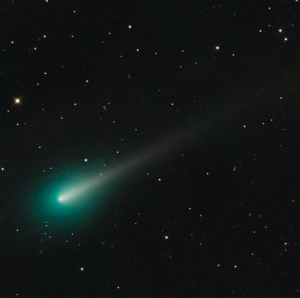 Comet ISON glows green in this recent image.
Highlights
By Marshall Connolly, Catholic Online (NEWS CONSORTIUM)
Catholic Online (www.catholic.org)
10/18/2013 (2 years ago)
Published in Technology
---
LOS ANGELES, CA (Catholic Online) - Astronomers initially hyped Comet ISON as the "comet of the century" when it was first discovered in late September of 2012. Recently, those predictions were revised downward as the comet did not appear to be brightening as predicted.

Rumors began spreading through the community that the comet would be a dud, that possibly it had already broken up as it approached the Sun. Now following a fresh series of observations, the comet appears to be on track to put on quite a show.

It is perfectly intact and growing in brightness as expected. It will not be as bright as initially hoped, which is bright enough to be observed in daylight, but it will be plainly visible to the naked eye sometime in late November or early December.

Already, amateur astronomers with large telescopes say they can see the comet in the pre-dawn sky. Those armed with smaller telescopes and binoculars will be able to see the comet in early November. From mid-to-late November, possibly as early as Nov. 19, the comet will be visible to naked-eye observers.

The comet should continue to brighten until the first week of December. By that time, the comet will be glowing brightly in the evening sky, and climb higher into the northern sky until late December when it will fade from view.

There are some curious notes about comet ISON. The most interesting is that it glows green because of its composition. Filled with cyanogens gas and diatomic carbon, both poisonous to humans, the dust and gas glows green in the sunlight, similar in the way to a neon sign glows.

There is no danger from the gasses however, as they are remarkably diffuse. Anyone standing in the on the surface of the comet would not likely even ingest enough to suffer poisoning. Comets are not as they are depicted in 90s movies.

Another interesting fact about the comet is that it will pass within the Roche Limit, which is a tidal boundary that extends almost 7 million miles from the surface of the Sun. Any object that passes within that limit will be subjected to extreme tidal forces and may possibly break up. If so, then Comet ISON might not survive its trip around the Sun, less than a million miles above its surface.

Comet ISON is thought to be large enough to survive the heat of the Sun, although a good portion of it will literally melt away, causing it to shine even more brightly in the evening sky from Earth.

Whether or not it will survive the Sun's tidal forces is another question. So far, astronomers think it will, yet nobody knows what will really happen. Comets are notoriously unpredictable.

So far, the news for Comet ISON is good and you will catch your first glimpse in mid-November. Naked-eye comets are rare treats, so make sure you follow the news and make a point to step outside and catch a glimpse of green Comet ISON, you won't regret the spectacle.
---
Copyright 2015 - Distributed by THE CALIFORNIA NETWORK
Pope Francis Prayer Intentions for April 2016
Universal:
Small Farmers: That small farmers may receive a just reward for their precious labor.
Evangelization:
African Christians: That Christians in Africa may give witness to love and faith in Jesus Christ amid political-religious conflicts.
---
---
---

By Marshall Connolly (CALIFORNIA NETWORK)
Earlier this year, a robot beat a master player at the ancient game of Go. Now, robots are beating humans at soccer. Armies of engineers are working around the world to develop artificial intelligence and robots that can do what humans do, only better. They're making ... continue reading
---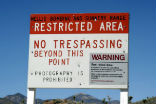 By Marshall Connolly (CALIFORNIA NETWORK)
UFO watchers have spotted a mysterious mushroom-shaped cloud over Area 51. The cause of the cloud remains unknown, but it is evidently connected to a fire at the secret military base. Viewers were unable to obtain direct footage of whatever caused the inferno, due to ... continue reading
---

By Kenya Sinclair (CALIFORNIA NETWORK)
After Microsoft's failure with AI teen "Tay," it should come as no surprise that more and more researchers are agreeing artificial intelligence requires a delicate balance between helpful tech and murderous exterminators. LOS ANGELES, CA (Catholic Online) - According ... continue reading
---

By Marshall Connolly (CALIFORNIA NETWORK)
Fast food workers, say goodbye to that grimy job with surly guests and overbearing managers. Your fight for $15 is over. No, you didn't win, someone has invented a machine that makes hamburgers better and faster than you do. LOS ANGELES, CA (California Network) - ... continue reading
---

By Kenya Sinclair (CALIFORNIA NETWORK)
Ian Burkhart underwent experimental brain surgery to help scientists pioneer technology aimed at reanimating paralyzed limbs - and it worked! LOS ANGELES, CA (Catholic Online) - Six years ago, Burkhart severed his spine when he went for a swim and was slammed into a ... continue reading
---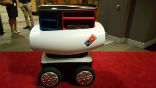 By Marshall Connolly (CALIFORNIA NETWORK)
Robots will soon begin to deliver your mail, pizza, and other parcels within the next few years. Plans are being developed around the globe to test, then roll out automated delivery systems for everything from packages, to mail to pizza. The rising demand for delivered ... continue reading
---

By Monique Crawford (CALIFORNIA NETWORK)
After securing $3.6 million to fund an up-and-coming piece of technology, an MIT-spinoff company based in Singapore shames Google's driverless car. LOS ANGELES, CA (Catholic Online) - With news of self-driving taxis popping up across the internet, it should come as no ... continue reading
---

By Monique Crawford (CALIFORNIA NETWORK)
Time is money and money is everything. It pays for your home, food, technology, education, transit and basic needs - but what happens when your time no longer brings in the money? What would you resort to if you knew you would starve? LOS ANGELES, CA (Catholic Online) ... continue reading
---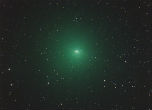 By Marshall Connolly (CALIFORNIA NETWORK)
A pair of green comets have zipped frightfully close to Earth, and it may be possible to catch a glimpse of one from your backyard. LOS ANGELES, CA (California Network) - Astronomers were caught by surprise when they detected a new comet on January 22 using the ... continue reading
---

By Marshall Connolly (CALIFORNIA NETWORK)
Astronomers have discovered the brightest galaxies yet, shinning so brightly, they do not even fall on a scale they use to measure luminosity. The discovery could help refine their understanding of the nature of the early universe and how galaxies formed. LOS ANGELES, ... continue reading
---
All Technology News