Scientists and journalists are making mistakes in the climate change debate, and it's costing us.
Recently, Catholic Online published a story on the expansion of Arctic sea ice, suggesting the expansion of the ice represents a setback for the strident global-warming alarmist community. However, upon cool review of the evidence, the conclusion may be premature.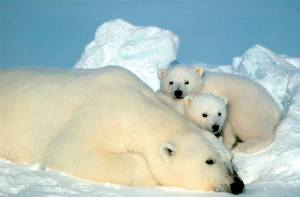 Polar bears are among the most photogenic of the endangered species and icons of Arctic climate change.
Highlights
By Marshall Connolly, Catholic Online (NEWS CONSORTIUM)
Catholic Online (www.catholic.org)
9/16/2013 (2 years ago)
Published in Technology
Keywords: global warming, climate change, ice caps, temprature, pollution, scientists, consensus, flooding, mistakes, debate, journalists
---
LOS ANGELES, CA (Catholic Online) - I commonly write on climate change as a favorite topic and have interviewed several climatologists about the issue. My coworkers engage me in friendly discussions and the recent report in the Daily Mail that proved the surface area of Arctic sea ice was expanding, provided the fodder for some ribbing in my direction.

However, I am not an "alarmist" as some may accuse, but rather I feel we need to assess the scientific evidence and make measured and calculated decisions that are grounded in both science and morality.

There are four basic problems with the current discussion.

1.    We're using "global warming" interchangeably with "climate change."

The climate changes naturally over long periods of time. Even within short periods, there can be some level of change. Volcanic activity, variations in solar output, ratios of greenhouse gasses in the atmosphere all bring about fluctuations in the climate, no humans required.

It is important to make the distinction. Climate change is the overall pattern of changes in regional climate as a result of changes in the overall temperature of the planet, or more accurately, with the level of energy circulating between the planet's crust and the upper atmosphere. Some desert areas may become green, ice caps may melt, or grow, and predominant weather patterns may shift.


At the present time, climate change appears to be spurred by global warming, which is the average rise of air temperature around the planet over a period of time. That this is happening is beyond question. What is subject to debate are the causes of that warming, or specifically, to what degree are humans responsible for it.
2.    Reality is incredibly complex, so models can only provide mediocre predictions, not precision. Trends should be the basis for policy. Both sides are putting too much stock in modeled predictions.
It should come as little surprise to anyone with an interest in the weather that climatologists can't accurately predict what will happen from one year to the next. This year has shown us a couple of major climate surprises already. The first was the announcement that the Arctic ice cap grew in area as opposed to shrinking altogether as previously feared. In 2007, alarmist headlines ominously warned that the Arctic ice cap would disappear in the summer. Encouraged by the news, several boating enthusiasts attempted to traverse the fabled "Northwest Passage." Today, their boats are stuck in ice and a Canadian icebreaker is moving to rescue them.
In other news, the hurricane season, predicted to be especially active and robust, has been the second most quiet in history, at least to date. Both of these climate surprises illustrate how inaccurate some predictions are.
We shouldn't be surprised. How often are local weather predictions changed up until the hour at which they occur? If the weather anchor on the news can't nail the local weather, how can we expect scientists to accurately guess the weather many years from now? We can't.
What we are learning, and this is painfully evident as dire predictions are missed, that the planet is a very sophisticated system and the variables are plentiful. For example, why do our climate models show warming, with that trend reaching a plateau over the past decade?
Nature abhors straight lines. We can draw trends, but we cannot guarantee what will happen tomorrow, furthermore decades from now. This does not invalidate the trends, but instead suggests we need to take precise predictions about tomorrow with a grain of salt. Instead, the media in particular, myself included, goes for the big headline. After all, dire headlines capture readers. Nobody wants to read that it will just be mildly unpleasant when we can regale them with tales of superstorms and a mad-Max-style dystopian future where we live on a desert planet.
Will tomorrow's climate be warmer? Overall, certainly. Guessing how much and when is the hard part. However, we do know the warming is coming and it's coming fast. More on that in a moment.
3.    People on both sides of the issue are not thinking three-dimensionally.
This issue coincides with the former in that natural systems are multi-dimensional. We are accustomed to working with pairs of variables, such as supply vs. demand and the like, but nature is hardly obliging. The satellite photos don't lie. The Arctic ice cap is larger than it was last year, and much more extensive than predicted.
The problem here is that images can be spun, and journalists lie. Perhaps not deliberately, perhaps they are misinformed or they simply don't understand, but just because something is published on the Daily Mail or the WSJ, doesn't mean it should be automatically awarded gospel status. Yes, that even goes for the content I write, I'm fairly well-versed, but my words alone shouldn't make for gospel.
So what about that ice cap? As quickly as the media flew headlines proclaiming "global cooling" scientists quickly followed to explain that overall volume is much less than in previous years. In fact, the same phenomenon may be what we're observing in the Antarctic. The Antarctic ice sheets are expanding in terms of surface area, but they are also thinning. As meltwater makes its way to the sea and refreezes, it has the effect of spreading the surface area of the ice while the icesheet grows thinner. It's much like an ice cream cone melting on pavement. As the frozen treat melts, the mess spreads out over a wider area.
This is a good illustration of the problem. Journalists are viewing the ice caps two-dimensionally, in terms of length and width, and ignoring depth.
Overall, the trend in ice is downwards. As with any statistics in a natural environment, there will be variation. There will be statistical outliers. However, we should also be able to extrapolate a trend over time. This is where the focus must be.
If we should find that the current temperature trend reverses, then we will need to have a different discussion. However, for the time being a slowing of the pace of warming isn't the same as stopping or reversal. It's still getting warmer, year over year on average, and we need to explain it and do something about it.
4.    Why do we need to act? Because climate change is real and it's happening faster than at any time in history.
Not even in prehistoric times have we witnessed such a rapid change in climate for either warmer or colder.  This is a problem because plants and animals need to adapt to changes otherwise they will become extinct. Already, thousands and likely millions of species are susceptible to extinction as a result of climate change.
It is a fact that nature selects some species for extinction. Mother Nature is cruelly indifferent to the vagaries of climate, but there is a mechanism that can save these species, known as natural selection. However, for natural selection to result in favorable adaptations it requires dozens, perhaps hundreds of successive generations. It works well, but it's a slow process.
Meanwhile, we're warming the planet at an astounding rate, changing ecosystems faster than some organisms can adapt. Polar bears are a favorite example. As the arctic ice melts, polar bears lose more of their crucial habitat.
Other organisms seem to be adapting better than others
. Atlantic lobster stocks are moving north. Insects are invading new territory. Plants are growing in places where before there was only ice or sand.
The Earth's atmosphere is a very thin layer compared to the rest of the planet. We depend on clean air for survival. We need breathable air, we need rain and snow, and measures of sunlight to survive. Despite the limited quantity of clean, breathable air, we seem to have little problem with industrializing and polluting it as we go. Likewise, we pollute our water and food supplies, slash-and-burn our forests, clear the oceans, and devour everything we touch.
At the top of this pyramid of excess, we sit as Americans consuming a significant, double-digit portion of the world's resources in food and energy, while making just a fraction of its population. To do this, then leave in our wake a trail of pollution for our children to clean up is immoral.
It is difficult to argue we should make dramatic changes to our quality of life and consumption habits. But as a nation we have followed policies, combined with our natural wealth in land, that have made us wealthy. We're accustomed to the good life and can't imagine different.
I don't know what we need to do to avert or mitigate a future crisis, which I still worry is looming. However, until we work on the problems listed above, we will continue to debate about the reality and significance of global climate change and warming until time to avert any crisis is already long past.
Click to learn about our Saint Michael the Archangel conference this Nov 1-3!
---
Copyright 2016 - Distributed by THE CALIFORNIA NETWORK
Pope Francis Prayer Intentions for May 2016
Universal:
Respect for Women: That in every country of the world, women may be honored and respected and that their essential contribution to society may be highly esteemed.
Evangelization:
Holy Rosary: That families, communities, and groups may pray the Holy Rosary for evangelization and peace.

By Kenya Sinclair (CALIFORNIA NETWORK)
A new app just signed a contract with a homeland security agency to help identify national threats to security - but is it accurate? LOS ANGELES, CA (Catholic Online) - Faception is a new facial recognition app that can identify everyone from terrorists to poker ... continue reading
---

By Marshall Connolly (CALIFORNIA NETWORK)
Facebook has announced they will retrain employees responsible for curating their news content. The social networking giant has been accused of censoring news and content with a conservative slant in favor of liberal content. LOS ANGELES, CA (California Network) - ... continue reading
---

By Marshall Connolly (CALIFORNIA NETWORK)
All healthy, well adjusted people want to work. It's hardwired into our DNA to build, to produce, to gather, grow and trade. Without this impulse, our species could never have built civilization. But what happens when an essential part of our being becomes obsolete? ... continue reading
---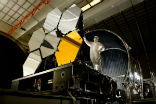 By Marshall Connolly (CALIFORNIA NETWORK)
Scientists have announced the discovery of three planets in the habitable zone of a star just 39 light years away. Such planets have the potential to host life, making them targets for future study. LOS ANGELES, CA (California Network) - Are scientists about to ... continue reading
---

By Marshall Connolly (CALIFORNIA NETWORK)
Earlier this year, a robot beat a master player at the ancient game of Go. Now, robots are beating humans at soccer. Armies of engineers are working around the world to develop artificial intelligence and robots that can do what humans do, only better. They're making ... continue reading
---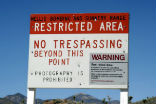 By Marshall Connolly (CALIFORNIA NETWORK)
UFO watchers have spotted a mysterious mushroom-shaped cloud over Area 51. The cause of the cloud remains unknown, but it is evidently connected to a fire at the secret military base. Viewers were unable to obtain direct footage of whatever caused the inferno, due to ... continue reading
---

By Kenya Sinclair (CALIFORNIA NETWORK)
After Microsoft's failure with AI teen "Tay," it should come as no surprise that more and more researchers are agreeing artificial intelligence requires a delicate balance between helpful tech and murderous exterminators. LOS ANGELES, CA (Catholic Online) - According ... continue reading
---

By Marshall Connolly (CALIFORNIA NETWORK)
Fast food workers, say goodbye to that grimy job with surly guests and overbearing managers. Your fight for $15 is over. No, you didn't win, someone has invented a machine that makes hamburgers better and faster than you do. LOS ANGELES, CA (California Network) - ... continue reading
---

By Kenya Sinclair (CALIFORNIA NETWORK)
Ian Burkhart underwent experimental brain surgery to help scientists pioneer technology aimed at reanimating paralyzed limbs - and it worked! LOS ANGELES, CA (Catholic Online) - Six years ago, Burkhart severed his spine when he went for a swim and was slammed into a ... continue reading
---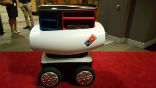 By Marshall Connolly (CALIFORNIA NETWORK)
Robots will soon begin to deliver your mail, pizza, and other parcels within the next few years. Plans are being developed around the globe to test, then roll out automated delivery systems for everything from packages, to mail to pizza. The rising demand for delivered ... continue reading
---
All Technology News