By Marshall Connolly, Catholic Online (NEWS CONSORTIUM)
7/17/2013 (2 years ago)
Catholic Online (www.catholic.org)
Astronomers now have evidence that gold forms when neutron stars collide.
The gold we adore, hoard, and wear may be more exotic than most of us think, having formed in a process much more rare than previously imagined by ordinary folk.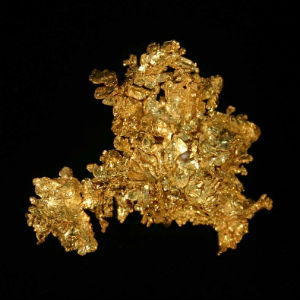 Gold is likely formed in the collision between neutron stars.
LOS ANGELES, CA (Catholic Online) - We value and enjoy the beauty of gold, one of the Earth's rarest and most precious metals. It has been used throughout all of recorded history as money, for jewelry and adornment, and even serves utilitarian purposes, mostly in electronics.

However, we rarely give thought to where gold comes from, other than that miners extract it from the Earth. Nevertheless, where does it form?

The Aztecs may have had the best answer, referring to gold as the excreta of the Sun.

Scientists have long known that gold comes from the deaths of stars, as does every element heavier than hydrogen. Stars are basically massive balls of hydrogen gas, billions of times more massive than the Earth. Hydrogen is the most basic element in the universe and the most abundant.

In the cores of stars, hydrogen atoms are fused by heat and pressure into heavier and heavier elements. Each fusion releases energy, like an H-bomb, that causes the stars to emit radiation all across the spectrum, including all of the heat and light which is familiar to us.

As stars exhaust the hydrogen in their cores and fuse heavier and heavier elements together, they become unstable and eventually explode. In this cataclysm, heavy metals are formed, from silicon to nickel.

However, this does not account very well for some of the heavier metals such as gold.

Scientists have long suspected that elements, such as gold, come from more exotic fusions. Now, they may have their answer.

A Harvard team led by astronomer Edo Berger, now suspects that gold is created in the fusion of two neutron stars. A neutron star is actually the super-dense core of a star that has burned all of its hydrogen fuel and collapsed in on itself forming a planet-sized relic where a star once burned. Any star with about 1.4 to 3.2 times the mass of our sun will become a neutron star.

Once dead, these stellar cores float through galaxies, carried by gravity until they interact with other objects. Occasionally, the cores of two neutron stars will pass close enough that they catch one another in their mutual gravity and spiral closer together in a final cosmic dance. Many star systems are binary systems, made of two stars, not just one. If both stars have the right amount of mass, they both may become neutron stars after they die.

Eventually, the two stars will collide in a cataclysmic cosmic crash that fuses extremely heavy elements, such as gold, together. These elements are strewn into space in the subsequent explosion. The two neutron stars may form a black hole, while the elements cast off from the collision may spread widely across the region of space where the collision occurred. The explosion also results in the emission of very high-frequency energy, known as a gamma ray burst. Gamma ray bursts can be observed occurring throughout our universe, even to its very edge.

Berger now believes his team has evidence of this actually happening. The team detected a gamma ray burst using the Swift X-ray telescope in June. The collision, GRB 130603B, occurred 3.9 billion light years away. Follow-up observations suggested the collision resulted in the broadcasting of heavy elements for as much as a week following. Berger called this the "golden glow."

They estimate that about 1 percent of the mass involved in these collisions is transformed into heavy elements. That's usually enough to create a small moon or planet's worth of gold in one moment.

Of course, those elements are strewn into space and coalesce with other material as new planets form.

Although the observation provides a clue as to how heavy elements such as gold are formed, it isn't conclusive. Berger makes clear that their observation is only one data point. Much more follow-up study is required to confirm the findings.

Still, it's remarkable to think that your wedding band may have a more exotic origin than you have ever imagined. When you wear gold, you wear a piece of the universe, 13.77 billion years old, and billions of years in the making, forged in the core of a cosmic cataclysm.

And for some of us reading, marriage suddenly makes a lot more sense.


---
Copyright 2016 - Distributed by THE CALIFORNIA NETWORK
Pope Francis Prayer Intentions for May 2016
Universal:
Respect for Women: That in every country of the world, women may be honored and respected and that their essential contribution to society may be highly esteemed.
Evangelization:
Holy Rosary: That families, communities, and groups may pray the Holy Rosary for evangelization and peace.
---
---
---

By Kenya Sinclair (CALIFORNIA NETWORK)
A new app just signed a contract with a homeland security agency to help identify national threats to security - but is it accurate? LOS ANGELES, CA (Catholic Online) - Faception is a new facial recognition app that can identify everyone from terrorists to poker ... continue reading
---

By Marshall Connolly (CALIFORNIA NETWORK)
Facebook has announced they will retrain employees responsible for curating their news content. The social networking giant has been accused of censoring news and content with a conservative slant in favor of liberal content. LOS ANGELES, CA (California Network) - ... continue reading
---

By Marshall Connolly (CALIFORNIA NETWORK)
All healthy, well adjusted people want to work. It's hardwired into our DNA to build, to produce, to gather, grow and trade. Without this impulse, our species could never have built civilization. But what happens when an essential part of our being becomes obsolete? ... continue reading
---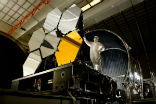 By Marshall Connolly (CALIFORNIA NETWORK)
Scientists have announced the discovery of three planets in the habitable zone of a star just 39 light years away. Such planets have the potential to host life, making them targets for future study. LOS ANGELES, CA (California Network) - Are scientists about to ... continue reading
---

By Marshall Connolly (CALIFORNIA NETWORK)
Earlier this year, a robot beat a master player at the ancient game of Go. Now, robots are beating humans at soccer. Armies of engineers are working around the world to develop artificial intelligence and robots that can do what humans do, only better. They're making ... continue reading
---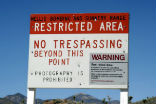 By Marshall Connolly (CALIFORNIA NETWORK)
UFO watchers have spotted a mysterious mushroom-shaped cloud over Area 51. The cause of the cloud remains unknown, but it is evidently connected to a fire at the secret military base. Viewers were unable to obtain direct footage of whatever caused the inferno, due to ... continue reading
---

By Kenya Sinclair (CALIFORNIA NETWORK)
After Microsoft's failure with AI teen "Tay," it should come as no surprise that more and more researchers are agreeing artificial intelligence requires a delicate balance between helpful tech and murderous exterminators. LOS ANGELES, CA (Catholic Online) - According ... continue reading
---

By Marshall Connolly (CALIFORNIA NETWORK)
Fast food workers, say goodbye to that grimy job with surly guests and overbearing managers. Your fight for $15 is over. No, you didn't win, someone has invented a machine that makes hamburgers better and faster than you do. LOS ANGELES, CA (California Network) - ... continue reading
---

By Kenya Sinclair (CALIFORNIA NETWORK)
Ian Burkhart underwent experimental brain surgery to help scientists pioneer technology aimed at reanimating paralyzed limbs - and it worked! LOS ANGELES, CA (Catholic Online) - Six years ago, Burkhart severed his spine when he went for a swim and was slammed into a ... continue reading
---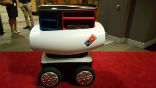 By Marshall Connolly (CALIFORNIA NETWORK)
Robots will soon begin to deliver your mail, pizza, and other parcels within the next few years. Plans are being developed around the globe to test, then roll out automated delivery systems for everything from packages, to mail to pizza. The rising demand for delivered ... continue reading
---
All Technology News