Scope will allow astronomers to peer 13 billion years into the past.
The world's largest optical telescope is going up in Hawaii. The 30 meter telescope will be set up at the summit of Hawaii's Mauna Kea volcano, and will see with greater detail than any modern optical telescope in existence.
KONA, HI (Catholic Online) The summit of Mauna Kea will soon feature a new dome and inside it, the world's largest optical telescope. Built at a cost of $1 billion, it will allow astronomers to see how the universe looked 13 billion years ago, just after its creation. In this sense, astronomers are in fact building a time machine of sorts.

The telescope will have a 30 meter mirror, which will give it about nine times the power of the most powerful optical telescope in existence. The size of the mirror matters. The larger the mirror, the more light it can gather and thus the fainter the objects are that can be seen.

The massive telescope will also permit astronomers to see more detail, including individual planets around other stars.

The approval to build the scope came last week and it was given amid protests from Hawaiian natives and environmentalists who say the summit is sacred and is a habitat for rare species including a type of seed bug. At 13,796 feet, few organisms live on the summit.

The permit came with requirements that employees be trained in culture and natural resources.

The summit of Mauna Kea is high and cold, and often covered in snow. The altitude places the scope above most clouds and its Pacific location keeps it free from most air pollution.

The scope should help astronomers unlock a great many mysteries about the universe, and could even be used in observations that could help detect life on other planets, if it exists.

While the scope will be the world's largest optical instrument, it will not hold the title for long. Due for imminent construction is the European Extremely Large Telescope, featuring a 42-meters mirror.


---
Copyright 2015 - Distributed by THE CALIFORNIA NETWORK
Pope Francis Prayer Intentions for February 2016
Universal:
That prisoners, especially the young, may be able to rebuild lives of dignity.
Evangelization:
That married people who are separated may find welcome and support in the Christian community.

By Marshall Connolly, Catholic Online (THE CALIFORNIA NETWORK)
UFO experts are abuzz over new photos released by NASA, which they think shows an alien craft orbiting a small asteroid. LOS ANGELES, CA (California Network) - Experts studying grainy black-and-white photos of an asteroid say they have spotted a UFO orbiting the ... continue reading
---

By Catholic Online (CALIFORNIA NETWORK)
Described as "part plane and part helicopter," the 300-foot long Airlander 10 is readying for its inaugural flight. Originally developed for military use by the U.S. Army, construction on the craft took three years. LOS ANGELES, CA (Catholic Online) - Airlander ... continue reading
---

By Kenya Sinclair (CALIFORNIA NETWORK)
After a car crash that left her with a serious brain injury, violinist Rosemary Johnson was unable to play her beautiful music again - until now. LOS ANGELES, CA (Catholic Online) - According to Telegraph, Johnson's accident put her in a 7-month coma and left her ... continue reading
---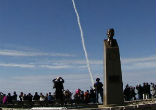 By Catholic Online (CALIFORNIA NETWORK)
While people packed movie theaters to see the latest installment of the "Star Wars" saga, an example of former president Ronald Reagan's "Star Wars" missile defense project was successfully tested over the skies of Central California. The "Exoatmospheric Kill ... continue reading
---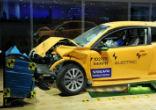 By Catholic Online (CALIFORNIA NETWORK)
Can anyone truly imagine a futuristic world where there are no traffic accidents and no traffic fatalities? Swedish carmaker Volvo is making that bold claim, and that world is as close as the year 2020. LOS ANGELES, CA (Catholic Online) - Volvo representatives ... continue reading
---

By Marshall Connolly, Catholic Online (CALIFORNIA NETWORK)
Scientists have concluded that a ninth planet orbits the Sun, and it is very likely to be large, but extremely distant. Their conclusions are based on its influence on other objects far beyond the orbit of Neptune. LOS ANGELES, CA (California Network) - Two Caltech ... continue reading
---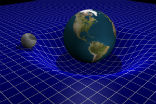 By Marshall Connolly, Catholic Online (CALIFORNIA NETWORK)
A scientist has developed a method to manipulate gravity, at least theoretically. Furthermore, we could accomplish his vision using existing technology. Such a breakthrough could eventually lead to large-scale manipulation of gravity, but to what effect? LOS ANGELES, ... continue reading
---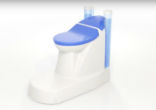 By Magdalena Mis, Thomson Reuters Foundation
A toilet that does not need water, a sewage system, or external power but instead uses nanotechnology to treat human waste, produce clean water, and keep smells at bay is being developed by a British university. LONDON (Thomson Reuters Foundation) - The ... continue reading
---

By Kenya Sinclair (CALIFORNIA NETWORK)
The EHang 184 was unveiled at this year's Consumer Electronic Show and is the world's first self-driving electrical aerial vehicle. It is designed to fly individuals short distances at low altitudes without the necessity for its passenger to control it. LOS ANGELES, CA ... continue reading
---

By Marshall Connolly, Catholic Online (CALIFORNIA NETWORK)
Virtual reality arrived in the mainstream consumer market today, but the sticker shock has many gasping for their breath, and clutching their wallets. The much anticipated Oculus Rift headset opened for preorders today and will ship in late March and Early April. ... continue reading
---
All Technology News