Hi readers, it seems you use Catholic Online a lot; that's great! It's a little awkward to ask, but we need your help. If you have already donated, we sincerely thank you. We're not salespeople, but we depend on donations averaging $14.76 and fewer than 1% of readers give.
If you donate just $5.00, the price of your coffee, Catholic Online School could keep thriving.
Thank you.
Help Now >
Persistence Pays Off For Tronzo
---
St. Xavier Grad Trying to Make Cincinati Bengals Roster
Joe Tronzo, a product of Louisville St. Xavier and the University of Louisville, sweated through six rounds of the NFL draft before two teams called to tell him that they were interested in him. After researching both teams - the Cincinnati Bengals and the San Diego Chargers - he saw the Bengals would be the team of choice.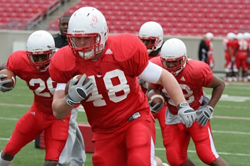 span style="font-size: 10pt; font-family: Arial;">LOUISVILLE, KY (Catholic Sports Net) - In essence, a couple of extra fullbacks might have saved Joe Tronzo more than 1,900 miles. He and his large supporting cast of fans couldn't be happier.
Back in April, as the NFL Draft got close to reaching Round 7, Louisville St. Xavier and University of Louisville football product Tronzo still had not heard his name called. That's when the phone began to ring.
Predominantly calling on the other end of the line were two teams - the Cincinnati Bengals and the San Diego Chargers - who were informing Tronzo of their interest in his services, and that they may be calling back to offer him a deal as a free agent. Both did, indeed, call back, and made subsequent offers to the five-foot-eleven, 248-pound fullback. That's when Tronzo got to work on the Internet.
"From doing research about depth charts and other things, you kind of get an idea of which situation would be best," said Tronzo. "And I thought that Cincinnati would be the best choice for me - the best opportunity I would have to make the roster."
Tronzo, who clearly noticed that one team (the San Diego Chargers) was carrying more fullbacks on its roster than the other (the Bengals), claims that geography did not impact his decision to choose and sign with the Cincinnati Bengals, but one would have to believe the 102-mile drive from Tronzo's hometown of Louisville, Ky. to Cincinnati, Oh. and the 74-mile drive to Georgetown College - home of the Bengals' NFL training camp - is a little more appealing than the 2,000-plus miles that separate Louisville and San Diego.
But for Tronzo, it isn't about fandom, or offers, or even convenience. For this tough, gritty, Mike Altsott-lookalike, it's about once again defying the odds and working to make the 53-man Bengals roster.
"There's not a lot of guarantee there, and it's kind of like being a walk-on all over again," said Tronzo. "I wasn't a scholarship guy out of high school, so it's kind of one of those deals where you have to play the underdog role again. That's something I've been doing all my life, and once you get out there on the playing field, you're not a free agent, you're not a draft pick; you're a guy in pads and you're going to have to go out there and prove yourself."
Tronzo has been proving himself for years. His leadership at St. Xavier was contagious, which led to him being named one of the team captains in 2004 - the season St. X won a state championship. His work ethic at Louisville was no different and turned heads on the recruiting trail, ultimately leading to his opportunity in the NFL.
"St. (Xavier) really prepared me for the next level and Louisville prepared me for the NFL," said Tronzo. "But it's not just the programs themselves (that get you ready). You've got to have something about you and you've got to do stuff on your own to prepare yourself for the caliber of competition that is at that next level. I do attribute a lot of my success and preparation to those programs."
Now Tronzo finds himself standing side-by-side with some of the biggest personalities in professional football, including popular NFL quarterback Carson Palmer and flamboyant wide receivers/reality television stars Chad Ochocinco and Terrell Owens, but Tronzo tries not to get caught up in the circus atmosphere some of his teammates create.
"The other day, I kind of did get a sense of like, 'wow.I really was just in the huddle with Carson Palmer, with Chad (Ochocinco), with T.O., with Cedric Benson.'", said Tronzo. "Those are guys I grew up watching and now you're in the same huddle with them. But that was just for a brief moment, because I'm out here trying to make a spot.
"I look across the line and see guys like Roy Williams, Rey Maualuga, Keith Rivers, Tank Johnson. Those are also guys I've watched playing big-time games too, but you can't be 'ewwing and ahhing', because those are guys you're going to have to run and hit."
Running and hitting is something Tronzo has never had trouble with. Known for his impressive strength and fortitude, the high school powerlifting and shotput state champion is well aware of what he has to do to make an impression on a team that plays in a perennially tough division.
"The AFC North is a very physical division, and you have to be able to run the football, control the clock, and play good defense," said Tronzo. "The fullback position is one of those positions where you have to be a physical player to be able to play it."
Tronzo also explained how physical play and versatility gets you positive attention from both the coaches and your fellow teammates.
"The first thing you've got to do is get in there and hit," he said. "Once you show that you're going to run in and put your helmet on somebody, then you're going to gain respect from veterans. Then, once you show that willingness to hit, then it's all about improving technique and learning the playbook.
"They can't put you in the game if you don't know your assignments. For a person in my position, special teams is going to help a lot. If I can find my way onto special teams, then that will help a lot. It's just like building a resume for a regular job. The more impressive resume you have, the more likely you are to get the job. The more things you can do as a player, the more likely you are to get one of the 53 spots."
The main person responsible in deciding if Tronzo earns one of those aforementioned 53 spots is Bengals Head Coach Marvin Lewis. The reigning NFL Coach of the Year, Lewis has been at the helm of the Bengals for eight years, and says he has already taken notice of Tronzo at camp.
"Since we've brought Joe into the rookie camp, we've watched him progress and get better, and get used to playing football on this level," said Lewis. "He's got a great opportunity to show what he can do in his role as fullback and in his role on special teams, and we'll see how he fares."
For Lewis and the Bengals coaching staff, Lewis says it's all about being a complete player when it comes to undrafted rookies trying to make the team.
"The thing you're looking for is aggressiveness and the hip snap and flexibility to play football at this level and the athleticism to stay on their feet. In Joe's situation, we're looking at his ability to hold up and block people."
That shouldn't be a problem for Tronzo, who says the examples set at home during his childhood and again during his four years at St. Xavier High School have provided him with the lessons necessary to be successful.
"It's all about discipline. And truth be told, a lot of it starts at home," said Tronzo. "I had parents who really instilled discipline in me. But when you go to a program like (St. Xavier) where academics are important, where athletics are important, it just gives you that sense of discipline and that sense of time management as well. That really put me over the top in college.
"When you get to college, a lot more is put on you, and some people weren't used to working that hard in high school. That's where that self-discipline comes in to where you're going to have to force yourself to sit down there and get in the books, even though you just practiced, you just lifted, you just watched film and you're tired, but that's where a program like St. X prepared me."
During Cincinnati's first preseason game of the season - the "Hall of Fame Game" in Canton, Oh. on national television - Tronzo combined the concept of discipline with all the other lessons he's been afforded over the years, and turned opportunity into substance.
On his first-ever NFL play, which came midway through the second quarter, Tronzo had a blocking assignment, and put a defender flat on the ground, perfecting what's known in football as a "pancake block." And he didn't stop there.
A few plays later, with the Bengals pinned in their own territory, Tronzo delayed at the line, floated out into the flats, caught a floating pass from quarterback J.T. O'Sullivan, and was knocked out of bounds after refusing to be taken down by pursuing tacklers. He also finished the game with one carry for three yards.
Not a bad start for Tronzo, and not a surprising one either, considering the answer he gave when asked about the virtue that St. Xavier helped him best develop prior to his Louisville and now Bengals career.
Said Tronzo: "Persistence. It's a tough schedule we have out here. You've got practices, meetings, more meetings. You just can't give in. Your body's going to hurt. Your mind's going to hurt. I'm not exactly getting the doctor-recommended eight hours of sleep every night. You just have to keep going. And when you're this close to a dream, that persistence comes in and reminds you that you're not going to be held down until you achieve your ultimate goal."


---
---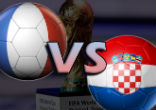 On Sunday, France and Croatia will square off on the soccer pitch for the 2018 FIFA World Cup Championship. While most U.S. Catholics are ... continue reading
---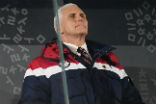 The 2018 Olympic Games have opened in Pyeongchang, South Korea. The opening ceremonies saw the North and South Korean teams enter the ... continue reading
---
FREE Catholic Classes Pick a class, you can learn anything
---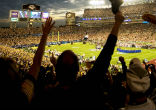 Super Bowl Sunday. It's as American as apple pie, but in recent years, controversy has erupted over the beloved American pastime and - ... continue reading
---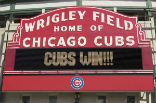 The Chicago Cubs have won the 2016 World Series in a 10-inning game, beating the Cleveland Indians 4-3. The win breaks a 108-year losing ... continue reading
---

The world lost a great human being and legendary sportsman in Arnold Palmer. The golfer passed away on September 25, a day before he was to ... continue reading
---