Hoy es fiesta de San Alfredo, rey que defendio a su pueblo de los vikingos
---
San Alfredo fue rey de Wessex, uno de los siete reinos principales que precedieron al reino de Inglaterra. Se hizo celebre por defender su territorio contra los vikingos (normandos), por lo que fue llamado "El Grande" por su pueblo.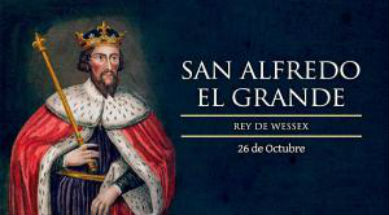 REDACCIoN CENTRAL (ACI Prensa) - Su vida, que transcurrio entre mediados y fines del siglo IX, fue descrita por el cronista gales conocido como John Asser.
A este santo se le recuerda por ser un hombre culto y letrado, que ayudo mucho a la educacion de su reino, promovio la difusion del cristianismo y mejoro el sistema de leyes.
Alfredo siempre insistio que la justicia debia ser dispensada sin miedo o favoritismo. Dedico sus energias a restaurar lo que habia sido destruido por las largas guerras contra los invasores nordicos.
Reconstruyo y fundo monasterios. Asimismo, mando a traer a estudiosos de otras tierras como al Arzobispo de Canterbury, San Plegmund; y al Obispo de Mercia, Wetfrith; al monje benedictino San Grimbald, al abad, Juan el Viejo Sajon; al cronista, Asser; al filosofo, Juan Escoto Erigena y a muchos otros más.
San Alfredo nacio en el ano 849 en Berkshire (Inglaterra). Fue el hijo menor de Ethewulf, rey de Wessex, quien murio cuando Alfredo tenia nueve anos. El hermano mayor del santo murio dos anos despues; el segundo despues de seis.
Fue en el reinado del tercer hermano, Etelredo I, cuando el joven Alfredo comenzo su vida pĂşblica y brillante carrera militar en contra de los vikingos.
Tras la muerte de su hermano en batalla Alfredo subio al trono de Wessex, donde reorganizo las tropas sajonas, formando unidades de caballeria en los diferentes condados y derrotando a los vikingos daneses de Guthrun el Viejo.
De esta manera, Guthrun se vio obligado a aceptar el tratado de Westmore en el 878, por el cual los vikingos habian de evacuar Wessex e instalarse en los antiguos territorios de Essex, East-Anglia, Lindsey y Mercia, formando lo que seria conocida como la region de Danelaw.
De este modo, el rey Alfredo cedio algunos territorios que no podia defender, y de forma paralela, protegio su reino de los escandinavos, estableciendo una serie de pueblos fronterizos fortificados además de una marina propia.
Alfredo el Grande fallecio el 26 de octubre del 899.
---
Copyright 2018 - Distributed by THE CALIFORNIA NETWORK
Pope Francis Prayer Intentions for July 2018
Priests and their Pastoral Ministry.
That priests, who experience fatigue and loneliness in their pastoral work, may find help and comfort in their intimacy with the Lord and in their friendship with their brother priests.
---
---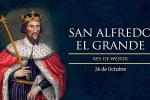 San Alfredo fue rey de Wessex, uno de los siete reinos principales que precedieron al reino de Inglaterra. Se hizo celebre por defender su ... continue reading
---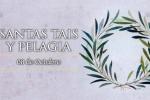 Las Santas Tais y Pelagia fueron dos mujeres pecadoras que se arrepintieron, encontraron la misericordia de Dios y se volvieron penitentes. ... continue reading
---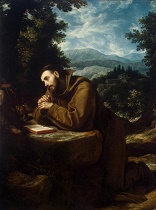 There is so much to write about in this marvelous account of the life of one of my own personal heroes, the saint whose witness led me ... continue reading
---

Though I am not strong enough to hold the suffering souls in my arms and carry them home, I can do one thing: I can pray for the ... continue reading
---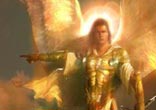 The Catechism of the Catholic Church informs us - The existence of the spiritual, non-corporeal beings that Sacred Scripture usually calls ... continue reading
---