Hoy celebramos la fiesta de las Santas Tais y Pelagia
---
Las Santas Tais y Pelagia fueron dos mujeres pecadoras que se arrepintieron, encontraron la misericordia de Dios y se volvieron penitentes. Tais fue una meretriz de Alejandria y Pelagia una bailarina de Antioquia.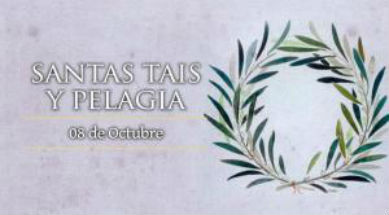 REDACCION CENTRAL (ACI Prensa) - De acuerdo a la leyenda, Santa Tais era una pecadora publica en Egipto del siglo IV que fue convertida por el Obispo egipcio de la Tebaida Superior, San Pafnucio, llevada a un convento y encerrada en una celda.
Luego de tres anos de penitencia fue liberada y ubicada entre las monjas, pero solo vivio catorce dias mas, muriendo penitente.
Es patrona de Alejandria y se la representa arropada con ricas y coloreadas sedas, con un espejo, simbolo de la coqueteria, y una gargantilla de perlas que representan sus riquezas mal adquiridas.
Por su parte Santa Pelagia era pagana, nacio en el siglo IV, y se convirtio al cristianismo gracias al Obispo de Antioquia.
Basto oirlo para que Dios la moviera a sincera conversion, pidiera el bautismo y cambiara sus danzas, sus mascaras y abalorios por la penitencia.
Una vez bautizada fue a Jerusalen y vivio tres anos en un monasterio del Monte de los Olivos bajo disfraz de hombre y haciendose llamar fray Pelagio. Es patrona de comicos y arrepentidos, y tiene por atributo una mascara teatral.
---
Copyright 2018 - Distributed by THE CALIFORNIA NETWORK
Pope Francis Prayer Intentions for July 2018
Priests and their Pastoral Ministry.
That priests, who experience fatigue and loneliness in their pastoral work, may find help and comfort in their intimacy with the Lord and in their friendship with their brother priests.
---
---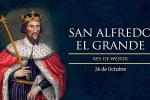 San Alfredo fue rey de Wessex, uno de los siete reinos principales que precedieron al reino de Inglaterra. Se hizo celebre por defender su ... continue reading
---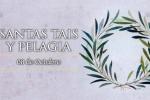 Las Santas Tais y Pelagia fueron dos mujeres pecadoras que se arrepintieron, encontraron la misericordia de Dios y se volvieron penitentes. ... continue reading
---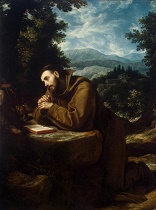 There is so much to write about in this marvelous account of the life of one of my own personal heroes, the saint whose witness led me ... continue reading
---

Though I am not strong enough to hold the suffering souls in my arms and carry them home, I can do one thing: I can pray for the ... continue reading
---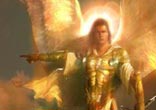 The Catechism of the Catholic Church informs us - The existence of the spiritual, non-corporeal beings that Sacred Scripture usually calls ... continue reading
---