Hoy es fiesta de San Nicolas de Tolentino, patrono de las almas del purgatorio
---
San Nicolas de Tolentino nacio en San Angelo (Italia) en 1245; se dice que su madre, avanzada en anos, no habia podido concebir y junto a su esposo hicieron una peregrinacion al Santuario de San Nicolas de Bari donde ella rogo a Dios por un hijo que se entregara al servicio divino, tiempo despues quedo embarazada.
REDACCIoN CENTRAL (ACI Prensa) - Mientras crecia, el pequeno Nicolas pasaba horas en oracion, escuchaba con entusiasmo la Palabra de Dios, llevaba a su casa a los pobres para compartir con ellos lo que tenia y se deleitaba en leer buenos libros como estudiante.
Despues de escuchar el sermon de un fraile o ermitano de la Orden de San Agustin, se decidio a renunciar al mundo e ingreso a la Orden en el convento del pequeno pueblo de Tolentino. Hizo su profesion religiosa antes de haber cumplido los 18 anos de edad y en 1271 fue ordenado sacerdote en el convento de Cingole.
Los ultimos 30 anos de su vida, aproximadamente, Nicolas vivio en Tolentino. Predicaba en las calles, administraba los sacramentos en asilos para ancianos, hospitales y prisiones. Asimismo pasaba largas horas en el confesionario.
Cuando por gracia de Dios obraba algun milagro, pedia a los presentes que "no digan nada sobre esto. Denle las gracias a Dios, no a mi".
Los fieles, impresionados de ver las conversiones que obtenia y su profunda espiritualidad, le pedian que intercediera por las almas del purgatorio y esto le valio, muchos anos despues de su muerte, ser nombrado "Patron de las Santas Almas".
El Santo padecio por mucho tiempo de dolores de estomago y poco a poco su salud fue empeorando.  
Un dia se le aparecio la Virgen Maria y le dio instrucciones para que pidiera un trozo de pan, lo mojara en agua y se lo comiera con la promesa de que se curaria por su obediencia. Asi sucedio y en gratitud, San Nicolas bendecia trozos de pan similares y se los daba a los enfermos, obteniendo numerosas sanaciones.
Partio a la Casa del Padre el 10 de septiembre de 1305 y fue enterrado en la iglesia de su convento en Tolentino.
Muchas decadas despues fue expuesto su cuerpo incorrupto y se dice que al parecer un hombre extranjero le corto los brazos para llevarselos a su pais natal, pero fue capturado por un flujo de sangre que broto de las extremidades del Santo.
Un siglo despues se hizo el reconocimiento de los huesos y se vio que los brazos amputados se hallaban intactos y empapados en sangre. Siglos despues se repitio el derramamiento de sangre fresca de los brazos de San Nicolas de Tolentino.
---
Copyright 2018 - Distributed by THE CALIFORNIA NETWORK
Pope Francis Prayer Intentions for July 2018
Priests and their Pastoral Ministry.
That priests, who experience fatigue and loneliness in their pastoral work, may find help and comfort in their intimacy with the Lord and in their friendship with their brother priests.
---
---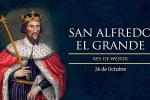 San Alfredo fue rey de Wessex, uno de los siete reinos principales que precedieron al reino de Inglaterra. Se hizo celebre por defender su ... continue reading
---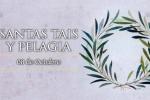 Las Santas Tais y Pelagia fueron dos mujeres pecadoras que se arrepintieron, encontraron la misericordia de Dios y se volvieron penitentes. ... continue reading
---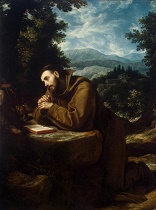 There is so much to write about in this marvelous account of the life of one of my own personal heroes, the saint whose witness led me ... continue reading
---

Though I am not strong enough to hold the suffering souls in my arms and carry them home, I can do one thing: I can pray for the ... continue reading
---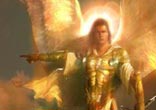 The Catechism of the Catholic Church informs us - The existence of the spiritual, non-corporeal beings that Sacred Scripture usually calls ... continue reading
---