Duc in Altum: Men, Put Out Into the Deep on the Feast of St Joseph
---
Whether a man or a woman (but especially for a man), one would be hard-pressed to find a more down-to-earth saint to emulate.
This model of Christian manliness recommends himself to us not for any strange or exciting things he did (because he really didn't) but for the daily listening to and heeding the voice of Almighty God - in the home, in the synagogue and Temple, in the workplace.  With hindsight, we can appreciate fully why God chose Joseph to establish what Vatican II would later call "the domestic Church," the first locus of salvation for all Christians.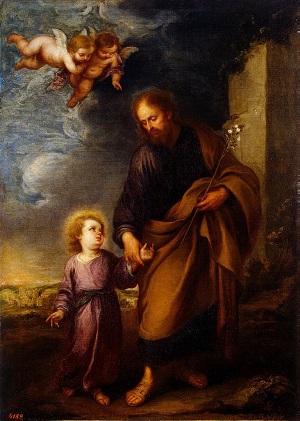 PINE BEACH, N.J. (Catholic Online) - I would like to use the Solemnity of Saint Joseph (March 19) to reflect on the man under whose patronage I attended high school.  This solemnity always offers us a welcome break from Lenten discipline as we sing the Gloria, wear white vestments and even take a respite from fast and abstinence to honor the one who is hailed by Catholics as the patron of a happy death, of fathers, of workers, of the Universal Church.  That's quite a mouthful.
   
That said, the Church has always exhibited a kind of skittishness with regard to Saint Joseph.  For example, he had no feast in the Western Church until the seventeenth century and still has none exclusively his own in the East.  This "nervousness" with giving too much prominence to Joseph is undoubtedly due to a concern that highlighting him might cause confusion regarding Mary's perpetual virginity. 
It would seem that Blessed Pope John XXIII sought to address what he perceived as an imbalance or injustice by inserting Joseph's name into the Roman Canon (and now extended to the other Eucharistic Prayers by Pope Francis, confirming the prior decision of Pope Benedict) - a move that shocked the Catholic world, not because of the issue of Joseph but because it changed a text that had been untouched for close to fifteen centuries, but that's a topic for another time.  Pope John Paul II devoted an apostolic exhortation to Saint Joseph in 1989, Redemptoris Custos.
   
What do the Sacred Scriptures tell us about this man?  Very little explicit information is given, but what we do have speaks volumes.  Saint Matthew calls him a "just" man (2:19) - the highest compliment a Jew could pay anyone as the adjective signified observance of the Law and a determination to fulfill God's plan.  As the First Evangelist unfolds the infancy narrative, Joseph plays a key role and is revealed to be a man of faith, trust and love, who obeys God speaking through His angel in a dream.  Joseph takes Mary understanding the consequences, namely, that he would never "know" her as a man normally expects to "know" his wife.  
It is no artistic accident or oddity that the Byzantine icon of the Nativity portrays him "off to the side," bearing all of the onus with none of the bonus, humanly speaking.  He was the strong, quiet type, possessed of a silent eloquence, more given to doing than to saying; as a matter of fact, we have no record of any word ever spoken by him.  Told by the angel not to fear, he was fearless, it would seem, but naturally one has no reason to fear when doing God's Will.
   
As can be seen rather readily, Joseph is mentioned in but a few passages of the New Testament, however, the Greek adjective Matthew uses to describe him, dikaios, can be variously translated as "just," "righteous," "upright," even "holy" - all rooted in the Hebrew word zadek -  and embodies all of these meanings.
   
Our usual understanding of justice is rather truncated - limited to a kind of quid pro quo approach to human relations and even to the God-man relationship.  This view comes about from the philosophical definition of justice as "giving to each his due."  While this is certainly an accurate explanation, it is merely a starting point.  The Old Testament reveals Almighty God as the epitome of justice but equally the summit of mercy.  In our human way of looking at reality, justice and mercy are mutually exclusive; in God, they are co-extensive and complementary.  For instance, when a mother is confronted with her son's misdeed, she seems bound to one of two courses:  She can punish him as he deserves (justice), or forgive and forget (mercy).  God is not bound by such restrictions because for Him, justice is mercy and mercy is justice.  As Saint Paul realized, God's justice justifies, that is, it makes someone right or just before Him.  Like being in the sun, unless one deliberately blocks the rays, one gets tanned ipso facto.
   
In what does justice consist?  In thinking correct thoughts, which is to say, using the divine standard in judging human affairs.  Small-minded people mistake rigorism for justice, but divine justice is illustrated in an incident like Jesus' forgiveness of the woman caught in adultery, saying, "Has no one condemned you? . . . Neither do I condemn you.  Go, and from now on do not sin any more" (Jn 8:10).  That same version of justice was exhibited by Joseph when, even imagining the worst, he was nonetheless "unwilling to expose [Mary] to shame" (Mt 1:19).  That is magnanimity or greatness of soul, which judges but is not judgmental.  Joseph was open to data other than circumstantial evidence.  He was more ready to excuse than accuse.  Saint Joseph was one of those few men who judge themselves more harshly than they judge others.
   
Scripture tells us that Joseph was privy to angelic communications on three occasions (the annunciation regarding Mary's state, the order to flee into Egypt, the direction to return to Palestine).  After being told not to be afraid (cf. Mt 1:20) and truly internalizing the message of the Angel, in each instance Joseph "did as the angel of the Lord had commanded him" (Mt 1:24).  He was a man of action, decisive and resourceful, who never dilly-dallied, so that we are told pointedly, "Joseph rose and took the child and his mother by night and departed for Egypt" (Mt 2:14).  God had spoken, and that was sufficient. 
So often people want God's Word to them confirmed in hundreds of ways, going through a lengthy process of discernment, generally used as a pious cover for inaction.  No, when the God of the Bible commands personally or through His messengers, He expects (indeed, demands) an obedience which is total and immediate.  In that sense Joseph was the perfect partner for Mary, who was imbued with the very same qualities.  Of course, truth be told, that is the only kind of person God can work with, in order to achieve His purposes here on earth.
   
Let's take a closer look at Holy Joseph's actions, for they surely speak louder than words.  Most importantly, he supports Mary's divinely appointed vocation and likewise serves as the putative or legal father of Jesus [thus Matthew's genealogy presented from Joseph's family tree is justified], with the result that Joseph has genuine authority over Jesus, symbolized in his naming of the Child at His circumcision, in accord with the angelic message. 
His fatherhood is exercised in sacrifice and service as he witnesses the adoration of the shepherds and the magi; participates in the Infant's presentation in the Temple; takes Mary and Jesus to Egypt and then returns them when safe; helps find the youthful Jesus when seemingly lost.  We should also note that he was obedient to legitimate civil authority as he complied with the demands of the imperial census.
   
What examples does he offer through his actions? 
- Joseph points us all toward an intimacy beyond the sexual, even though that is good and holy within the covenant of marriage.
- He demonstrates the value of work, which makes us "co-creators" with God, giving his trade to Jesus, so that He is rightly called "the carpenter's Son."  As John Paul II notes in Redemptoris Custos, "Work was the daily expression of love" in the home at Nazareth.
   
- Joseph is a witness to the sanctification of daily life, like Thérčse of Lisieux centuries later, doing the ordinary things of life extraordinarily well.
   
- His spirituality, rooted in his relationship with Jesus and Mary, and his strength of character enabled him to make great decisions with equally great confidence.
   
- He exemplified the classical quality of pietas so admired by the ancient Romans and summed up for the Jews in being "a just man."  That is the virtue of religion [how one is and ought to be bound to God], shown forth in devotion, readiness of will, and submission to God.
   
- Joseph was the very exemplar of both filial and paternal love:  By being a true son of God, he was able to be a true father to the Father's Son.
   
- He united in an integrated way contemplation and action: What was presented to him in holy dreams and what he then reflected upon, he translated into action.
   
- Joseph lived as a kind of proto-model of the evangelical counsels: poverty - materialism held no sway over him; chastity - his sexuality was under control; obedience - it was  God's way, not his, that mattered.
   
- Saint Joseph is the preeminent model of manhood and fatherhood, so desperately needed in our world, in the throes of a veritable crisis of masculinity.  Unfortunately, the contemporary Church hasn't helped much in this area as men are so often marginalized in ecclesial life, frequently made to feel guilty for even being men, and with few exclusively male groups or activities to offer them guidance and support.  
There is much value and need for an essentially fatherless society like ours to turn to Saint Joseph, who succeeded so well at being a man's man (but not in any silly, superficial machismo-like fashion) and, on that very score, succeeded in serving as an ideal father.  He offers an especially powerful witness for men today as no lust; no unbridled passion; no turning of persons into objects for personal gratification ever clouded his relationship to his holy spouse.
   
Let's elaborate on this last point a bit.  Several times the New Testament tells us that people referred to Jesus as the "son of Joseph."  What we know from Divine Revelation, obviously the people of the neighborhood did not know, but Jesus had more than Joseph's name and legal patrimony; He also grew up under Joseph's strong, silent witness of faith, providing Jesus (humanly speaking) with the masculine living out of the virtues which His holy Mother demonstrated so perfectly in a feminine manner. 
We sometimes forget that children need both parents to portray the Christian life; otherwise, they come away from the home with a distorted image of how men and women relate or do not relate to God:  "Religion is women's work."  "Religious people never show emotion."  "Religion is sentimental."  Therefore, the Son of Mary according to the flesh and the Son of Joseph according to the Law had the benefit of seeing virtue practiced by a holy woman and a holy man - gifts every child deserves and needs.
   
The hiddenness of Joseph is something which paralleled Mary's quiet pursuit of holiness, attempting to learn day by day God's Will for her and for her Son.  There is never a big splash in Joseph's life - no craving for headlines, no domination, no unreal demands or expectations, just simple and complete conformity to the divine purpose.  Saint Joseph performed the tasks assigned to him by his profession and by his extraordinary vocation as the putative father of the Messiah. 
Content with life in the shadows, Joseph stands as a fine example to human fathers as to how they should lead their children to and through a life of holiness.  While Joseph undoubtedly shared the insights of his trade with the young Jesus, he wasn't distraught to discover that the Boy wouldn't or couldn't "follow in Daddy's footsteps" but instead had to be about His Heavenly Father's business (cf. Lk 2:49).  Having served Christ so well on earth, no wonder, then, that Joseph is given the care of Christ's Mystical Body the Church as his special charge in glory - proclaimed "Patron and Protector of the Universal Church" by Blessed Pope Pius IX in 1870.
   
What other roles did he fulfill and does he continue to play in heavenly glory?  As the protector of Jesus and Mary, he was the father of the "domestic church" - the priest of the family, lived out in manly devotion.  He is a model for laborers, explaining Pope Pius XII's decision to institute a secondary feast in his honor, precisely under the title of "Saint Joseph the Worker." 
   
He is likewise  venerated as the patron of a happy death, due to the pious belief that he was ushered into eternity with his virginal spouse and foster Son at his side.  Some might regard the expression ("happy death") as somewhat morbid, but that could be so only for a committed secularist.  Death can and should be a happy experience for a believer, and once more Saint Joseph comes to the fore as a paradigm of how one should die.  First, one dies a happy death by living a holy, just life.  Second, , we can ask: "What better way to die than in company of Jesus and Mary?"
   
This model of Christian manliness recommends himself to us not for any strange or exciting things he did (because he really didn't) but for the daily listening to and heeding the voice of Almighty God - in the home, in the synagogue and Temple, in the workplace.  With hindsight, we can appreciate fully why God chose Joseph to establish what Vatican II would later call "the domestic Church," the first locus of salvation for all Christians.
   
Whether a man or a woman (but especially for a man), one would be hard-pressed to find a more down-to-earth saint to emulate.  In doing so, we shall truly duc in altum.
-----
Rev. Peter M. J. Stravinskas, Ph.D., S.T.D. is the Executive Director of the Catholic Education Foundation. The mission of  The Catholic Education Foundation is to serve as a forum through which teachers, administrators and all others interested in Catholic education can share ideas and practices, as well as to highlight successful programs and initiatives to bring about a recovery of Catholic education in our times.The Catholic Education Foundation, Inc. is a 501(c)3 national non-profit organization formed to ensure a brighter future for Catholic education in the United States.
---
Copyright 2018 - Distributed by THE CALIFORNIA NETWORK
Pope Francis Prayer Intentions for APRIL 2018
For those who have Responsibility in Economic Matters.
That economists may have the courage to reject any economy of exclusion and know how to open new paths.
---
---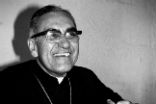 In June 1978 the Archbishop of San Salvador, Oscar Romero, went to the Vatican to meet with the Bishop of Rome, Paul VI. At that meeting, ... continue reading
---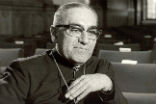 In his role as Vicar General, Monsignor Ricardo Urioste was one of the closest collaborators of Oscar Romero, the archbishop of San ... continue reading
---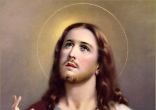 Sister Consolata di Santo, one of the first religious sisters to work in the hospital developed by St. Padre Pio, died March 2 at age 101, ... continue reading
---

Billy the Kid, a notorious bank and stage-coach robber of the Wild West, met his match in the most unlikely of people when he met Sister ... continue reading
---

For over four centuries, a historical and iconic miraculous statue of Jesus Christ carrying his Cross has become an emblem of passion, ... continue reading
---