PRAY FOR FLORIDA SHOOTING VICTIMS
---
Mass shooting situation at Florida high school, more than 50 injured.
An active shooter situation is underway at a Florida high school with multiple casualties reported. As many as 50 people may have been injured during the shooting. Police have not reported that the suspect is in custody, but a suspect in a red shirt has been seen being put into a police car.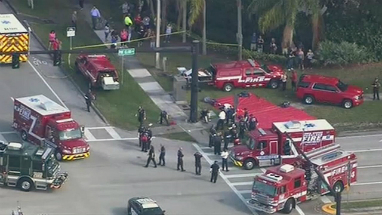 LOS ANGELES, CA (California Network) - An active shooter situation in Florida seems to be ended with massive casualties. The Broward County Sheriff's Department has confirmed the shooting has ended with the suspect in custody. 
A mass shooting at a high school in Parkland, Florida has ended with more than 50 injured. The school has been identified as Majory Stoneman Douglas High. 
The suspect has not been named, but several people believe they know who the suspect is. It is known he is a male, and was previously affiliated with gun groups on social media. The suspect is believed to be a student at the school who was also a member of the JROTC. He may have also participated in a chat on YouTube in which he discussed bombs, bringing himself to the attention of local authorities. 
The student spent time in class during the day, but at some point obtained a firearm and began shooting. The firearm has been described as a "long gun." 
The student may have taken advantage of a final hour where many students are released from classes to go home early. He wore a gas mask during the attack.
No motive has been mentioned. 
The shooting took place around 2:30 PM EST. 
There are no details on casualties, but they have been described as extensive. We are told there have been multiple fatalities. 
President Trump has been informed of the situation. The school remains on lockdown, although most of the students have been evacuated. It is believed some students remain barricaded in classes. 
We ask the faithful to pray for all involved in this terrible event. 
---
Copyright 2018 - Distributed by THE CALIFORNIA NETWORK
Pope Francis Prayer Intentions for July 2018
Priests and their Pastoral Ministry.
That priests, who experience fatigue and loneliness in their pastoral work, may find help and comfort in their intimacy with the Lord and in their friendship with their brother priests.
---
---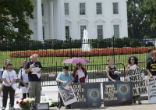 Every Monday morning for the past 30 years, members of the Dorothy Day Catholic Worker community in Washington, D.C. have been making their ... continue reading
---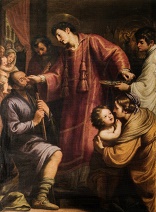 Catholic Deacons are ordained members of the Catholic Clergy, ordained not to the priesthood but to the ministry. We are not laymen any ... continue reading
---
The Saints put legs on the Gospel. They show us by example how we are to respond to the question, Who Do You Say That I Am? They ... continue reading
---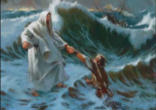 We can miss a real encounter with the Lord if we think that this account is only about Peter and the disciples - something distant which ... continue reading
---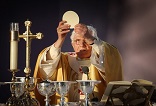 Liturgical Worship is not an add on for a Catholic Christian. It is the foundation of Catholic identity; expressing our highest purpose. ... continue reading
---