Good Omens
---
The complete title of this book is Good Omens: The Nice and Accurate Prophecies of Agnes Nutter, Witch. This is a joint effort by Neil Gaiman (Stardust) and Terry Pratchett (Discworld series). Which means it's hysterically funny, but you can't explain to anyone why you're laughing out loud without reading several pages to explain the set up.
It's also the kind of book where a complete stranger, who noticed I was reading this on BART, said, "Great book! You'll enjoy it!" Book recommendations don't come any more spontaneous than that.
The story is about Armageddon. A demon, Crowley, and an angel, Aziraphale, who have been on Earth since The Fall of Adam and Eve, aren't really too keen to have this happen. They've grown rather fond of this planet and its inhabitants, along with wine, classic Bentleys, well-cut suits, and books. But the Anti-Christ is born and the Hound of Hell has been unleashed, so what can they do?
Meanwhile, there is a book, with Agnes Nutter's prophecies, currently in the possession of Agnes's direct descendant, Anathema. The "Nice" in the title refers to the original meaning of the word: precise. And Agnes's predictions are accurate and precise--it's just that her relatives have to figure out what she means.
Meanwhile, Newton Pulsifer, answers a rather strange ad in the local paper in an attempt to add some drama to his life. He finds himself in an odd kind of Army of two, where his main job is going through newspapers looking for odd happenings.
The Four Horsemen appear, but their "horses" don't have four feet.
There is much British humor, which Gaiman & Pratchett explain to Americans with helpful footnotes, although access to the Internet for British history and folklore was also useful to me.
The tone is, of course, entirely irreverent, especially towards the end. Can any of God's creatures truly know what He wants?
In the afterword, Gaiman & Pratchett discuss their collaboration. They talk about signing copies of this book that are swollen from having been dropped in the bath, taped together with massive amounts of duct tape, and talking to fans who keep purchasing copies because the ones they've lent out don't return home.
I can see why.
This book is not for everyone. But if you enjoy Monty Python, Douglas Adams, or Doctor Who, chances are you'll enjoy Good Omens. It's a great vacation book.
On the March Hare scale: 4.5 out 5 Golden Bookmarks
---
---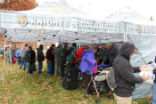 It was a pleasant November morning in downtown Denver when volunteers with the Knights of Columbus set up tents for distributing new puffy ... continue reading
---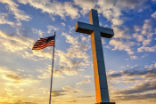 A new report by a leading legal group claims that, despite deep division and polarization in the U.S., there is still a national consensus ... continue reading
---
---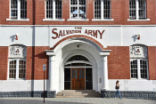 The Salvation Army has denied accusations that it is an anti-LGBT organization in the wake of the Chick-Fil-A Foundation publicly severing ... continue reading
---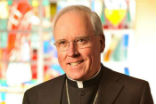 Bishop Richard Malone of Buffalo has released a video statement following his recent ad limina visit to Rome with the bishops of New York. ... continue reading
---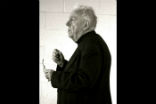 For Aristotle, the definition of perfect friendship was so narrow that precious few could achieve it. South Bend, Ind., (CNA) - For ... continue reading
---