Amazing turnout surprises all.
The Tamarod protest reminds us that liars, thieves, and murderers often wear suits, and that democratic governments are sometimes little more than veiled dictatorships.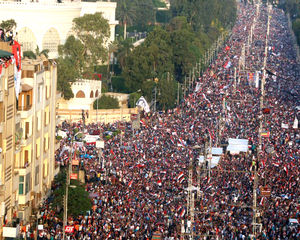 Millions have turned out to protest Morsi and his Islamist regime.
KNOXVILLE, TN (Catholic Online) - They were predicting millions would participate in the June 30 anti-Morsi protest called Tamarod (the rebel campaign), and they were right. The Egyptian people have come out in droves. According to various news reports, the numbers are well into the millions, and the protestors mean business. They have already given President Morsi an ultimatum.

Prior to the Tamarod protest, the Morsi government took certain steps to minimize its impact. In one instance, the Muslim Brotherhood, which is tied to President Morsi, organized a demonstration of tens of thousands of Islamists. It was their intention to show a groundswell of support for Morsi, but their numbers have been dwarfed by the anti-Morsi protestors.
 
In another instance, Morsi called the Pope of the Coptic Orthodox Church, Tawadros II, and asked his holiness to dissuade Coptic Christians from participating in the protest, but Tawadros maintained that the Copts are free to exercise their political rights.
 
It appears that Egyptians across a broad spectrum of more moderate Muslims and Christians are saying they did not fight for greater freedom against one dictatorship a little over two years ago only to have another take its place. They want a true democracy, not an oppressive Islamic theocracy masquerading as a democracy.
 
Morsi is being blamed for a poor economy, fuel shortages, a breakdown in law and order, and for trying to turn Egypt into an Islamist state. Under Morsi, sharia law has been enshrined in Egypt's new constitution, which discriminates against non-Muslims and women.
 
Already the protestors are demanding that President Morsi step down. They have given him one day to decide. If he refuses, they will march on the presidential palace, which is where the Morsi administration runs the government; and they will initiate a civil disobedience movement throughout Egypt.
 
Thus far, the protesters have attacked the main headquarters of the Muslim Brotherhood with Molotov cocktails and set it on fire. At the time of this writing, approximately 16 people have been killed and over 780 have been wounded in the protests throughout Egypt.
 
Some people are suggesting that Egypt is on the verge of another revolution. Al-Akhbar, a government run newspaper, reported that "Egypt is on the brink of a volcano." In a televised statement on Monday afternoon, the Egyptian military said they intended to intervene if a political settlement is not reached within 48 hours.
 
I do not know if Egypt is on the brink of a second revolution. Nor do I claim to know the intricacies of Egypt's politics. But I do know something about the history of the Muslim Brotherhood and that Islamists have gained considerable power at the expense of more moderate Muslims, the Christian community, and Egyptian society since Morsi became president.
 
The Muslim Brotherhood has been a radical, Islamist organization since its inception. They were pro-Nazi during World War II. They were associated with the failed plot to assassinate Gamal Abdel Nasser, Egypt's leader in 1965, and in the successful assassination of Nasser's successor, Anwar Sadat, in 1980. They have supported terrorism around the world and have been implicated in the attack on the U.S. embassy in Benghazi, Libya. They also have a history of intolerance toward the Jews and the Western nations.
 
Now Morsi, who was once the head of the Muslim Brotherhood, has placed Islamists in positions of power throughout Egypt, including a member of the militant group responsible for the massacre of 58 tourists in 1997. There has also been an increase of discrimination and violence against Christians. They are increasingly being arrested for blasphemy against Islam; children are being kidnapped for ransom, and young girls are being raped and forced to convert to Islam. Some Muslims even attacked the Cathedral of Saint Mark, which is as sacred to the Copts as the Basilica of Saint Peter is to Roman Catholics.
 
Many Egyptians are also angry with the Obama administration. According to an article by Raymond Ibrahim, Morsi was not the only one who spoke to Pope Tawadros II about the Tamarod protest. The U. S. ambassador to Egypt, Anne Patterson, also tried to persuade  the Coptic Pope against the Copts participating in the protest.
 
Ibrahim says many Egyptian activists have condemned Ambassador Patterson for trying to undermine the protests. They call her "the Muslim Brotherhood's stooge." George Ishaq, a Coptic activist, told Patterson, "shut up and mind your own business."
 
"All throughout the Middle East," Ibrahim writes, "the U.S. has been supporting anyone and everyone opposing their leaders-in Libya against Gaddafi, in Egypt itself against 30-year U.S. ally Mubarak, and now in Syria against Assad. In all these cases, the U.S. has presented its support in the name of the human rights and freedoms of the people against dictatorial leaders."
 
"So why," Ibrahim queries, "is the Obama administration now asking Christians not to oppose their rulers-in this case, Islamists . . . ?"

Read more from Ibrahim here.
 
According to the Obama administration, Ibrahim says, "when Islamists . . . wage jihad on secular leaders, the U.S. supports them; when Christians protest Islamist rulers who are making their lives a living hell, the administration asks them to 'know their place' and behave like dhimmis. . . ."
 
The Tamarod protest reminds us that liars, thieves, and murderers often wear suits, and that democratic governments are sometimes little more than veiled dictatorships. The protest also reminds us that oppression can come in the name of equality and tolerance just as easily as it can come in the name of Allah or any other name; and that corruption is presently flourishing in many governments throughout the world, including the United States. If the Tamarod protest reminds us of anything, it should remind us that there can be no peace without freedom.
 
Let us pray for a peaceful resolution in Egypt and for the Coptic Christian community, which has suffered so much. Let us also pray for all those who are being persecuted throughout the world and for peace in our own countries.
 
-----
Michael Terheyden was born into a Catholic family, but that is not why he is a Catholic. He is a Catholic because he believes that truth is real, that it is beautiful and good, and that the fullness of truth is in the Catholic Church. He is greatly blessed to share his faith and his life with his beautiful wife, Dorothy. They have four grown children and three grandchildren.


---
Copyright 2016 - Distributed by THE CALIFORNIA NETWORK
Pope Francis Prayer Intentions for May 2016
Universal:
Respect for Women: That in every country of the world, women may be honored and respected and that their essential contribution to society may be highly esteemed.
Evangelization:
Holy Rosary: That families, communities, and groups may pray the Holy Rosary for evangelization and peace.

By Kenya Sinclair (CALIFORNIA NETWORK)
Local and international ministers will join forces to lead teams of Christian youths across Israel to spread the Word of God and encounter Him in the Holy Land of Israel. LOS ANGELES, CA (Catholic Online) - According to the CBN News, the tour of Jerusalem, called ... continue reading
---

By Kenya Sinclair (CALIFORNIA NETWORK)
Egyptian authorities have arrested six men suspected to have participated in the mob and are currently looking for 12 more. LOS ANGELES, CA (Catholic Online) - President Abdel-Fattach el-sissi demands the culprits be held accountable and issued his military one month ... continue reading
---

By Kenya Sinclair (CALIFORNIA NETWORK)
Pakistan's Ministry of Foreign Affairs confirmed the death of Afghan Taliban leader Mullah Akhtar Mohammed Mansour by U.S. drone strike - but another leader has risen. LOS ANGELES, CA (Catholic Online) - Days after burying Mansour in an undisclosed location in ... continue reading
---

By Kenya Sinclair (CALIFORNIA NETWORK)
After a Tuesday vote, Iran's Assembly of Experts elected 89-year-old Ahmed Jannati as its next supreme leader.Jannati is famous for his extremely conservative views of Islam and is now in a position to choose Iran's next Supreme Leader. LOS ANGELES, CA (Catholic ... continue reading
---

By Kenya Sinclair (CALIFORNIA NETWORK)
It's a bad time to be an ISIS commander. In response to the continual failures on the battlefield, ISIS commanders are now being executed by being fed to aggressive dogs. LOS ANGELES, CA (Catholic Online) - A Kurdish commander spoke to the Iranian media outlet ... continue reading
---

By Kenya Sinclair (CALIFORNIA NETWORK)
ISIS followers have been urged to strike at Europe and the United States by a 31-minute speech Abu Mohamed al-Adnani posted online. LOS ANGELES, CA (Catholic Online) - In his speech, al-Adnani told his followers: "The tiniest action you do in the heart of their land is ... continue reading
---

By David Drudge (CALIFORNIA NETWORK)
A senior Iranian military adviser has said that Israel can be destroyed within eight minutes, if the order is given. The estimate is based on the amount of time it will take for a missile to reach Israel. LOS ANGELES, CA (California Network) - Ahmad Karimpour, an ... continue reading
---

By Kenya Sinclair (CALIFORNIA NETWORK)
An ISIS militant confined to a wheelchair has made headlines once again for executing an innocent. LOS ANGELES, CA (Catholic Online) - According to <a ... continue reading
---

By Kenya Sinclair (CALIFORNIA NETWORK)
In a newly released video, an ISIS militant, supporting himself on crutches, stood beside the remains of a destroyed Christian headstone. LOS ANGELES, CA (Catholic Online) - The video, shown on <a ... continue reading
---

By Kenya Sinclair (CALIFORNIA NETWORK)
The latest issue of Al-Qaeda's propaganda magazine 'Inspire' claims the assassination of several American business leaders can be of use in the Prophet's holy war. LOS ANGELES, CA (Catholic Online) - According to Daily Mail, a hit list was released for lone wolf jihads ... continue reading
---
All Middle East News