Hoy Colombia celebra al Senor de los Milagros de Buga
---
Cuenta la tradicion que por el ano 1580 Buga era un pequeno caserio, en el valle del Cauca (Colombia), y que al lado izquierdo del rio Buga habia un ranchito de paja en el que vivia una india anciana con el oficio de lavandera.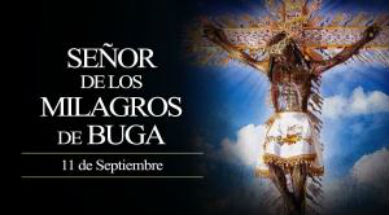 REDACCION CENTRAL (ACI Prensa) - Aquella mujer era muy piadosa y estaba ahorrando dinero para comprarse una imagen de Cristo. El dia que iba a llevar su dinero al parroco para que le consiguiera la imagen, paso llorando un honrado padre de familia, a quien iban a meter a la carcel porque debia un dinero y no tenia con que pagarlos. 
La buena mujer le dio al pobre necesitado todo su dinero ahorrado y aquel hombre, lleno de alegria, le deseo que Dios la bendijera y le ayudara mucho. 
Dias despues la anciana lavaba ropa en el rio cuando una ola llevo hasta ella un pequeno crucifijo de madera. Primero se sorprendio porque por ahi no vivia nadie, pero seguidamente, llena de gozo, se dirigio a su choza e improviso un pequeno altar en el que coloco al Santo Cristo que le habia llegado misteriosamente.
Una noche la mujer oyo golpecitos en el lugar donde se encontraba la imagen y se sorprendio al ver que la imagen habia crecido notablemente. Pocos dias despues se dio cuenta que la imagen tenia ya cerca de un metro de estatura.
Fue y le aviso al Parroco y a los senores mas importantes del pueblo, quienes constataron lo que ella les habia dicho y que era muy dificil que la anciana hubiera podido conseguir un crucifijo de esas proporciones por lo que no se podia explicar naturalmente la presencia alli de la imagen.
Los devotos empezaron a quitarle pequenos pedazos de madera para llevarselos como reliquia y poco a poco la imagen se fue deformando tambien porque todos la tocaban con sus manos sudorosas. Por lo que ya no era bien vista por los amigos del arte y causaba repulsion. Entonces llego un visitador especial que mando que la imagen fuera quemada y destruida por el fuego.
Al ser echada a las llamas empezo a sudar de tal manera que los vecinos empapaban sus algodones con aquel sudor y se los llevaban como reliquias y obtenian curaciones. Cuando termino de sudar, la Sagrada imagen se habia vuelto mas hermosa de lo que estaba antes.
Mas adelante el ranchito de la anciana se convirtio en sitio de oracion y peregrinacion, produciendose numerosos milagros por lo que la imagen es conocida como "El Senor de los Milagros".
Despues de la muerte de la anciana, con el tiempo, las aguas del rio cambiaron de cauce, dejando el sitio libre para que se construya un templo mas grande al Santo Cristo, que en un principio era un pequeno edificio llamado la ermita.
En 1907 se erigio y consagro un nuevo templo gracias a las donaciones de los devotos y en 1937 el Papa Pio XI por medio de su secretario, el Cardenal Pacelli (futuro Pio XII), expidio un decreto con el que al templo del Senor de los Milagros de Buga se le concedia titulo de Basilica. La fiesta de esta milagrosa imagen es el 11 de septiembre.
 

---
Copyright 2018 - Distributed by THE CALIFORNIA NETWORK
Pope Francis Prayer Intentions for July 2018
Priests and their Pastoral Ministry.
That priests, who experience fatigue and loneliness in their pastoral work, may find help and comfort in their intimacy with the Lord and in their friendship with their brother priests.
---
---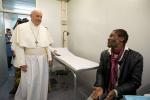 Pope Francis visited Friday the temporary medical clinics serving Rome's poor and homeless in St. Peter's Square this week. vatican ... continue reading
---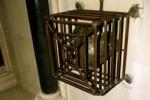 The heart of St. Laurence O' Toole is again on public display six years after it was stolen, and 800 years after the death of the saint. ... continue reading
---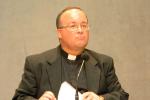 Pope Francis Tuesday appointed Archbishop Charles Scicluna of Malta as adjunct secretary of the Congregation for the Doctrine of the Faith. ... continue reading
---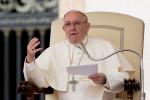 Catholic journalists should be guided not by despair and negativity, but by a commitment to sharing the beauty of the human person, Pope ... continue reading
---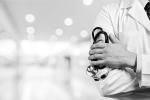 Some 640 general practitioners in the Republic of Ireland have signed a petition saying their concerns have not been listened to regarding ... continue reading
---