Terrorist arrested after plowing into crowd of London Muslims
---
Terrorist was motivated by a desire to kill Muslims.
A terrorist has been arrested after driving a van into a crowd of Muslims leaving evening worship in Finsbury Park, London. The terrorist, who is Caucasian, was defended from an angry mob by a Muslim imam. One person is dead, and ten others are injured. The terrorist has been charged with attempted murder.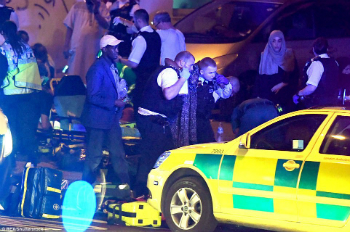 Police work the crime scene where a terrorist drove a van into a crowd of people in Finley Park, London.
LOS ANGELES, CA (California Network) -- A terrorist who vowed, "I'm going to kill all Muslims" I did my bit," has been arrested by police in Finsbury Park, London after plowing a van into a crowd of Muslim worshipers departing an evening service.
The terrorist, who will shortly be named, is a 47-year-old Caucasian male. His attack appears to be directed against ordinary Muslims in London. His attack was likely motivated by revenge, as Muslim terrorists have also used vehicles to kill innocent people.
UPDATE: The terrorist has been named as Darren Osbourne, a father of four from Wales.
The terrorist attacked, turning his van onto a sidewalk filled with Muslims who were leaving the Taraweeh, a late-night Muslim prayer service observed during Ramadan. He struck at least ten people. One man is dead, but it is possible the fatality is not connected to the attack, but a coincidence. It has been suggested the man was receiving first aid from passersby when the terrorist attacked.
After the terrorist's van had stopped, he was pulled from the vehicle by an angry mob, but a Muslim imam, Mohammed Mahmoud, intervened and protected the suspect. He ordered his fellow Muslims not to touch the man. Police arrived promptly and cuffed the terrorist. As he was hauled away, he was seen smiling and blowing kisses to the crowd.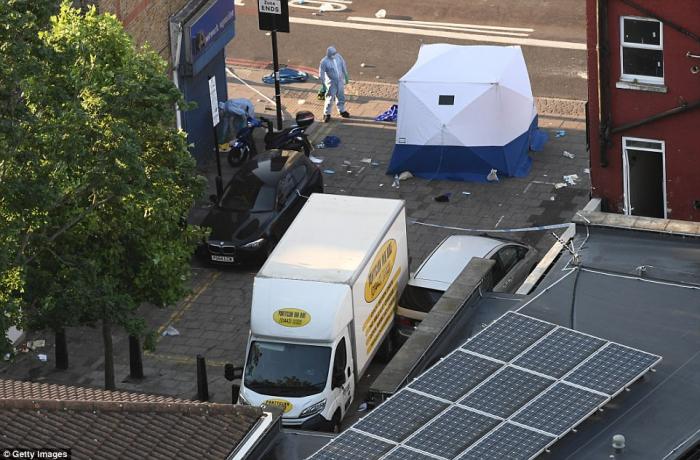 The van the terrorist used to run down his victims. The terrorist is now is custody and has been identified only as a 47-year-old Caucasian male. His motive was to attack Muslims.
Terrorism is terrorism, no matter who perpetrates it. If the aim is to strike indiscriminate fear into people, then it is terrorism. Meeting terror with terror will only destroy all people.
Islamic terrorism is a threat to world peace and order, but measures are being taken to combat it. One of the best measures is liberalization, education, and economic development. Terrorism only flourishes where education is lacking, and poverty is rife.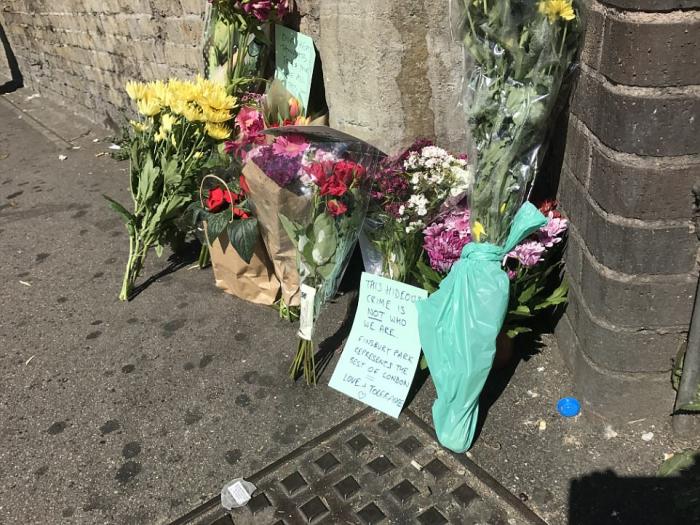 Mourners have expressed solidarity with the Muslim community of Finsbury Park.
However, there are some terrorists who do not fit the mold, and they tend to be motivated by prejudice and fear more than any other factors. These people are rare, but they exist. Such incidents must be seen as they are, acts of lone-wolf terrorism.
Fortunately, the suspect, in this case, was captured alive, so perhaps we will learn much from his testimony before he spends the rest of his life in prison.
---
The California Network is the Next Wave in delivery of information and entertainment on pop culture, social trends, lifestyle, entertainment, news, politics and economics. We are hyper-focused on one audience, YOU, the connected generation. JOIN US AS WE REDEFINE AND REVOLUTIONIZE THE EVER-CHANGING MEDIA LANDSCAPE.
---
---

This prayer of St. Patrick called "St. Patrick's Breast-Plate" was composed as he prepared for his most important battles against the ... continue reading
---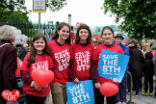 Some 100,000 Irish pro-life advocates took to the streets across the country on Saturday to oppose legalizing abortion in the Republic of ... continue reading
---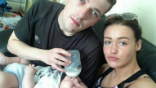 A British court ruled Tuesday that physicians can stop providing life support, against his parents' wishes, to Alfie Evans, a 21-month old ... continue reading
---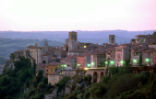 The magical realm of Narnia is the setting of C. S. Lewis' beloved children's book The Lion, the Witch and the Wardrobe. There, four ... continue reading
---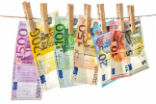 The Council of Europe's Moneyval committee has praised the Holy See's financial intelligence unit, the Financial Information Authority, in ... continue reading
---