Al visitar a los pobres que reciben la asistencia de Cáritas en Asís, en la Salla della Spoliazione, la misma en la que San Francisco se despojó de sus vestiduras y proclamó a Dios como su verdadero Padre, el Papa Francisco seńaló que "esta es una buena ocasión para invitar a la Iglesia a despojarse" de la mundanidad, y subrayó que "todos somos Iglesia".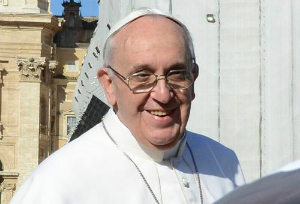 VATICANO (ACI/EWTN Noticias) - El Santo Padre seńaló que "esta es una buena ocasión para invitar a la Iglesia a despojarse. Pero la Iglesia somos todos, ˇtodos! Desde el primer bautizado, todos somos Iglesia. Y todos tenemos que seguir el camino de Jesús, que se despojó a sí mismo. Se hizo siervo, servidor; quiso humillarse hasta la cruz. Y si nosotros queremos ser cristianos, no hay otro camino".

"Pero algunos dicen: 'żNo podemos hacer un cristianismo un poco más humano: sin cruz, sin Jesús, sin despojarnos?'. ˇAh!, así nos convertiríamos en 'cristianos de pastelería', como tartas, bonitas y dulces. Muy bien, pero eso no es ser cristiano de verdad. Alguno que otro dirá: żY de qué tiene que despojarse la Iglesia? Tiene que despojarse de un peligro gravísimo que amenaza a todas las personas en la Iglesia, a todos: el peligro de la mundanidad".

El Papa advirtió que "el cristiano no puede convivir con el espíritu del mundo. La mundanidad que nos lleva a la vanidad, a la prepotencia, al orgullo. Eso es un ídolo: no es Dios. Y la idolatría es el pecado más grave".

"Cuando en los medios de comunicación se habla de la Iglesia, creen que la Iglesia son los curas, las monjas, los obispos, los cardenales y el Papa. Pero la Iglesia somos todos. Y todos tenemos que despojarnos de esta mundanidad que es el espíritu contrario de las bienaventuranzas, el espíritu contrario al espíritu de Jesús".

Francisco remarcó que "la mundanidad nos hace dańo. Y es tan triste encontrar a un cristiano mundano, seguro de esa seguridad que le da -en su opinión- la fe y seguro de la seguridad que le da el mundo. No se puede jugar a dos barajas. La Iglesia, todos nosotros, tenemos que despojarnos de la mundanidad que la lleva a la vanidad, al orgullo, que es la idolatría".

"Jesús mismo decía: 'No se puede servir a dos padrones. O sirves a Dios o sirves al dinero. En el dinero estaba incluido este espíritu mundano żno? Dinero, vanidad, orgullo; ese camino nosotros no podemos seguirlo. Es triste borrar con una mano lo que se escribe con la otra".

"El Evangelio es el Evangelio. Dios es único y Jesús se hizo siervo por nosotros y el espíritu del mundo no tiene nada que ver con eso".

Dirigiéndose a los presentes en la sala, el Santo Padre les dijo que "muchos de ustedes fueron despojados por este mundo salvaje que no da trabajo, que no ayuda".

"No importa si en el mundo hay nińos que mueren de hambre, no importa si tantas familias no tienen que comer, no tienen la dignidad de llevar pan a casa, no importa que tanta gente tenga que escapar de la esclavitud, del hambre y huir buscando la libertad y, con cuánto dolor, tantas veces vemos que encuentran la muerte, como sucedió ayer en Lampedusa".

"ˇHoy es un día de llanto! Estas cosas son obra del espíritu del mundo", exclamó el Papa.

El Santo Padre indicó que "es ridículo que un cristiano, un cristiano verdadero, un cura, una monja, un obispo, un cardenal, un Papa, quieran recorrer este camino de la mundanidad, es una actitud homicida. La mundanidad espiritual mata. ˇMata el alma! ˇMata a las personas! ˇMata a la Iglesia!".

"Cuando Francisco se desnudó aquí era un muchacho, no tenía fuerza. Fue la fuerza de Dios la que lo llevó a hacerlo. Pero la fuerza de Dios que quería recordarnos lo que Jesús nos decía sobre el espíritu del mundo, lo que Jesús ha pedido al Padre para que nos librase del espíritu del mundo".

Al concluir, el Santo Padre exhortó a pedir "la gracia para todos los cristianos: ˇQue el Seńor nos dé a todos el valor de despojarnos!, pero no de 20 liras, no, no. Despojarnos del espíritu del mundo que es la lepra, es el cáncer de la sociedad. Es el cáncer de la revelación de Dios".

"El espíritu del mundo es el enemigo de Jesús. Pido al Seńor que nos dé a todos la gracia de despojarnos".

Como acostumbra, tras agradecer la acogida de los asistentes al encuentro, el Papa les pidió que "recen por mí, lo necesito mucho".
---
Copyright 2016 - Distributed by THE CALIFORNIA NETWORK
Pope Francis Prayer Intentions for May 2016
Universal:
Respect for Women: That in every country of the world, women may be honored and respected and that their essential contribution to society may be highly esteemed.
Evangelization:
Holy Rosary: That families, communities, and groups may pray the Holy Rosary for evangelization and peace.
---
---
---

By Ann Schneible (CNA/EWTN News)
Pope Francis on Monday embraced the grand imam Sheik Ahmed Muhammad Al-Tayyib during a meeting at the Vatican, a move which is being seen as a step toward reopening dialogue between Christians and Sunni Muslims. Vatican City (CNA/EWTN News) - "Our meeting is the ... continue reading
---

By Kenya Sinclair (CALIFORNIA NETWORK)
Pope Francis has decided to meet with Sunni Islam's Sheikh Ahmed al-Tayeb on Monday. LOS ANGELES, CA (Catholic Online) - Vatican spokesman Federico Lombardi told AFP, "This audience is being prepared and has been scheduled for Monday. It will be a first."The pontiff's ... continue reading
---

By Kenya Sinclair (CALIFORNIA NETWORK)
In what most claim is a non-sexual "dog play," human pups have become the latest rage to spread across the UK - so much so that a new documentary will reveal the inner workings of the human pups' lives. LOS ANGELES, CA (Catholic Online) - According to Channel 4, the ... continue reading
---

By (CNA/EWTN News)
Leonardo da Vinci's masterpiece, Adoration of the Magi, will soon be undergoing testing that could help digitally reconstruct the artist's face and offer clues about his life and health. Florence, Italy (CNA/EWTN News) - According to the U.K. outlet Sky News, ... continue reading
---

By Kenya Sinclair (CALIFORNIA NETWORK)
Islamophobia spreads as ISIS continues its terror attacks - but one city has taken a step toward accepting the fact that not all Muslims are terrorists. LOS ANGELES, CA (Catholic Online) - London has elected its first Muslim Mayor. Sadiq Khan won with 56.8 percent of ... continue reading
---

By Kenya Sinclair (CALIFORNIA NETWORK)
Anyone who has ever been in college knows there is a list of required classes to take before you are eligible for graduation. Some classes seem unnecessary, such as a Chemistry major forced to take art classes, but what if universities and colleges required exorcism ... continue reading
---

By Kenya Sinclair (CALIFORNIA NETWORK)
Humanitarian group reported airstrikes targeting a refugee camp full of innocent men, women and children during a cease-fire. LOS ANGELES, CA (Catholic Online) - According to the Syrian Observatory for Human Rights (SOHR), a Syrian refugee camp erected near the Turkish ... continue reading
---

By Kenya Sinclair (CALIFORNIA NETWORK)
Vatican auditors closed nearly 5,000 suspected Vatican bank accounts on suspicion of tax evasion. LOS ANGELES, CA (Catholic Online) - The scandal includes a three-year investigation of 544 suspected transactions mainly involving tax evasion.To meet international ... continue reading
---

By David Drudge (CALIFORNIA NETWORK)
Hackers have just released thousands of documents in a new document dump to the media, this time, they contain the secrets of the Masons. The data dump is known as "Masonleaks" and journalists say it will take several months to complete their review of the documents. ... continue reading
---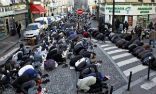 By David Drudge (CALIFORNIA NETWORK)
A Belgian minister has a telling warning for his country as hearings begin into the Brussels attack that killed 32 people at an airport in March. The reason for the warning is quite compelling. LOS ANGELES, CA (California Network) - A Belgian minister is warning ... continue reading
---
All Europe News