How the Church Will Change: Evangelical Catholic Pope Francis Gives Another Interview
---
Those who wish that this Pope would stop giving such interviews or get some public relations help - and I have read both notions in many Catholic comments - better get used to the new normal
I question the emerging "blogo-sterium", a self appointed digital council which has decided they can determine whether the Pope is Catholic enough. I choose instead to learn from this Pope with a big heart. He is not afraid to encounter self professed atheists like Eugenio Scalfari. He does so because of the love of God. He writes no-one off. He engages them all with true respect, human and heavenly affection. He enters into dialogue and then does what Christians do, he shares the liberating message of the Gospel. Pope Francis is an evangelical Catholic Pope in a new missionary age.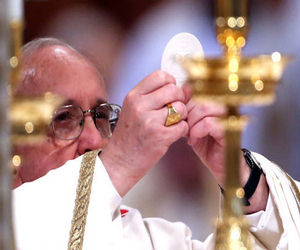 Pope Francis elevating the Consecrated Host at Holy Mass
P>VATICAN CITY (Catholic Online) - On the morning when United States Press reports were transfixed on the temporary shutdown of some operations of the Federal Government, I found the news of another Papal interview of more significance, at least long term.
Yes, another papal interview.  This one was with Eugenio Scalfari, the founder of Europe's La Repubblica. He is a professed atheist. It should be read in its entirety by anyone who wants to be a part of history by using their own mind and intelligence, rather than be carried into the silliness much of the media offers as news and insight. You can read it for yourself right here.
It was, to use an old slang term, a humdinger. The word means something remarkable or extraordinary. The interviewer entitled it "How the Church will Change". It could also have been entitled, How the Age will Change when the Church does her job well. That is, if the Church takes the lead of this evangelical Catholic Pope and reaches out to share the treasure of the Gospel with all, including self proclaimed atheists.
Also, though a briefer interview in length, much like the interview given to Antonio Spadaro, S.J., editor in chief of La Civiltŕ Cattolica, it was intentionally given by the Pope.  He reached out to Eugenio Scalfari by calling him personally and arranging the interview. That was just what he did to secure the interview with Fr Spadaro.
Those who wish that this Pope would stop giving such interviews or get some public relations help - and I have read both notions in many Catholic comments - better get used to the new normal. I fully expect this interview approach will continue in a papacy characterized by openness, engagement with the culture and a desire to reach out beyond just singing to the choir. This Pope wants to share the Good News of the Gospel as found in its fullness in the Catholic Church - everywhere -  including those places too often considered to be on the margins.
This interview, like the last one, can be misused by selectively lifting quotes out of the context of the overall dialogue. This has already begun to happen, even in some Catholic circles. Pope Francis freely and conversationally dialogues with Eugenio Scalfari on multiple topics. He does so with the pastoral warmth and openness which has come to characterize his dialogic approach to encountering people. It is a style we are not used to, at least with those who hold the office of the successor of Peter.  
I suggest that one key to understanding this Pope, and his choosing to give such interviews, is revealed in some of the excerpts I now offer. After Francis has responded to numerous questions from Eugenio Scalfari, he poses his own questions:  
Pope Francis: But now let me ask you a question: you, a secular non-believer in God, what do you believe in? You are a writer and a man of thought. You believe in something, you must have a dominant value. Don't answer me with words like honesty, seeking, the vision of the common good, all important principles and values but that is not what I am asking. I am asking what you think is the essence of the world, indeed the universe. You must ask yourself, of course, like everyone else, who we are, where we come from, where we are going. Even children ask themselves these questions. And you?"
Eugenio Scalfari: I am grateful for this question. The answer is this: I believe in Being, that is in the tissue from which forms, bodies arise.
Pope Francis: And I believe in God, not in a Catholic God, there is no Catholic God, there is God and I believe in Jesus Christ, his incarnation. Jesus is my teacher and my pastor, but God, the Father, Abba, is the light and the Creator. This is my Being. Do you think we are very far apart?
Eugenio Scalfari: We are distant in our thinking, but similar as human beings, unconsciously animated by our instincts that turn into impulses, feelings and will, thought and reason. In this we are alike.
Pope Francis: But can you define what you call Being?
Eugenio Scalfari: Your Holiness, may I tell you something about my own cultural background? I was raised by a mother who was a strict Catholic. At the age of 12 I won a catechism contest held by all the parishes in Rome and I was given a prize by the Vicariate. I took communion on the first Friday of every month, in other words, I was a practicing Catholic and a true believer. But all that changed when I entered high school. I read, among other philosophical texts that we studied, Descartes' "Discourse on Method" and I was struck by the phrase, which has now become an icon, "I think, therefore I am." The individual thus became the basis of human existence, the seat of free thought.
Pope Francis: Descartes, however, never denied faith in a transcendent God.
Eugenio Scalfari later asked Francis: Do you feel touched by grace?
The Pope responded: No one can know that. Grace is not part of consciousness, it is the amount of light in our souls, not knowledge nor reason. Even you, without knowing it, could be touched by grace."
Eugenio Scalfari asks Without faith? A non-believer?"
The Pope responded, Grace regards the soul.
Eugenio Scalfari: I do not believe in the soul.
Pope Francis: You do not believe in it but you have one.
What Pope Francis did in this interview reminded me of the Apostle Paul on Mars Hill reaching out respectfully to those who dialogued with him in the Areopagus  (Acts 17:16-33) Or, Paul's defense before King Aggrippa. (Acts 26:1-29) He begins with respect for the one with whom he is conversing, proceeds with a deep bedrock belief that God loves the one he is speaking with - and is already breaking into his life.
Pope Francis was asked by Eugenio Scalfari: Can I ask you, Your Holiness, which saints you feel closest to in your soul, those who have shaped your religious experience?
Pope Francis responded, St. Paul is the one who laid down the cornerstones of our religion and our creed. You cannot be a conscious Christian without St. Paul. He translated the teachings of Christ into a doctrinal structure that, even with the additions of a vast number of thinkers, theologians and pastors, has resisted and still exists after two thousand years. Then there are Augustine, Benedict and Thomas and Ignatius. Naturally Francis. Do I need to explain why?
Pope Francis demonstrated why this is so in the unfolding progression and manner of this interview. Notice how Eugenio Scalfari opened his heart to the Pope? Notice how Pope Francis won him as a friend? Notice how the questions, and the responses, opened the door to faith and grace by opening both hearts to the encounter? 
Let me turn to another excerpt. It underscores my claim that Francis is engaged in a loving act of evangelistic and missionary dialogue with a professed atheist precisely because that is exactly what he wants us all to do with those all around us.He shows us how to turn the discussion to things of the soul by asking his interviewer questions which invite a response that opens the door to eternal reality. 
Pope Francis: But can you define what you call Being?
Eugenio Scalfari: Being is a fabric of energy. Chaotic but indestructible energy and eternal chaos. Forms emerge from that energy when it reaches the point of exploding. The forms have their own laws, their magnetic fields, their chemical elements, which combine randomly, evolve, and are eventually extinguished but their energy is not destroyed. Man is probably the only animal endowed with thought, at least in our planet and solar system. I said that he is driven by instincts and desires but I would add that he also contains within himself a resonance, an echo, a vocation of chaos.
Pope Francis: All right. I did not want you to give me a summary of your philosophy and what you have told me is enough for me. From my point of view, God is the light that illuminates the darkness, even if it does not dissolve it, and a spark of divine light is within each of us. In the letter I wrote to you, you will remember I said that our species will end but the light of God will not end and at that point it will invade all souls and it will all be in everyone.
Eugenio Scalfari: Yes, I remember it well. You said, "All the light will be in all souls" which - if I may say so - gives more an image of immanence than of transcendence.
Pope Francis: Transcendence remains because that light, all in everything, transcends the universe and the species it inhabits at that stage. But back to the present. We have made a step forward in our dialogue. We have observed that in society and the world in which we live selfishness has increased more than love for others, and that men of good will must work, each with his own strengths and expertise, to ensure that love for others increases until it is equal and possibly exceeds love for oneself.
Pope Francis is a missionary. He is an evangelical Catholic Pope.For years I have proposed to fellow believers that it is time to stop opining over whether we are living in a post-Christian, neo-pagan or post modernist age. I suggest instead that we realize we are now living in a Pre-Christian age - and then respond to the invitation the Lord has given in calling us for this hour in history. He has sent us into this age, to deliver His message of authentic freedom and the fullness of God's Love as revealed in Jesus Christ.
I recently suggested to a large group of Christians I addressed that we would all be better off if we pretended we just awakened this morning to find the culture the way it is, devoid of even a Christian memory. It is time to stop talking about how it once was, or, perhaps how we thought it once was. Rather, we should respond as Christian missionaries seeing how it can be. We should do in this age what the early Christians did when they faced very similar cultures. We should do what effective Christian missionaries have done throughout the two thousand year history of Christian mission.
Our contemporary age is now pagan. Many of the gods and goddesses of the old pagan regimes promoted lives of selfish excess, homosexual practices, and hedonism masquerading as freedom. The myths they told concerning them had these gods acting in much the same way. The lifestyle has been reintroduced today, only the myths, tributes and statues are different.
The early Christians did not point the finger and rail against the pagans of their age. They did not present a negative message. They proclaimed the true freedom which can be found in its fullness in and through Jesus Christ. They did so with all who would listen to them, and dialogue with them.
They also demonstrated the Gospel in their compelling witness of a life lived in the prophetic witness of love. They trusted the Lord whom they served and believed that the splendor of truth as attractive enough to all men and women that God was already drawing them to Himself. The role of the witness was to simply recognize the dynamic and assist it. 
So, in an age given over to disordered relationships, they lived in monogamous marriages, raised their children to be faithful Christians and good citizens, and went into the world of their age offering people a new way to live. This way (which is what they first called the early Church) presented a very different worldview than the one the pagans embraced.
They lived this different way right in the midst of that pagan culture. As a result, they sometimes stirred up hostility. Some of them were martyred in the red martyrdom of shed blood. Countless more joined the train of what use to be called white martyrdom, by living lives of sacrificial witness and service in the culture, working hard and staying faithful to the end of a long life spent in missionary toil.
Slowly, not only were small numbers of pagans won to the truths of the faith and baptized, but eventually their leaders and entire Nations followed suit. Resultantly, the Christian worldview began to influence the social order. It was the Christian faith and the lifestyle of the Christians that began to win the hearts of men and women. The cultures once enshrined to pagan practices, such as plural marriage, homosexuality, exposure and abortion began to change dramatically and this dynamic continued for centuries.
Christianity taught such novel concepts as the dignity of every person and their equality before the One God. Christians proclaimed the dignity of women, the dignity of chaste marriage and the sanctity of the family. Christianity introduced the understanding of freedom not simply as a freedom from, but as a freedom for living responsibly and with integrity. Christians proclaimed that human freedom must be exercised with reference to a moral code, a law higher than the emperor or the shifting sands of public opinion.
Christians understood that choice, when rightly exercised, meant choosing what was true and good and that the freedom to choose also brought with it a moral obligation and concern for the other. Their faith presented a coherent and compelling answer to the existential questions that plagued the ancients. Questions like who we are, where we come from, where we are going. What is the purpose of life? Questions like how evil came into the world and why we could not always make right choices? What force seemed to move us toward evil and how we could be set free from its power? Notice, these are some of the very questions Pope Francis asked Eugenio Scalfari.
I question the emerging "blogo-sterium", a self appointed digital council which has decided they can determine whether the Pope is Catholic enough. I choose instead to learn from this Pope with a big heart. He is not afraid to encounter self professed atheists like Eugenio Scalfari. He does so because of the love of God. He writes no-one off. He engages them all with true respect, human and heavenly affection. He enters into dialogue and then does what Christians do, he shares the liberating message of the Gospel. Pope Francis is an evangelical Catholic Pope in a new missionary age.
---
Copyright 2018 - Distributed by THE CALIFORNIA NETWORK
Pope Francis Prayer Intentions for July 2018
Priests and their Pastoral Ministry.
That priests, who experience fatigue and loneliness in their pastoral work, may find help and comfort in their intimacy with the Lord and in their friendship with their brother priests.
---
---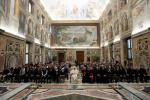 Pope Francis told a Catholic media group Thursday to be avenues of God's peace, sharing the stories of the poor, the least, and the ... continue reading
---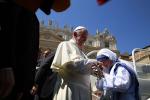 The Vatican announced Thursday that Pope Francis will travel to Bulgaria and Macedonia May 5-7, 2019, with a stop in Mother Teresa's ... continue reading
---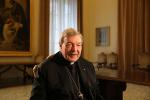 Cardinal George Pell has been convicted by an Australian court on charges of sexual abuse of minors, according to media reports and CNA ... continue reading
---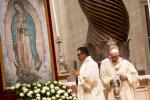 Pope Francis celebrated the Mass of Our Lady of Guadalupe Wednesday, reflecting on how Mary continues to evangelize Latin America through ... continue reading
---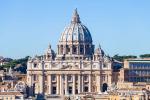 The Vatican said Wednesday that while there are no immediate plans to add new members to the C9, Pope Francis has released the three eldest ... continue reading
---