The horrors being inflicted against the innocent in Syria have filled our media and must move our hearts to the most powerful action a Christian can engage in
Brothers and sisters, I have decided to proclaim for the whole Church on 7 September next, the vigil of the birth of Mary, Queen of Peace, a day of fasting and prayer for peace in Syria, the Middle East, and throughout the world, and I also invite each person, including our fellow Christians, followers of other religions and all men of good will, to participate, in whatever way they can, in this initiative.On 7 September, in Saint Peter's Square, here, from 19:00 until 24:00, we will gather in prayer and in a spirit of penance, invoking God's great gift of peace upon the beloved nation of Syria and upon each situation of conflict and violence around the world. Humanity needs to see these gestures of peace and to hear words of hope and peace! I ask all the local churches, in addition to fasting, that they gather to pray for this intention. (Pope Francis)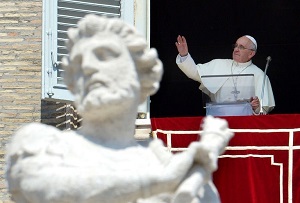 There are so many conflicts in this world which cause me great suffering and worry, but in these days my heart is deeply wounded in particular by what is happening in Syria and anguished by the dramatic developments which are looming. I appeal strongly for peace, an appeal which arises from the deep within me. How much suffering, how much devastation, how much pain has the use of arms carried in its wake in that martyred country, especially among civilians and the unarmed! I think of many children will not see the light of the future! With utmost firmness I condemn the use of chemical weapons: I tell you that those terrible images from recent days are burned into my mind and heart. There is a judgment of God and of history upon our actions which are inescapable! Never has the use of violence brought peace in its wake. War begets war, violence begets violence. (Pope Francis)
VATICAN CITY (Catholic Online) - While more US warships are deployed to the Red Sea in the event of military action taken against Syria - and the US Congress prepares to debate authorizing the use of such force - the leader of over 1.2 billion Catholics has asked Catholics and all Christians, other people of faith and all people of good will, to deploy the weapons of peace, prayer and fasting.

The horrors being inflicted against the innocent in Syria have filled our media and must move our hearts to the most powerful action a Christian can engage in. History records a brutal dictator named Joseph Stalin once mockingly asking "How many divisions does the Pope of Rome have?" Well, the truth is there is no more powerful force in the universe than the power of God and His power is made manifest when His people pray!
In a heartfelt cry - straight from the heart of the man who took the name of the Poverello, Francis - the Pope used his Sunday Angelus address to implore the parties who are engaged in the atrocities in Syria to cease, crying out with prophetic voice, "War begets war, violence begets violence." He also announced to the faithful that he would lead us, on Saturday, September 7, 2013, in a historic day of fasting and prayer for peace in Syria, the Middle East and throughout the world.
In a world which is spiraling out of control, all who bear the name Christian - which means a follower of Jesus Christ -  are called to live in peace and to be peacemakers. At the Last Supper, right before he would walk the Way of the Cross for each one of us, Jesus spoke these words to his disciples: "Peace I leave with you; my peace I give to you. Not as the world gives do I give it to you. Do not let your hearts be troubled or afraid". (John 14:27) We need to hear these words today, deep inside. In that place the Scripture refers to as the heart. "Blessed are the peacemakers, for they shall be called sons of God." (Mt. 5:9)The path to true peace passes through prayer - and fasting is one of its most powerful weapons.
The Apostle Paul wrote to the Christians in Ephesus: Put on the whole armor of God, that you may be able to stand against the wiles of the devil. "For we are not contending against flesh and blood, but against the principalities, against the powers, against the world rulers of this present darkness, against the spiritual hosts of wickedness in the heavenly places. Therefore take the whole armor of God, that you may be able to withstand in the evil day, and having done all, to stand." (Eph. 6:12,13)
Let us stand in solidarity with Pope Francis, the Bishop of Rome, the servant of the servants of God -  and all who stand with us - beginning right now in praying for the intervention of heaven. Let us heed the invitation coming from Rome and join in this historic event on Saturday, September 7, 2013. Let us also remember these other words, written by Paul to the Christians in Corinth: "For though we live in the world we are not carrying on a worldly war, for the weapons of our warfare are not worldly but have divine power to destroy strongholds." (2 Cor. 10:4,5) 
We set forth in full the impassioned plea of Francis below. We ask all of our readers and viewers around the world to fully participate in thie extraordinary moment in history when the successor of the Apostle Peter has called all of us to implore God to bring an end to the evil at the root of war and bring peace in its place. We will be writing more as the week unfolds.
******

Pope Francis Cries Out for Peace
Dear Brothers and Sisters, buongiorno!
Today, dear brothers and sisters, I wish to make add my voice to the cry which rises up with increasing anguish from every part of the world, from every people, from the heart of each person, from the one great family which is humanity: it is the cry for peace!

It is a cry which declares with force: we want a peaceful world, we want to be men and women of peace, and we want in our society, torn apart by divisions and conflict, that peace break out! War never again! Never again war! Peace is a precious gift, which must be promoted and protected.
There are so many conflicts in this world which cause me great suffering and worry, but in these days my heart is deeply wounded in particular by what is happening in Syria and anguished by the dramatic developments which are looming.
I appeal strongly for peace, an appeal which arises from the deep within me. How much suffering, how much devastation, how much pain has the use of arms carried in its wake in that martyred country, especially among civilians and the unarmed! I think of many children will not see the light of the future!

With utmost firmness I condemn the use of chemical weapons: I tell you that those terrible images from recent days are burned into my mind and heart. There is a judgment of God and of history upon our actions which are inescapable! Never has the use of violence brought peace in its wake. War begets war, violence begets violence.
With all my strength, I ask each party in this conflict to listen to the voice of their own conscience, not to close themselves in solely on their own interests, but rather to look at each other as brothers and decisively and courageously to follow the path of encounter and negotiation, and so overcome blind conflict.

With similar vigour I exhort the international community to make every effort to promote clear proposals for peace in that country without further delay, a peace based on dialogue and negotiation, for the good of the entire Syrian people.
May no effort be spared in guaranteeing humanitarian assistance to those wounded by this terrible conflict, in particular those forced to flee and the many refugees in nearby countries. May humanitarian workers, charged with the task of alleviating the sufferings of these people, be granted access so as to provide the necessary aid.
What can we do to make peace in the world? As Pope John said, it pertains to each individual to establish new relationships in human society under the mastery and guidance of justice and love (cf. John XXIII, Pacem in Terris, [11 April 1963]: AAS 55, [1963], 301-302).
All men and women of good will are bound by the task of pursuing peace. I make a forceful and urgent call to the entire Catholic Church, and also to every Christian of other confessions, as well as to followers of every religion and to those brothers and sisters who do not believe: peace is a good which overcomes every barrier, because it belongs all of humanity!
I repeat forcefully: it is neither a culture of confrontation nor a culture of conflict which builds harmony within and between peoples, but rather a culture of encounter and a culture of dialogue; this is the only way to peace.
May the plea for peace rise up and touch the heart of everyone so that they may lay down their weapons and be let themselves be led by the desire for peace.
To this end, brothers and sisters, I have decided to proclaim for the whole Church on 7 September next, the vigil of the birth of Mary, Queen of Peace, a day of fasting and prayer for peace in Syria, the Middle East, and throughout the world, and I also invite each person, including our fellow Christians, followers of other religions and all men of good will, to participate, in whatever way they can, in this initiative.
On 7 September, in Saint Peter's Square, here, from 19:00 until 24:00, we will gather in prayer and in a spirit of penance, invoking God's great gift of peace upon the beloved nation of Syria and upon each situation of conflict and violence around the world. Humanity needs to see these gestures of peace and to hear words of hope and peace! I ask all the local churches, in addition to fasting, that they gather to pray for this intention.
Let us ask Mary to help us to respond to violence, to conflict and to war, with the power of dialogue, reconciliation and love. She is our mother: may she help us to find peace; all of us are her children! Help us, Mary, to overcome this most difficult moment and to dedicate ourselves each day to building in every situation an authentic culture of encounter and peace.
Mary, Queen of Peace, pray for us!
---
Copyright 2016 - Distributed by THE CALIFORNIA NETWORK
Pope Francis Prayer Intentions for May 2016
Universal:
Respect for Women: That in every country of the world, women may be honored and respected and that their essential contribution to society may be highly esteemed.
Evangelization:
Holy Rosary: That families, communities, and groups may pray the Holy Rosary for evangelization and peace.

By Kenya Sinclair (CALIFORNIA NETWORK)
The notorious nanny responsible for decapitating her 4-year-old ward has asked a judge if she could be released from jail because she 'does not like it.' LOS ANGELES, CA (Catholic Online) - There is no question that the woman is insane but when 38-year-old Gyulchehra ... continue reading
---

By Ann Schneible (CNA/EWTN News)
Pope Francis on Monday embraced the grand imam Sheik Ahmed Muhammad Al-Tayyib during a meeting at the Vatican, a move which is being seen as a step toward reopening dialogue between Christians and Sunni Muslims. Vatican City (CNA/EWTN News) - "Our meeting is the ... continue reading
---

By Kenya Sinclair (CALIFORNIA NETWORK)
Pope Francis has decided to meet with Sunni Islam's Sheikh Ahmed al-Tayeb on Monday. LOS ANGELES, CA (Catholic Online) - Vatican spokesman Federico Lombardi told AFP, "This audience is being prepared and has been scheduled for Monday. It will be a first."The pontiff's ... continue reading
---

By Kenya Sinclair (CALIFORNIA NETWORK)
In what most claim is a non-sexual "dog play," human pups have become the latest rage to spread across the UK - so much so that a new documentary will reveal the inner workings of the human pups' lives. LOS ANGELES, CA (Catholic Online) - According to Channel 4, the ... continue reading
---

By (CNA/EWTN News)
Leonardo da Vinci's masterpiece, Adoration of the Magi, will soon be undergoing testing that could help digitally reconstruct the artist's face and offer clues about his life and health. Florence, Italy (CNA/EWTN News) - According to the U.K. outlet Sky News, ... continue reading
---

By Kenya Sinclair (CALIFORNIA NETWORK)
Islamophobia spreads as ISIS continues its terror attacks - but one city has taken a step toward accepting the fact that not all Muslims are terrorists. LOS ANGELES, CA (Catholic Online) - London has elected its first Muslim Mayor. Sadiq Khan won with 56.8 percent of ... continue reading
---

By Kenya Sinclair (CALIFORNIA NETWORK)
Anyone who has ever been in college knows there is a list of required classes to take before you are eligible for graduation. Some classes seem unnecessary, such as a Chemistry major forced to take art classes, but what if universities and colleges required exorcism ... continue reading
---

By Kenya Sinclair (CALIFORNIA NETWORK)
Humanitarian group reported airstrikes targeting a refugee camp full of innocent men, women and children during a cease-fire. LOS ANGELES, CA (Catholic Online) - According to the Syrian Observatory for Human Rights (SOHR), a Syrian refugee camp erected near the Turkish ... continue reading
---

By Kenya Sinclair (CALIFORNIA NETWORK)
Vatican auditors closed nearly 5,000 suspected Vatican bank accounts on suspicion of tax evasion. LOS ANGELES, CA (Catholic Online) - The scandal includes a three-year investigation of 544 suspected transactions mainly involving tax evasion.To meet international ... continue reading
---

By David Drudge (CALIFORNIA NETWORK)
Hackers have just released thousands of documents in a new document dump to the media, this time, they contain the secrets of the Masons. The data dump is known as "Masonleaks" and journalists say it will take several months to complete their review of the documents. ... continue reading
---
All Europe News