British Actors Line up for Film about Life of Opus Dei Founder
---
"There Be Dragons" cost an estimated Ł20 million and is expected to come out in the summer or autumn of next year.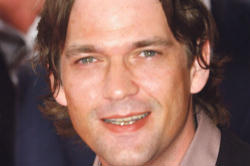 Pictured: Dougray Scott who is a journalist investigating Jose Maria Escriva in the upcoming film on the founder of Opus Dei.
LONDON (The UK Catholic Herald) - A well-known Scottish actor is starring in a new film about the founder of Opus Dei, St Josemaría Escrivá de Balaguer.
Dougray Scott - who starred in Mission Impossible II - is in Argentina filming "There Be Dragons", a feature film about the life of St Josemaria.
The Glenrothes-born actor plays a young journalist, estranged from his father, who begins to investigate the life of one of his father's friends, Josemaría Escrivá de Balaguer. The journalist, played by Mr Scott, follows their uneasy relationship from their childhood to their time during the Spanish Civil War.
St Josemaria is played by the English actor Charlie Cox, who is a Catholic. His previous films include Stardust and Casanova. Mr Cox said: "I've been to many Opus Dei centres, and met many Opus Dei members [in doing research for the movie]. And I've yet to encounter anything odd- seeming.
"I've been brought up a Catholic. I'm not a great practising Christian. I've been to church infrequently, but I've never stopped going."
He also said that there was "an inner journey I've been going on during this film. I don't know where it will lead. My relationship with the Catholic Church and with God has certainly been profoundly affected for the better throughout this process," he added.
When Mr Cox was asked whether St Josemaría was really a saint, he replied: "It's an impossible question to answer ... I have to leave that up to the Catholic Church and not to myself."
Roland Joffe, the Oscar-winning director of The Mission and The Killing Fields, is directing the Opus Dei-funded film, despite criticism from mainstream cinema critics. After rejecting the offer to do the film with a screenplay provided by the Opus Dei, Mr Joffe wrote the screenplay for There Be Dragons. He said that the group had not interfered with the film, that he had not been told how to write the screenplay nor had he been directed on how to present either Opus Dei or St Josemaria.
Mr Joffe said St Josemaría had "made no attempt to influence the people he worked with in terms of their politics". "At that time, that's pretty heroic. That's a time when almost all human beings were faced with making extraordinary choices," he said.
He added: "We found ourselves making a film about love - human love and divine love. About hate - which I guess is human - about betrayal and mistakes.
"I don't know if there's anybody who wants to live his life without meaning. So it's also a story about people trying to find meaning about their lives, and that's a powerful kind of story."
Mr Joffe said he has researched as much as he could on St Josemaría but said that history could only be attempted. He said: "There were certain liberties I could take if those liberties could take us to the personal issues that people felt." One thing that struck Mr Joffe was St Josemaría's idea that "a way to God is found through everyday life. And that life is also found through the Spanish Civil War."
"That is still felt by Spaniards very much today," he said.
During the making of "The Mission", which dealt with Jesuit missionaries in 17th-century Latin America, Mr Joffe used two Jesuits as advisers. One was very "Right-wing" and the other was the famous left-wing Jesuit, Fr Daniel Berrigan.
Fr John Wauck, an Opus Dei priest who is a professor of literature and communication of the faith at the Pontifical University of the Holy Cross in Rome was asked "whether he'd serve the same purpose as Daniel Berrigan - explain to Charlie (Cox) what he knew about Josemaria ... in as open and honest way as he could, what it means to be a priest. That's what he gave up his rather precious time to do, and I'm grateful for it."
"There Be Dragons" cost an estimated Ł20 million and is expected to come out in the summer or autumn of next year.

---
---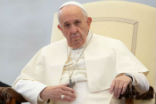 Pope Francis denounced rising anti-Semitism Wednesday as an attitude that is inhumane and unchristian. Vatican City, (CNA) - Pope Francis ... continue reading
---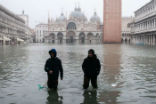 The crypt of St. Mark's Basilica was completely flooded Wednesday, after Venice's water levels hit the highest level in more than 50 years. ... continue reading
---
---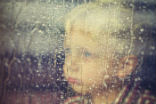 In the face of a foster parent shortage in the UK, the Catholic Church in England and Wales will launch a campaign to encourage adoption ... continue reading
---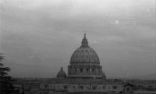 It was a dark autumn night in Rome, which was suffering under the occupation of Nazi Germany and was the target of bombing raids by Allied ... continue reading
---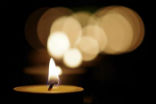 After 39 people were found dead in a semi trailer in eastern England last month, a Catholic priest has joined efforts to identify these ... continue reading
---