In the West, it is not the Government which issues a permit, allowing a couple to conceive. Instead the so called abortion right hides the sheer evil of the act
Sadly, because the Maoist Atheists currently ruling mainland China wear business suits, smile a lot, and hold commercial paper which represents a substantial amount of American I.O.U.'s, few politicians in either major political party have the courage to call them out for their egregious human rights abuses. The treatment of children as commodities in China, products to be accumulated only with the permission of the Central Government, seems horribly unjust to most observers, and rightly so. However, at its root, is it that different than the current abortion culture of the West? We need to be honest if we ever hope to end this evil scourge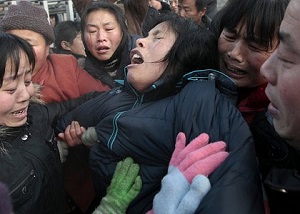 Lili Zeng (pictured) was forcibly aborted by agents of the State. The nine month old child in her womb was given a lethal injection in the skull. The little one survived to birth and died in the arms of a mother.
Highlights
Catholic Online (www.catholic.org)
8/31/2013 (2 years ago)
Published in Asia Pacific
Keywords: One Child policy, forcible abortion, mainland China, atheistic regime in China, Maoist, Culture of death, Obama Administration, Joe Biden, Lili Zeng, abortion rights, Pro-Life, Deacon Keith Fournier
---
BEIJING, China (Catholic Online) - Asia News reports that the evil regime which rules mainland China has committed another atrocity against a child in the womb, a mother, and human decency. Lili Zeng was forcibly aborted by agents of the State. The nine month old child in her womb was given a lethal injection in the  skull. The little one survived to birth and died in the arms of a mother. 
In June of 2012 Jennifer Hartline of Catholic Online wrote a hard hitting article entitled Sex-Selection Abortion and China's Brutality: Shall We 'Gulp and Get Over It'? It commented upon the horrid forcible abortion of 23-yr-old pregnant mother Feng Jianmei of China. The brutal act finally drew the outrage of the International Press after a photo of the mother with her dead child next to her was published throughout the West over social media.
In addition to the Chinese Communist regime's crimes against humanity, such as forced abortion and sterilization, they persecute Christians and other religious believers - with a special hatred directed against the Catholic Church.

I regularly write about the persecution of faithful Catholics by the Communist Regime ruling mainland China. They have established a "Patriotic" Church which engages in illicit ordinations and persecutes Catholics loyal to Rome.
Sadly, because the Maoist Atheists currently ruling mainland China wear business suits, smile a lot, and hold commercial paper which represents a substantial amount of American I.O.U.'s, few politicians in either major political party have the courage to call them out for their egregious human rights abuses.
With our growing economic reliance and dependence upon the Regime in China we sacrifice our fundamental obligation to defend fundamental human rights because we depend on the economic assistance of a repressive regime.

I will never forget the visit of Vice President Joe Biden to China in August of 2011. This Vice president who claims to be a practicing Catholic, and presents himself as a champion of those who have no voice, failed to oppose the brutality of forced abortions and sterilization.
He remained silent before a brutal regime which subjects parents who have more than one child to fines, human rights abuses, beatings and imprisonment. He said during that visit that he would not "second guess" the murderous policy.
Congressman Chris Smith, a human rights hero and faithful Catholic made this statement in Congressional testimony in 2011, "Since 1979, brothers and sisters have been illegal in China as part of the barbaric one child per couple policy. And for 30 years, the United Nations Population Fund (UNFPA) has vigorously supported, funded, defended, promoted and even celebrated these massive crimes against humanity."
"The uncontested facts are these: Any Chinese, Tibetan, or Uyghur mother without a birth permit is put under coercive pressure to abort - if need be, she is physically forced to do so. All unwed moms are compelled to abort. In what can only be described as a search-and-destroy mission, disabled children are aborted as part of a nationwide eugenics program."
On Monday, July 9, 2012, Wang Zhicheng of Asia News, reported on another brutal incident involving forced abortion in an article entitled, Fujian, forced to abort by injection in seventh month. Family denounces Government. According to the report, the World Health Organization now estimates that 14 million forced abortions take place each year in China which are related to the one-child law, 25% of all abortions in the world. 
"Pan Chunyan, 30, of Daji (Fujian) was pregnant with a baby of seven months. With her husband Wu Liangjie they already have two children: an 8 year old girl and a boy of three. Last March, a group of men of the Office for population control, traveled to Shishi (120 km from Daji), where Wu was working to threaten him with having violated the one-child law: or pay 45,300 Yuan ( about 5800 Euros) in fines or his wife was to undergo a forced abortion".
"Returning to the village, Wu paid 20 thousand Yuan. But a month after the funds were returned, and his wife was kidnapped and locked in a room with other pregnant women. At that point, the local government asked him to pay a fine of 55 thousand Yuan (more than 7 thousand Euros). Despite having paid two days later, more than 60 people with different cars, arrived at his house, seize his wife and took her to hospital where they administered an injection to procure the abortion."
"In an interview reported on the South China Morning Post, Wu said his wife "was on her knees pleading with them, but they did not listen." Two days later the woman gave birth to the fetus of seven months, "at the sight of the little body she was reduced to crying and screaming."
"Disgusted by this law and its use as a means of income for the bureaucrats and as a means of blackmail, Wu decided to publish his story on the internet and to denounce the local government in Daji. Since then he is hiding in Beijing with his wife, in a secret place. The local government ordered him to remove his story from the Internet or he in turn will be visited by thugs."
The treatment of children as commodities in China, products to be accumulated only with the permission of the Central Government, seems horribly unjust to most observers, and rightly so. However, at its root, is it that different than the current abortion culture of the West? We need to be honest if we ever hope to end this evil scourge.
In the West, it is not the Government which issues a permit, allowing a couple to conceive. Instead the so called abortion "right", created out of whole cloth by unelected Judges, is now enforced by the Police Power of the State.
This positive "law", which violates the Natural Law Right to Life of Every Child, 'allows' the parents of a child to secure the services of a medical professional to take her life in the womb for any reason, up to and including the ninth month of pregnancy, if she is not wanted.
This can be done through any number of means from dismemberment, to suction or chemical weapons which are administered in utero. The brutality of these procedures is hidden behind the wall of the womb, once the safest place on earth.
China's One Child Policy demands our outrage! We once again call upon the Obama Administration to take a strong and public position decrying this horrid abuse of human rights.
Of course, it is increasingly hard to take the moral high ground when the Obama Administration continues its governmental policy of defending the killing of children in the womb, at any time and for any reason, in our own country - calling it a "reproductive right" and seeking to fund the procedure as a medical service under the Affordable Care Act.
In so doing, and because they fail to show the resolve required by this evil, I maintain they are complicit in the Culture of Death.I am sure some of my readers will consider my assertion to be too harsh. Frankly, I do not care. The shedding of innocent blood must end!
God have mercy. On China and on the United States of America.
---
Copyright 2016 - Distributed by THE CALIFORNIA NETWORK
Pope Francis Prayer Intentions for May 2016
Universal:
Respect for Women: That in every country of the world, women may be honored and respected and that their essential contribution to society may be highly esteemed.
Evangelization:
Holy Rosary: That families, communities, and groups may pray the Holy Rosary for evangelization and peace.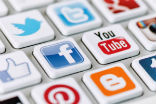 By Marshall Connolly (CALIFORNIA NETWORK)
The next time you encounter an internet troll, be warned, he could be getting paid to fan the flames, or to douse your conversation. A new study our of Harvard reveals that China is using an army of 448 million fake troll accounts to influence public opinion. And China ... continue reading
---

By Kenya Sinclair (CALIFORNIA NETWORK)
A "mass demonic possession" has erupted at Peruvian school Elsa Perea Flores, leaving over 80 students convulsing, frothing at the mouth, fainting, and displaying erratic behavior. LOS ANGELES, CA (Catholic Online) - The children, most of whom are between 11 and ... continue reading
---

By Kenya Sinclair (CALIFORNIA NETWORK)
U.S. President Barack Obama is set to become the first sitting president to visit Hiroshima following the atomic attack August 6, 1945. LOS ANGELES, CA (Catholic Online) - Critics worried Obama's trip was to apologize for the devastation, but according to The New York ... continue reading
---

By Kenya Sinclair (CALIFORNIA NETWORK)
India is famous for it's diverse culture, vibrant clothing, incredible festivals, elephant gods, elaborate gold jewelry, the Taj Mahal and spicy food. It is an amazing place for tourists to visit - but what about the natives? LOS ANGELES, CA (Catholic Online) - India ... continue reading
---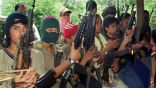 By California Network
Abu Sayyaf, an affiliate of ISIS in the Philippines, has released the full video of the beheading of Canadian hostage, John Ridsdel. LOS ANGELES, CA (California Network) - The graphic video shows the brutal beheading of Canadian hostage, John Ridsdel. He was beheaded ... continue reading
---

By Kenya Sinclair (CALIFORNIA NETWORK)
China continues to test the limits of its DF-41 long-range intercontinental ballistic missile as tensions rise between the country and the U.S. over the South China Sea. LOS ANGELES, CA (Catholic Online) - According to The Free Beacon, Pentagon officials reported the ... continue reading
---

By Kenya Sinclair (CALIFORNIA NETWORK)
Following a 6.5 magnitude earthquake, nine have been reported dead and over 800 people suffered injuries - but God ensured the safety of one blessed little girl. LOS ANGELES, CA (Catholic Online) - According to NBC News, an 8-month-old girl was sleeping peacefully when ... continue reading
---

By Kenya Sinclair (CALIFORNIA NETWORK)
Nepal first recognized Christmas as a national holiday eight years ago, but the 2015 Christmas celebration will be its last. Nepali government officials announced Christmas is no longer recognized as a national holiday, prompting the Christian minority to rise together ... continue reading
---

By Kenya Sinclair (CALIFORNIA NETWORK)
China's government has destroyed over 1,500 crucifixes in Zhejiang province, China as part of a plan to eradicate the Christian communities. LOS ANGELES, CA (Catholic Online) - Christianity is spreading across China, leading the communist government to grow upset over ... continue reading
---

By Marshall Connolly (CALIFORNIA NETWORK)
A well-known ancient trade network may have stretched much father than previously believed according to new evidence discovered in Nepal. Chinese-made objects in a 1,600 year-old tomb suggests the Silk Road may have extended south into Nepal. LOS ANGELES, CA ... continue reading
---
All Asia Pacific News