How malnutrition kills, and a painful look at the South Sudan crisis
---
Starvation is slow and painful and children are the most common victims.
With hundreds of thousands of people, especially children expected to die in South Sudan in the coming months, attention is finally being focused on malnutrition and starvation and the painful process of death which accompanies those conditions.
Parents don't like to see their children die and will save them if they can but with limited resources available, difficult choices are made and babies pay the price.
LOS ANGELES, CA (Catholic Online) - The first bodies are already in the ground and have been for some time. These are the frail, bony bodies of babies and small children, the first of the population to die from starvation in South Sudan.
Their deaths were nearly a year in the making. The decision that led to their gruesome passing began when the president, Slava Mayardit and his former vice president, Reik Machar, engaged in a power struggle that pitted the national army against large militia groups. The two warring factions have fought for nearly a year, disrupting the civilian population, particularly in rural areas.
Come through where others fail, feed a hungry child today!
Roving bands of fighters have confiscated and consumed or destroyed food supplies and displaced possibly tens of millions of people from their farms and villages, preventing farmers from planting. Seed crops were also consumed.
Now, nearly a year later, nobody in the rural areas in South Sudan has enough food to last another year.
Already, the planting season has been missed and it is now too late to plant crops for the harvest meaning that even if a cease fire took immediate effect and lasted, the people would still be without for over a year to come - until the harvest season of 2015.
In recent months, family after family has been faced with an agonizing decision. As food supplies dwindle and aid workers are confounded by armed factions, parents must choose who will eat, and who will go without.
Some people can still work and earn money to pay skyrocketing food costs and bring some kind of food to the table. Others simply consume and offer little practical value. These others are the babies and young children, too small to work or earn money.
These children must go without, their parents making the painful decision to wean them from food -as if malnutrition were something that one could be eased into.
There's nothing easy about the wasting and starving process though.
Without food, the body has, on average, about one day's worth of reserves stored throughout. This means a person can go for a day without food and be largely unaffected. However, after that day ends, the body must dig deeper for reserves to sustain the brain and internal organs which require constant energy to operate.
The body's fat reserves are the first to go, but the body doesn't simply burn fat. At the same time, muscle tissue is broken down to provide energy. The body sets priorities on what organs are most critical and these essential organs, such as the brain, heart and lungs, are sustained while other organs are neglected.
Vitamin deficiencies and dehydration bring the worst of the symptoms. Hunger goes from pangs to constant, to a terrible burning sensation in the pit of the stomach that never goes away. It's actually painful. Bacteria and fungus, normally kept in check by the immune system, now flourish as that system scales back efficiency, deprived of essential nutrients.
The flowering of fungus in places such as the esophagus makes swallowing difficult. Without realizing it, a child with this condition has already started the process of decomposition from within, even though they are still very much alive.
The wastage of muscle tissue makes the child weak and skin becomes dry and cracks without moisture. Imagine the pain you feel when your skin becomes dry. This pain appears at the joints where the skin is expected to expand and contract with movement.
By this point, the child's bones are now visible throughout the body, the muscles are so wasted that they look like a skeleton.
Eventually, a deep fatigue sets in and the child can hardly move. Babies stop crying and older victims no longer struggle to survive, now they enter the final stage which is characterized by extreme apathy and in women can result in irregular menstruation. Victims who reach this stage are largely doomed. They simply lie in one spot, flies and parasites begin to feast on the body.
Children can barely whimper and must be carried. Many families leave them in a corner, waiting for them to die in painful misery so they can mourn and fear the same happening to them.
These families do not make this decision lightly. They are choosing the path of least harm from their perspective, letting one die so the rest has a fighting chance to live. Unfortunately, as food becomes even scarcer, more families must make this choice.
What would you do when faced with this? How do you go on without any food available for hundreds of miles around? Shuffling bands of refugees have wondered the countryside, hungry and anxious for any help. Lucky ones have found their way into refugee camps where they are held as virtual prisoners, unable to leave the crowded makeshift tent-cities because that's the only place they can get food.
Officials for the World Health Organization have warned that death by starvation is inevitable for thousands of people, certainly children, and the only question is how many. The world, it seems, is not very interested in providing the aid it needs to save the people of this region. Only a fraction of the desperately requested food aid has been pledged or sent.
Aid workers routinely skip meals themselves because of the dire nature of the situation. Regretfully, they will run out of food before feeding all the people in the months to come, forcing many families to make the gruesome decision to watch their youngest and neediest children die slowly of malnutrition.
There is one ray of hope in all this darkness, and it's you the person who cares enough to make a gift of food to people in dire need. Right now, Your Catholic Voice Foundation is refocusing aid efforts on South Sudan and will send food contributions there. If you can help, please do so now. We cannot save everybody, but saving one is a difference made, and today you can be that difference.
---
Copyright 2018 - Distributed by THE CALIFORNIA NETWORK
Pope Francis Prayer Intentions for APRIL 2018
For those who have Responsibility in Economic Matters.
That economists may have the courage to reject any economy of exclusion and know how to open new paths.
---
---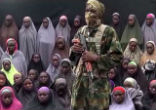 With 15-year-old Leah Sharibu still in captivity under the Islamic extremist group Boko Haram for not renouncing her Christian faith, ... continue reading
---

African Catholics remained concerned about a push from Western leaders to promote abortion and contraception in Africa in the name of ... continue reading
---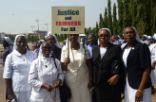 With widespread violence plaguing Nigeria, Catholic religious sisters in the country have united in the name of peace to counter the ... continue reading
---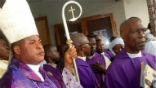 Pope Francis accepted the resignation Monday of a Nigerian bishop who had been rejected by many of the priests of his diocese since his ... continue reading
---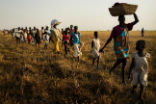 On Sunday Pope Francis announced that the first Friday of Lent would be a day of prayer and fasting for peace given the many ongoing ... continue reading
---