Bill outlawing Homosexual behavior becomes law in Uganda, carries death penalty for acts of 'aggravated homosexuality'
---
Church should be wary of the bill since it also punishes anyone who counsels those struggling with same-sex attraction.
Uganda has toughened penalties against homosexuality, and that country's president has signed into law penalties that can include life in prison.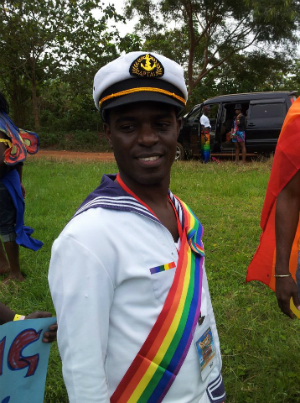 Frank Mugishu, a prominent homosexual activist in Uganda protests against the legislation. Ugandans have the right to self-determination as a society and their laws must be respected.
Highlights
By Catholic Online (NEWS CONSORTIUM)
Catholic Online (https://www.catholic.org)
2/25/2014 (4 years ago)

Published in Africa
Keywords: Uganda, homosexuality, gay, lesbian, law, punishment, aggervated, homosexuality, punishment, law, justice, church, catholic, disorder
---
LOS ANGELES, CA (Catholic Online) - Ugandan President Yoweri Museveni told the media on Monday that homosexuality is "unnatural" and that people have no rights to practice such behavior.
"They're disgusting. What sort of people are they?" he told a CNN reporter. "I never knew what they were doing. I've been told recently that what they do is terrible. Disgusting. But I was ready to ignore that if there was proof that that's how he is born, abnormal. But now the proof is not there."
Museveni cited a panel of scientists commissioned by the state to examine the problem and determine if homosexuality was genetically determined, or leaned behavior. The scientists concluded the behavior is learned and a matter of choice.
This conclusion may run counter to what many people feel. Increasingly people have become convinced, whether verifiable or not, that one does not choose a sexual preference. Same sex attraction certainly exists. What is not clear is if people are born with same-sex attraction, or if it is a learned behavior perhaps as a result of abuse, illness, or some other trauma or development.
However, even if there is an inclination or attraction, that does not mean that acting upon it is the only option.
The teaching of the Catholic Church regarding homosexual sexual activity is clear. It is morally disordered and against the Natural Law which binds all human beings. Among the clearest summaries was  a 1986 Letter to all of the Bishops in the world from the Congregation for the Doctrine of the faith. Here are a few of the insights: The Church, obedient to the Lord who founded her and gave to her the sacramental life, celebrates the divine plan of the loving and live-giving union of men and women in the sacrament of marriage. It is only in the marital relationship that the use of the sexual faculty can be morally good. A person engaging in homosexual behavior therefore acts immorally." To choose someone of the same sex for one's sexual activity is to annul the rich symbolism and meaning, not to mention the goals, of the Creator's sexual design. Homosexual activity is not a complementary union, able to transmit life; and so it thwarts the call to a life of that form of self-giving which the Gospel says is the essence of Christian living. This does not mean that homosexual persons are not often generous and giving of themselves; but when they engage in homosexual activity they confirm within themselves a disordered sexual inclination which is essentially self-indulgent. As in every moral disorder, homosexual activity prevents one's own fulfillment and happiness by acting contrary to the creative wisdom of God. The Church, in rejecting erroneous opinions regarding homosexuality, does not limit but rather defends personal freedom and dignity realistically and authentically understood.The bill finally became law after it was introduced in 2009 and underwent several revisions. The new law dropped an exceptionally controversial proposal for the death penalty for "acts of aggregated homosexuality" meaning cases where perpetrators are HIV positive, have raped children, or are identified as repeat offenders. Those people could face life imprisonment instead. Those who perform same-sex marriage ceremonies or oversee institutions that do, can face up to seven years imprisonment. Although the western world and its media have been co-opted by the homosexual equivalency agenda, many other countries have chosen a different path, clamping down on libertine sexual mores and behavior.
"Respect African societies and their values," President Museveni told the media. "If you don't agree, just keep quiet. Let us manage our society, then we will see. If we are wrong, we shall find out by ourselves, just the way we don't interfere with yours."
Naturally, some American and pro-homosexual advocates have lashed out against the law. Obama described the law as an "affront." The UN also condemned the law as a violation of fundamental human rights.
Still, the people of Uganda have the right to self-determination and laws against homosexual behavior have been greeted with tremendous support, over 90 percent, if official figures are to be believed.
The Church holds that homosexual behavior is the result of a disordered sexual appetite. It is also a fact that all adult sexual behavior is chosen. As such, grown adults can exercise self-restraint and pursue a life of celibacy just as many heterosexual adults do, particularly those with chaste vocations.
However, it is difficult to voice support for the Ugandan law when it treats homosexuals as capital offenders. Activists also fear that the law will be used to justify vigilante violence against self-professed homosexuals. Violent behavior towards any person who isn't an immediate danger to others is lamentable.
While the people of Uganda have the right to self-determination and are right to draw the line against immoral sexual behavior, care must be exercised. Those who choose to engage in homosexual acts are still human, entitled to the same rights as all others. Homosexual persons should also be treated with human dignity.
More importantly, their situation may require counseling and treatment, when possible, something that is now outlawed by passage of the bill. Those who counsel homosexuals could also face up to seven years in prison. This could conceivably include members of the clergy if they are approached by someone struggling with same-sex attraction.
Already a Ugandan tabloid has published the names of 200 prominent nationals it accuses of being homosexual. 
NOTE: An earlier version of this article stated that those who commit acts of "aggervated homosexuality" could face this death penalty. This has been updated to reflect that the death penalty is no longer part of this law.
Pope Francis calls for your 'prayer and action'...
---
Copyright 2018 - Distributed by THE CALIFORNIA NETWORK
Pope Francis Prayer Intentions for APRIL 2018
For those who have Responsibility in Economic Matters.
That economists may have the courage to reject any economy of exclusion and know how to open new paths.
---
---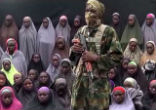 With 15-year-old Leah Sharibu still in captivity under the Islamic extremist group Boko Haram for not renouncing her Christian faith, ... continue reading
---

African Catholics remained concerned about a push from Western leaders to promote abortion and contraception in Africa in the name of ... continue reading
---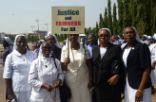 With widespread violence plaguing Nigeria, Catholic religious sisters in the country have united in the name of peace to counter the ... continue reading
---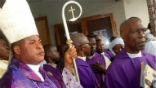 Pope Francis accepted the resignation Monday of a Nigerian bishop who had been rejected by many of the priests of his diocese since his ... continue reading
---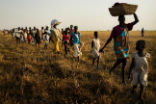 On Sunday Pope Francis announced that the first Friday of Lent would be a day of prayer and fasting for peace given the many ongoing ... continue reading
---