Catholic Kids And Teens Still Have Time To Enter This Contest!
---
The Baptized And Sent Song Contest is open to youth in grades 1-12. The goal is to write an original song that focuses on the theme Baptized and Sent: Sharing the Good News and Caring for God's Creation. It is suggested to use Pope Francis' encyclical Laudato Si for inspiration.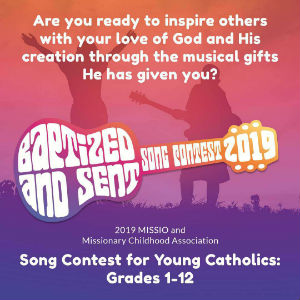 One grand prize winning song will be chosen based on originality, youthfulness, and contemporary nature. Winning entries should be catchy, easy-to-sing, and communicate their message through both the words and the melody. Final evaluations will be based on the quality of the lyrics and melody; not the vocal or instrumental performance.
The winning song will then be submitted to the International Secretariat of the Missionary Childhood Association at the Vatican. It may be used to promote Extraordinary Missionary Month in October as part of materials from MISSIO and the Missionary Childhood Association.
There will be six additional winners chosen in grade categories as follows: Grades 1-2, 3-4, 5-6, 7-8, 9-10, 11-12.
Catholic youth from all over the world have already sent in their entries to the Baptized And Sent Song Contest, but there's still time for you -- or your class, youth group, band, club, son, daughter, or grandchild- to enter!

This is your chance to let the world hear the voice of today's Catholic youth!
Submissions must be received by September 23, 2019.  Enter the Baptized and Sent Song Contest HERE!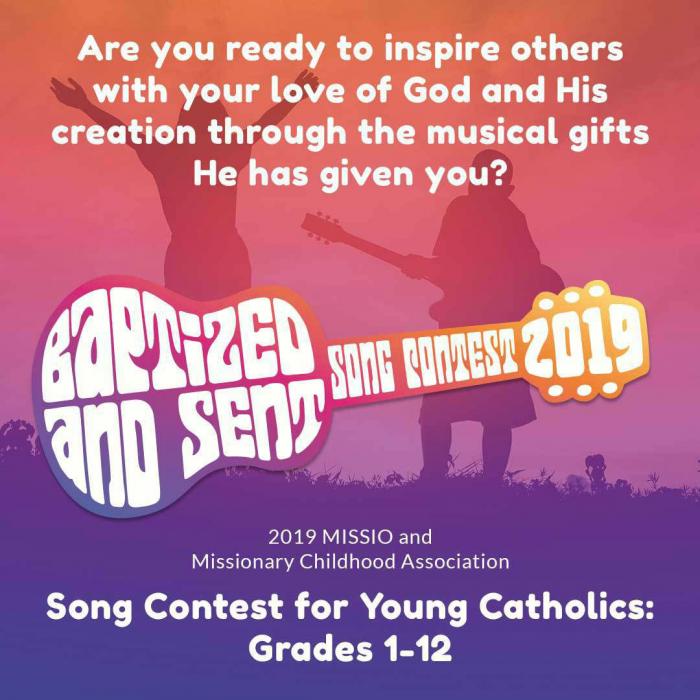 Submissions must be received by September 23, 2019, and winners will be announced in the Extraordinary Missionary Month of October.
---
Copyright 2019 - Distributed by THE CALIFORNIA NETWORK
---
---